House Backs Commission to Probe Jan. 6 Insurrection at Capitol
(Bloomberg) -- The Democratic-controlled House passed legislation to create an independent bipartisan commission to investigate the Jan. 6 insurrection at the U.S. Capitol, with 35 Republicans breaking ranks with their leaders to support the probe.
The 252-175 vote sends the bill to the Senate, where its fate is uncertain after Minority Leader Mitch McConnell earlier Wednesday announced his opposition. Senate Majority Leader Chuck Schumer has vowed to bring it to a vote, but he would need at least 10 GOP senators to go along.
The commission legislation was the result of a compromise worked by Homeland Security Chair Bennie Thompson of Mississippi and the panel's top Republican, John Katko of New York, and designed to address GOP objections to House Speaker Nancy Pelosi's original plan. But it turned into another test of Republican loyalty to former President Donald Trump, whose supporters attacked the Capitol while Congress was certifying the Electoral College votes that made Joe Biden president.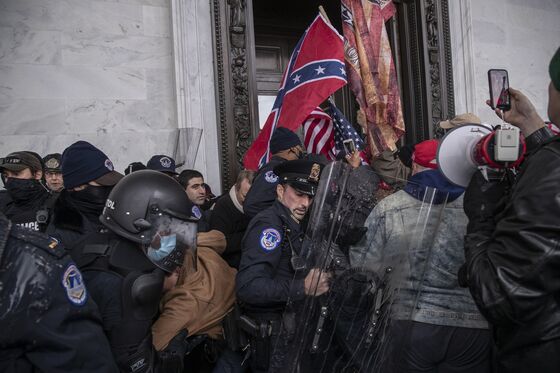 Trump released a statement Tuesday night calling the commission plan a "Democrat trap" and urging McConnell and House Republican leader Kevin McCarthy to heed his warnings.
McCarthy had already announced his opposition, saying any investigation should also include looking at "political violence" by the left. Both he and McConnell had laid blame on Trump in the immediate aftermath of the riot. But McCarthy has since backtracked and aligned himself more closely with the former president. McConnell has sought to avoid discussing Trump and on Wednesday said there already are overlapping investigations of Jan. 6.
"It's not at all clear what new facts or additional investigation yet another commission could lay on top of the existing efforts by law enforcement and Congress. The facts have come out and will continue to come out," McConnell said Wednesday on the Senate floor. "What is clear is that House Democrats have handled this proposal in partisan bad faith from the beginning."
Other GOP critics of the commission legislation were more direct.
"This commission isn't about justice, oversight or fact-finding; it's about Democrats' desperate need to keep prosecuting a former president and his supporters because their current agenda is failing the American people and destroying this country in real time," Texas Republican Representative Chip Roy said in a statement.
Some Republicans, such as Representative Tom Cole of Oklahoma, said the investigation should include "events like the 2017 domestic terrorist attack that targeted Republican members of Congress at a baseball practice," and "the wave of violence, rioting, and property destruction that swept across the country last summer."
Democrats seized on the opposition to highlight the GOP's alignment with Trump and his false claims about the 2020 election.
"Once again, they are caving to Donald Trump and proving that the Republican Party is still drunk off the big lie," Schumer said.
Massachusetts Democratic Representative Jim McGovern said on the House floor before the vote that Republicans are "afraid because their leadership doesn't want to offend the ex-president and his big lie."
The legislation would establish a 10-member commission appointed equally by Democrats and Republicans and drawn from outside Congress or government. The commission will be able to issue subpoenas, but those will require agreement between the chair and the vice chair or a vote by a majority of commission members.
It directs the commission to deliver its findings and recommendations by Dec. 31. That increases the odds it would resonate into 2022, when midterm elections will determine which party controls the narrowly divided House and Senate.
Katko, speaking on the House floor, said he believed the bill was "fair and necessary" and encouraged Republicans and Democrats alike, to "put down their swords for once, just for once."
GOP Senator Susan Collins of Maine said changes would need to be made to the House bill to get her support. The House bill would let the Democrat-appointed chair choose all of the staff members and "that's not right and that's not how the 9-11 Commission worked," she said.
Collins said she also wants to ensure "the work gets done this year and does not go over into the election year."
Senate Republican Whip John Thune of South Dakota said rank-and-file Republicans are split over the House measure creating the commission, and it isn't clear whether 10 Republicans would support it when it comes to the Senate.
"This isn't something we've assessed or whipped yet," Thune said. "There are some of our members who have obviously an interest in seeing a commission go forward, others who believe it would be counter-productive because of the work that's already been done and believe that it could be weaponized politically and dragged into next year."
Thune said he wants the GOP 2022 midterm message to be focused on jobs, wages, strong borders and defense "and not re-litigating the 2020 election."
"Clearly I think a lot of our members, and I think this is true of a lot of House Republicans, want to be moving forward and not looking backward," he said. "Anything that gets us rehashing the 2020 election I think is a day lost on being able to draw contrasts between us and Democrats' very radical, left-wing agenda."
The House action also sets up a vote scheduled for Thursday on a $1.9 billion special supplemental spending bill to shore up security on Capitol Hill. Republicans in both chambers have said they oppose aspects of that measure, from its costs, to its call for creation of a special National Guard Quick Reaction Force.