Horror of Gender-Based Violence Revealed in South African Report
(Bloomberg) -- The murder of a number of women in South Africa over recent weeks has ignited outrage, street protests and a media storm. The extent of the scourge of gender-based violence was put on stark display in the latest crime statistics released on Thursday.
The number of reported rapes rose 3.9% to 41,583 in the year through March, the highest in four years. The police have logged 443,387 rapes over the past decade, yet the problem may be understated because such crimes frequently aren't reported. A total 2,771 women were murdered in the 12-month period.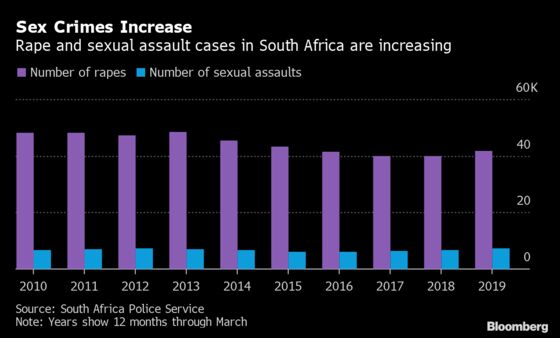 Violent crime in South Africa is fueled by high levels of alcohol and drug abuse, and the fact that victims are often abused and killed by people they know makes it difficult to control, Police Minister Bheki Cele told reporters in Cape Town. The police will set up more units to tackle family violence, child abuse and sexual offenses, and recruit more women officers, he said.
Thousands of demonstrators took to the streets last week in protests triggered by the killing of 19-year-old University of Cape Town student Uyinene Mrwetyana, disrupting South Africa's hosting of a World Economic Forum summit. In a national address, President Cyril Ramaphosa promised more funding to protect women and harsher penalties for gender-based crimes.
"We are deeply distressed by the rise in gender violence cases," said Tina Joemat-Pettersson, the chairwoman of parliament's police oversight committee. "We will be monitoring police progress with making arrests."
The Institute for Security Studies said high levels of domestic crime in South Africa were rooted in its violent past and had been perpetuated across generations.
"Most violent behavior is learned or tolerated in the home, communities and schools where children either directly experience or witness violence," the Johannesburg-based institute said in an emailed statement. "Many people grow up believing that violence is an acceptable way to solve disputes or assert authority. This drives much of the violence that occurs between men in public places, and at home against women."