Hong Kong Vows to Pursue Extradition Bill Despite Huge Protest
(Bloomberg) -- Hong Kong's leader pledged to press ahead with Beijing-backed legislation easing extraditions to China despite one of Hong Kong's largest protests since the former British colony's return more than two decades ago.
Chief Executive Carrie Lam told reporters Monday that the government "could see people are still concerned about the bill," which would allow Hong Kong to enter into one-time agreements with places such as mainland China and Taiwan to transfer criminal suspects. She said the legislation has previously been amended to protect human rights and said it was up to Hong Kong's elected Legislative Council to make further changes.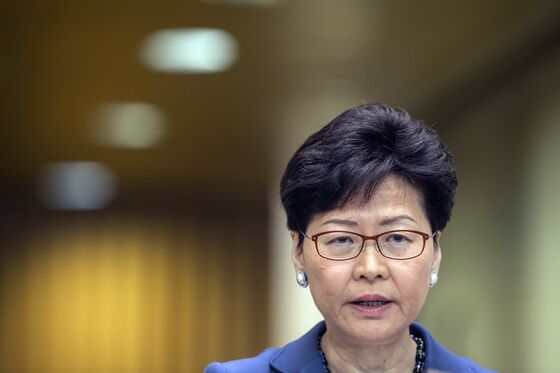 "The society has been closely and intensely discussing the amendment bill for four months," Lam said in response to a question about whether she would withdraw the legislation. "It should be returned to the Legislative Council, which should carry out its constitutional duty. This means after vetting the bill, legislators can amend or approve the bill or whatever. Our stand is still our stand today."
She suggested that extending the debate could prove even more divisive: "There is very little merit to be gained by delaying the bill," Lam said.
Hong Kong arrested seven people who participated in the protest on suspicion of attacking the police, Lee Kwai-wah, senior superintendent of the city's Organized Crime and Triad Bureau, said Monday. He said another 12 people were arrested on accusations they blocked roads.
Opposition lawmakers and pro-democratic groups pushed back following Lam's comments.
"Carrie Lam is provoking us. I don't understand why a government doesn't want us to live a comfortable life but to challenge us to see what price we can pay," said Jimmy Sham of the Civil Human Rights Front, the organizer of Sunday's protest.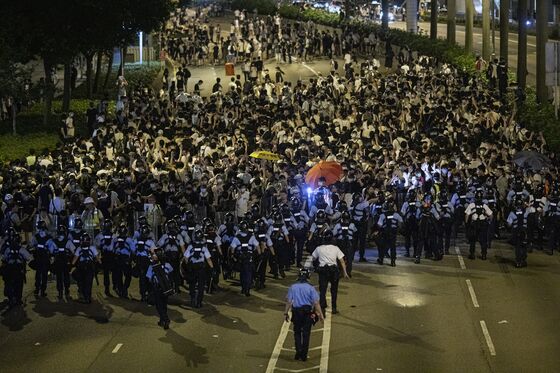 The group said it planned to hold another assembly outside the legislature on Wednesday during the second -- of three required -- reading of the bill.
"We don't need any more written or verbal safeguards. We want the bill to be scrapped all together," said opposition lawmaker Claudia Mo.
China said it "firmly" supports the Hong Kong government's stance on the bill.
Beijing also "opposes external intervention in Hong Kong's internal legislation," Chinese Foreign Ministry spokesman Geng Shuang told reporters in Beijing, without saying what foreign entities he was referring to.
On Sunday, white-clad demonstrators, many chanting for Lam's resignation, choked 3 kilometers (1.9 miles) of central city boulevards for hours as they marched to the local government headquarters. Organizers put the turnout at 1.03 million as of 9:30 p.m., while police estimated 240,000 participants at the rally's peak.
The crowd estimates suggest it was one of Hong Kong's biggest mass demonstrations since returning to Chinese rule 22 years ago. While the procession was largely peaceful, scuffles later broke out between demonstrators and police, who used pepper spray and batons to disperse protesters.
The legislation would for the first time allow extraditions to mainland China, something Western governments and international business organizations warn could threaten the "one country, two systems" framework credited with maintaining Hong Kong's status as a global financial center. It's one of several moves under President Xi Jinping that have raised concern about Hong Kong's autonomous structure, which guarantees free speech, capitalist markets and British common law.
Lam said she received no order from Beijing to pursue the legislation, a frequent criticism of the bill and other government proposals. "The bill is not about mainland alone. It's not initiated by the central government. I have not received any instruction or mandate from Beijing," she said. She signaled no intention to resign.
The government has said the law is needed to bring fugitives to justice and was spurred by the case of a Hong Kong man who could not be extradited to Taiwan for the murder of his 19-year-old girlfriend. Lam is working to pass the measure by the end of the current legislative session in July, with hearings slated to resume Wednesday.
The government scaled back the bill last week, raising the proposed extradition limit to crimes that carried sentences of seven years in prison, compared with a three-year threshold initially. But the scale of the opposition raises the stakes for Lam and her backers in Beijing, who are already engaged in a global clash of values with the U.S.
Sixteen years earlier, a demonstration of about half a million people in 2003 led the city to scrap a controversial national security proposal and contributed to the eventual resignation of then-Chief Executive Tung Chee-hwa. Hong Kong still hasn't passed that measure.
On Monday, Lam said she had worked hard in her two and a half years in office to improve "all areas" of Hong Kong. "I will continue to do this in my upmost ability," she said, mentioning economic challenges to needed leadership.