Hong Kong's Lam Sets Out Years-Long Agenda as Term Nears End
(Bloomberg) -- Hong Kong's Carrie Lam laid out a long-term vision to answer Beijing's call to fix the world's most expensive housing market, entrenching herself in policies that would run far beyond her current term.  
Lam put housing front and center at the opening session of the city's "patriots only" legislature Wednesday, which Beijing loyalists formed last month after attempting to blame the pro-democracy opposition with obstructing policy reforms. The meeting came as Lam battled an omicron outbreak and faced criticism over new flight bans that have eroded the city's appeal as a global financial hub.
"Housing is, of course, the top priority of this term of government," Lam said. "I'm sure it will be the case, too, for the next term of government because it's important to social cohesion that people can have proper homes." 
In a sweeping restructure of her government, she revealed plans to establish a new housing agency and fleshed out details of a previously announced project to house some 2.5 million residents along the border with China over the next two decades. She also mentioned the Lantau Tomorrow project to base a million people on four large artificial islands.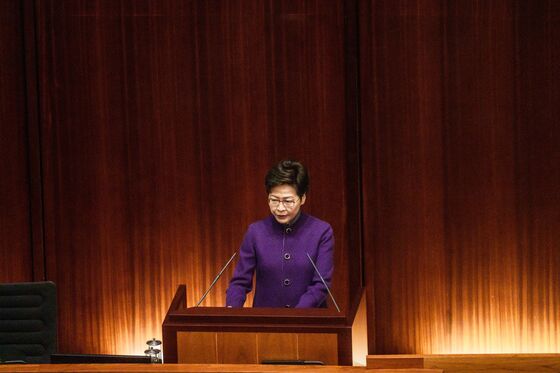 While Lam hasn't said whether she'll seek Beijing's backing for another five-year term in March, she has tied herself to key Communist Party policies, such as the Covid Zero strategy and crackdowns on dissent. Her speech Wednesday came as possible contenders for chief executive would normally start shoring up support among the committee of 1,500 mostly Beijing loyalists who will vote for the role. 
Lam directed the legislature to "remove red tape" around land regulations to execute her "Northern Metropolis" plan, citing efforts to move some government offices there and improve healthcare facilities to support a bigger population. She also called for:
Forming a new culture, sports and tourism bureau.
Reviving a controversial security law, known as Article 23.
Examining the passage of a fake news law.
At least 20 lawmakers weren't in the chamber, according to local media outlet HK01, after attending a large birthday party on Jan. 3 with guests who later tested positive for Covid-19. Many participated via video, lawmaker Eunice Yung said on Facebook. 
That scandal threatened to undermine Lam's narrative that the new legislature represented an "improved" era of stability, after Beijing overhauled the city's electoral process to ensure only those loyal to the Communist Party could run. The council's 90 lawmakers were installed in a December vote that attracted the financial hub's lowest ever election turnout. 
While Lam expressed disappointment with the government officials, she has also heaped criticism on Cathay Pacific Airways Ltd. The government has accused staff at the city's flag-carrier airline of importing the omicron variant while breaking lenient home quarantine orders. 
"Everyone is suffering in Hong Kong," Lam said Wednesday. "Cathay Pacific has to be blamed for that."
She acknowledged that imposing flight bans into the city and strict social distancing measures in recent days had stressed supply chains and caused the public distress. That outbreak has derailed one of Lam's goals of restarting quarantine-free travel with mainland China, something she said would have to wait until Hong Kong had at least 14 days without a confirmed case of community transmission. 
"Hong Kong has already paid a price for such stringent measures because many have complained this may affect our status as an international financial center," Lam said. "There's nothing we can do about it. We need to fight the epidemic."