Hong Kong's Lam Gets China Vaccine as City Prepares Rollout
(Bloomberg) -- Hong Kong Chief Executive Carrie Lam got a Chinese Covid-19 vaccine at a public event on Monday in an effort to overcome skepticism as the Asian financial hub prepares to begin its inoculation campaign.
Lam and the heads of various government departments received coronavirus shots produced by Sinovac Biotech Ltd. in Hong Kong's main library. She urged members of the public to do the same to "help Hong Kong to resume travel and economic activity as soon as possible."
"Please come forward and receive the shot," she said.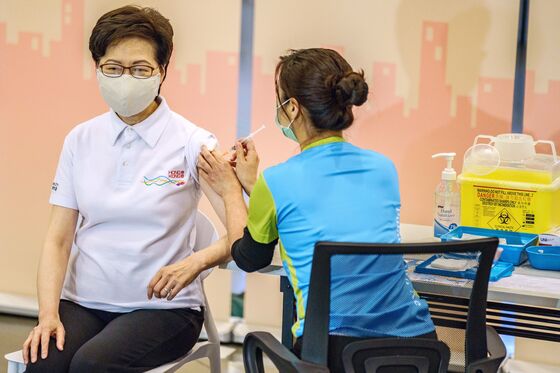 Hong Kong will start its inoculations on Friday, beginning with priority groups including medical workers, residential care home staff and people aged 60 and older. By getting a shot publicly, Lam is following an example set by other leaders to encourage citizens to get inoculated. U.S. President Joe Biden had the procedure done in a televised event before taking office, and Indonesian President Joko Widodo got vaccinated in January.
Hong Kong's economy shrank by a record 6.1% last year, with the global pandemic hurting output in a city already reeling from political upheaval. Its jobless rate rose in January to the highest in more than 16 years.
About 1 million Sinovac doses were shipped to Hong Kong last week, while Lam said the western Covid-19 shot developed by BioNTech SE and Pfizer Inc. should arrive by the end of the month. Lam had said she's asked China to provide more shots because of a "hiccup" with the city's other vaccine orders.
Lam faces challenges accomplishing this, in part because some people appear to be hesitant to get the shot. A survey last summer by the Chinese University of Hong Kong found that just 37% of Hong Kongers wanted to get a Covid-19 vaccine -- much lower than the 80% that experts say is required for herd immunity. That study found government recommendations were the most effective way to convince people to have the procedure.
Lam's popularity rating fell to a record low last year as historic protests fizzled out only when the government imposed social-distancing rules to control the virus outbreak, and she has been attacked for her policies throughout the pandemic.
The lack of trust in her government has occasionally hampered virus-control measures, including when many people refused to participate in a universal testing drive backed by China because they believed it was an exercise to harvest and collect their DNA.
Lam was also criticized for a recent series of targeted mini-lockdowns and mandatory testing blitzes that failed to unearth many new virus cases. Lam said the fact that so few cases came to light proved that the city's policies were working.
Hong Kong, with a population of 7.5 million, has reported fewer than 11,000 total cases and less than 200 deaths.