Hong Kong Sentences Occupy Leaders to Up to 16 Months in Prison
(Bloomberg) -- A Hong Kong court sentenced Occupy protest organizer Benny Tai to 16 months in prison on charges he conspired to commit public nuisance, capping the China-backed government's push to punish leaders of 2014's mass pro-democracy demonstrations.
Tai, 54, an associate law professor at the University of Hong Kong, was ordered to begin serving his time immediately by District Court Judge Johnny Chan in West Kowloon. Tai was also given a concurrent sentence of eight months on a charge of inciting public nuisance. Chan earlier this month found Tai and other organizers guilty of various crimes.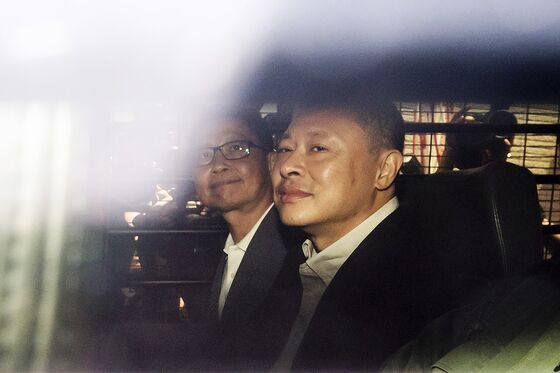 The movement's two other main leaders -- Chan Kin-man, 60, a retired associate professor of sociology at the Chinese University of Hong Kong; and Reverend Chu Yiu-ming, 75 -- were also handed 16-month prison terms, with Chu's suspended for two years.
The charges of public nuisance carry a maximum penalty of seven year's imprisonment and a fine under a common law provision held over from Hong Kong's time as a British colony.
Tai said ahead of the court session that he felt "peaceful and hopeful to face whatever may happen today."
The three men were among nine academics, activists and politicians convicted for their roles in organizing the protests, which lasted 79 days and brought parts of the Asian financial hub to a halt. Sentences varied for the remainder of the group.
"Thank you for the sentencing," Raphael Wong, vice-chairman of the League of Social Democrats, told the judge after receiving an eight-month jail term. "Our determination to fight for democracy will not cease."
Hong Kong has pursued the prosecution of those who encouraged the demonstrations, which sought the public nomination of candidates for what was supposed to be the first direct election of the city's leader. The protests shone a spotlight on Chinese efforts to clamp down on democracy activists in the former British colony, with the demonstrations of mostly students dubbed the "Umbrella Movement" after they used umbrellas to shield themselves from pepper spray fired by police.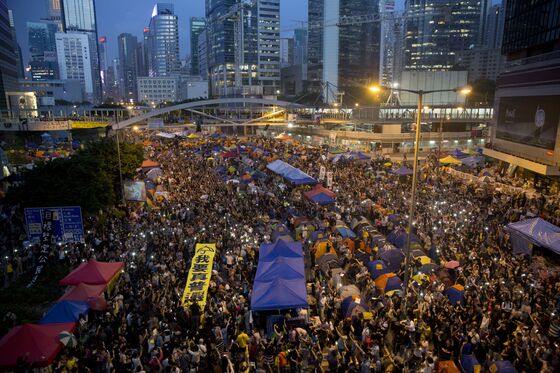 The sentences were met with concern Wednesday by Hong Kong's pro-democracy camp.
"My confidence towards the judicial system has come under question," Avery Ng, chairman of the League of Social Democrats, said after the ruling. Hong Kong authorities have "been systematically using the judicial system to achieve political oppression by experimenting various laws, say for example this case, using some ancient common law to prosecute protesters," Ng said.
The British Consulate-General in Hong Kong urged that freedoms of speech and assembly be "fully respected" in the city.
"It would be deeply concerning if the outcome for these individuals were to deter the people of Hong Kong from participating in peaceful protest in the future," it said in a statement.
Hong Kong Chief Executive Carrie Lam said before leaving for events in Beijing on Wednesday that she wouldn't comment on the sentencing. "We cherish the spirit of the rule of law in Hong Kong," she told reporters.
Chinese Foreign Ministry spokesman Geng Shuang called the sentencing an "internal matter" at a briefing in Beijing.
An eight-month jail term for Shiu Ka-chun -- a social worker and activist turned Hong Kong lawmaker -- could disqualify him from sitting on the city's Legislative Council. The youngest defendant, 25-year-old Tommy Cheung Sau-yin, was sentenced to 200 hours of community service.
The sentencing of another lawmaker and activist, Tanya Chan, was adjourned to June 10 due to medical reasons and she was freed on bail.
While Tai was a leading advocate for closing down the city's financial center, the first demonstrations were fueled by high school and college students. Their leaders, including Joshua Wong and Nathan Law, were sentenced to up to eight months in prison in 2017. The government arrested more than 1,000 people during and after the sit-ins, which ended without securing any pledges to amend the Chinese government's framework for the 2017 chief executive's election.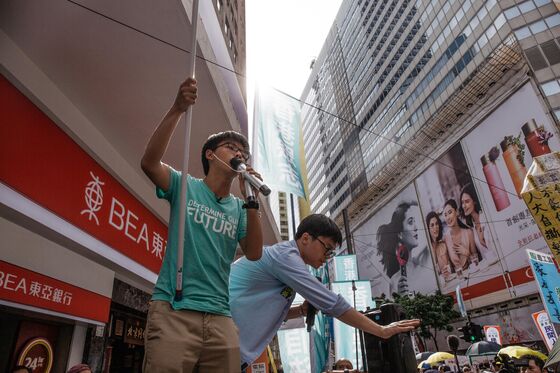 Beijing has stepped up efforts to rein in what Chinese leaders view as the more radical element of Hong Kong's pro-democracy camp, fueling worries that it's eroding the city's autonomy in a way that could impact Hong Kong's special trading status. Recent moves have included taking the unprecedented step of banning a small pro-independence party and denying a foreign journalist's work visa.
Before the sentencing Wednesday, defendants asked supporters to take to the streets for a planned rally Sunday against the government's proposed extradition law, which is stoking fears that its passage will make Hong Kong more susceptible to Chinese demands.
Some 100 people waited outside the courthouse to show solidarity with the defendants, many in yellow T-shirts -- the color that came to symbolize the Umbrella Movement. A Chinese-language version of "Do You Hear the People Sing?" a pro-democracy anthem from the musical "Les Miserables," played on loudspeakers.
"Hope is with the people!" supporters chanted outside the court building. "Civil disobedience is legal!"