Hong Kong Hits Back at U.S. Report Critical of Beijing's Role
(Bloomberg) -- The Hong Kong government hit back at U.S. charges that Beijing was encroaching on the city's autonomy, claims that could put at risk sensitive technology imports.
The response came after an annual congressional report Wednesday cited the former British colony's autonomy among areas of U.S. concern as Chinese President Xi Jinping asserts his growing geopolitical and economic might. As a consequence, the U.S.-China Economic and Security Review Commission report urged policy makers to consider Hong Kong's closer mainland ties with regard to "the export of sensitive U.S. technology to Hong Kong," without elaborating.
"The HKSAR Government reiterates that foreign legislatures should not interfere in any form in the internal affairs of the HKSAR," the Hong Kong Special Administrative Region said in a statement late Wednesday. "Since the return to the motherland, the HKSAR has been exercising 'Hong Kong people administering Hong Kong' and a high degree of autonomy in strict accordance with the Basic Law."
Hong Kong accused the report's authors of bias and of making unfounded accusations.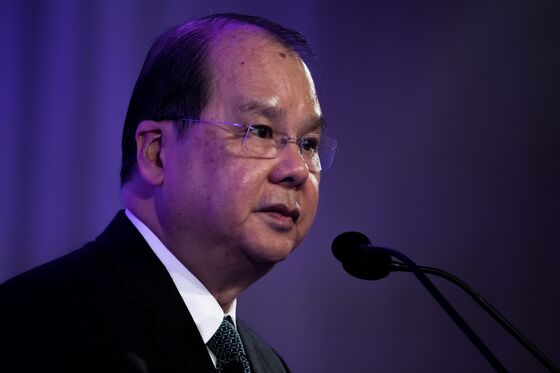 In recent months, Hong Kong has increasingly found itself battling perceptions that the legal and political lines separating it from the mainland have blurred. Australia blocked CK Group from buying a local pipeline operator this month, days after the city's No. 2 official, Chief Secretary Matthew Cheung, was forced to defend its free speech protections at a United Nations hearing in Geneva.
The U.S.-China commission's report listed a litany of examples where the Beijing-backed government infringed on the rights and freedoms promised Hong Kong people before the "special administrative region" was returned Chinese rule in 1997. "Beijing's encroachment on Hong Kong's political system, rule of law, and freedom of expression is moving the territory closer to becoming more like any other Chinese city," the report said.
"The territory also faces growing economic competition from mainland cities, which receive increasing investment and incentives," the commission said. "Over the long term, these trends could diminish Hong Kong's standing as a global business center."
The report to Congress said that as a key transshipment hub for mainland China, Hong Kong is an "important partner in ensuring robust protections against unauthorized shipments of controlled U.S. items to the mainland."
The congressional report also noted that the U.S. State Department's annual Hong Kong Policy Act review, published in May this year, had observed that U.S. officials "continue to raise concerns about the diversion of controlled items, including during its annual bilateral discussion about strategic trade controls."
The Hong Kong government denied any diversion of controlled items. "Under the Basic Law, Hong Kong is a separate customs territory and we remain committed to enforcing strategic trade controls," it said. "Hong Kong has, and will continue to maintain, close co-operation with the United States on the matter."
Felix Chung, Hong Kong lawmaker and Liberal Party leader, said on a RTHK radio program Thursday that the government should send representatives to lobby the U.S. and American companies. Hong Kong "will be over" if the U.S. views it just as another Chinese city, Chung said.