Dozens Arrested as Mass Hong Kong Rally Keeps Heat on Carrie Lam
(Bloomberg) -- Hong Kong police arrested more than 40 people after attempts to clear the remnants of a mass anti-government march resulted in dramatic clashes with demonstrators inside a suburban shopping mall, piling more pressure on embattled leader Carrie Lam.
Scuffles broke out in New Town Plaza as police moved to clear stragglers from a rally earlier Sunday in Sha Tin, a popular destination for locals and visitors from China and home to one of the city's horse racing tracks. Rally organizers said 110,000 people had turned out to protest the city's chief executive and her controversial bid to allow extraditions to the mainland, while police estimated the crowd at 28,000.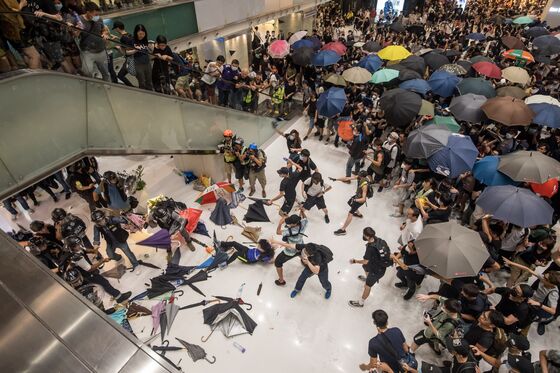 The unrest came as the Financial Times reported that Lam had offered to resign in recent weeks, only to be refused by authorities in China, citing unidentified people familiar with the matter. Beijing insisted that she remain in office to fix "the mess she created," according to one person.
Lam on Monday vowed she would continue in her position as Hong Kong's leader.
"The chief executive's tenure is five years. Although I face a lot of difficulties, I have repeatedly said publicly that I still have the responsibility and enthusiasm to continue my work during my tenure," she told reporters at a hospital after visiting officers injured in the clashes.
Crowds of Hong Kong protesters have turned out in unprecedented sizes every week since mid-June. In recent days their ire has focused on China, which has ruled the former British colony since 1997. Thousands of demonstrators last Sunday walked through the Tsim Sha Tsui area popular with mainland tourists toward the city's new high-speed rail station to China.
Beijing has continued to back Lam publicly. Chinese Foreign Ministry spokesman Geng Shuang said Monday that he hadn't heard anything about the FT's report and that the central government "firmly supports" her leadership.
Sunday's protesters threw objects including umbrellas, water bottles and other objects at police, some from the floors above as officers tried to disperse the crowd, Radio Television Hong Kong reported.
Lam on Monday referred to those who attacked police as "rioters," a term that has angered protesters because it carries certain legal connotations. Security chief John Lee called the incidents an escalation of violence and said the demonstrators who attacked police were "well organized."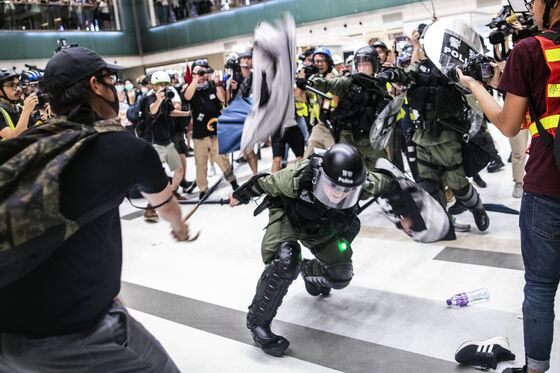 Ten officers were injured, including at least one who lost a finger, in fights between riot police and umbrella-wielding protesters Sunday evening, Police Commissioner Stephen Lo said in a 2:30 a.m. briefing Monday. One protester suspected of biting off part of an officer's finger was among those arrested, he said.
Twenty-two demonstrators were also injured at the mall, RTHK reported, citing the city's hospital authority. Three were in serious condition, it said. The mall is owned by Sun Hung Kai Properties Ltd.
Opposition lawmaker Alvin Yeung held a late-night media briefing in the mall, saying the police hadn't let protesters leave safely. The mere presence of the riot officers could have triggered demonstrators' emotions and made them nervous, he said.
"If we are aware of illegal behavior and if we know those who breached the law are in the mall, then don't we have a responsibility to follow inside to make arrests?" Lo said in response a question early Monday.
Lam last week declared that the original cause of the protests -- the extradition bill -- was "dead." But she stopped short of officially withdrawing it, leaving open the potential for authorities to revive it with 12 days' notice and providing new momentum for protesters.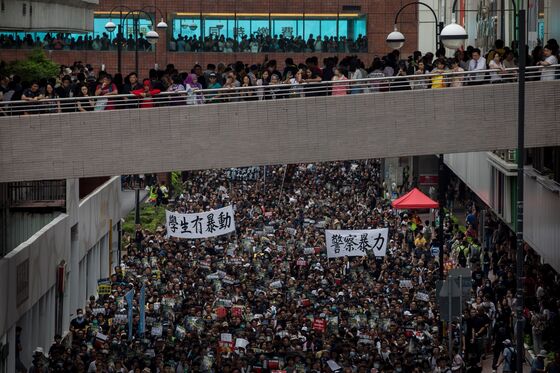 Further protests are being planned in neighborhoods across the city by demonstrators organizing themselves online and vowing to spread the word until Lam responds to their demands.
On Saturday, scuffles also broke out between police and demonstrators after a rally against parallel traders ended in Sheung Shui, near the China border. More than 30,000 people took part in the largely peaceful march, according to North District Parallel Imports Concern Group convener Ronald Leung. Police estimated the turnout at 4,000.
The Civil Human Rights Front, a leading protest organizer, has called for a July 21 rally in Admiralty, ground zero for previous gatherings that brought out historic crowds. Its major demand will be an independent probe into what it calls excessive use of force by police in dispersing previous demonstrations with weapons including tear gas, batons and rubber bullets.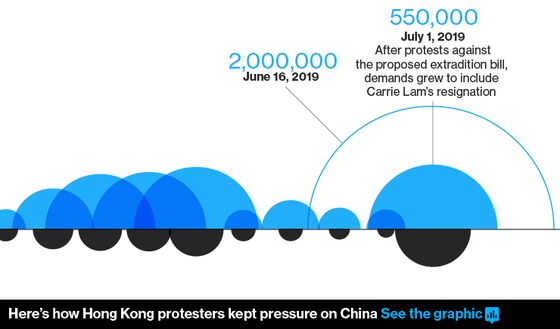 Lam needs to get a grasp on protesters' grievances and respond to their appeals, the group said Monday.
"Otherwise, this campaign will eventually cause irreparable deaths due to the ongoing conflict between the police and the people," it said.