Hong Kong Court Keeps Jimmy Lai in Jail on Security Charges
(Bloomberg) -- Another Hong Kong court has denied bail to media tycoon and democracy activist Jimmy Lai while he fights national security charges, a victory for Chinese authorities' efforts to rein in dissent in the Asian financial center.
High Court Judge Anthea Pang decided to keep Lai in jail after a hearing Thursday, the latest step in a constitutional battle over a China-drafted security law imposed on the former British colony in June. Earlier this month, Hong Kong's highest court affirmed strict limitations on bail under the legislation and decided to keep Lai in custody, while giving him the option to seek release from a lower court.
The court hearing Thursday was subject to restrictions that prevented journalists from reporting details of the court's proceedings or the reasoning behind the ruling. One provision of the security law says that suspects shouldn't receive bail "unless the judge has sufficient grounds for believing" they won't continue to commit acts endangering national security.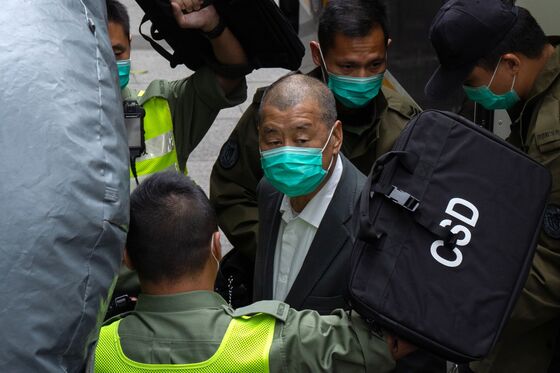 Lai's national security trial is expected to begin later this year. He is also facing prison time in several other criminal cases over allegations that he participated in unauthorized protests. He denies all charges.
The ruling is a victory for Chinese authorities that had sought Lai's immediate detention under the national security law enacted last year. The People's Daily, the Chinese Communist Party's top newspaper, had criticized an earlier decision to release Lai, warning that the case could be transfered to the mainland courts.
The Court of Final Appeal ruled Feb. 9 that the lower court judge had adopted an "erroneous approach" in releasing Lai in December because he failed to take into account the more "stringent threshold" required under the law. Pang is part of a pool picked by Chief Executive Carrie Lam to handle national security cases under a new power created by the law and a different judge than the one who initially granted Lai bail.
"The courts will be under severe pressure in these cases," Michael Davis, a professor of law and international affairs at O.P. Jindal Global University in India and a former law professor at the University of Hong Kong, said before the hearing. The more stringent threshold to grant bail "will surely put bail out of reach in any sensitive NSL cases," Davis said.
Lai's bail ordeal could set a blueprint for future prosecutions under the security law, which imposes punishments of as long as life in prison for subversion, secession, terrorism and collusion with foreign powers. The legislation contains several provisions that human rights lawyers say undercut the city's Common Law legal system, including allowing the government to select judges, transfer cases to the mainland and deny bail.
While almost 100 people have been arrested under the national security law, Lai is among the first to have his case move through the courts. He's been charged with colluding with foreign powers to impose sanctions or engage in hostile activities against Hong Kong or China between July 1 and Dec. 1 and is also facing an additional fraud charge.
The collusion charges are based on Lai's social media posts and comments to foreign media outlets, as well donations police say he made to the advocacy group "Stand With Hong Kong," according to court filings and local media reports citing police documents. Among 18 Twitter posts highlighted by police was one after the August detention of a dozen Hong Kongers caught fleeing to Taiwan, where Lai wrote: "Can the U.S. Government find ways to save these kids?"
Lai's retweet of a July statement by former U.S. Secretary of State Michael Pompeo congratulating Hong Kong's opposition on a successful primary was also cited by police. Several Apple Daily-hosted live-streamed events, in which Lai spoke critically of Chinese President Xi Jinping and called for international sanctions against China in front of foreign guests, were presented as additional evidence.
Lai and other Next Digital executives have also been accused of violating the lease terms of the office park housing the company's headquarters by basing a family office there to manage his personal finances. Additionally, he is facing at least four other criminal cases.