Hong Kong Court Backs Bid to Keep Tycoon Jimmy Lai in Jail
(Bloomberg) -- Hong Kong's top court ordered media tycoon Jimmy Lai to stay in jail ahead of his trial on foreign collusion charges, in a victory for Beijing that shows the city's judges are unlikely to challenge a China-drafted security law.
The Court of Final Appeal unanimously decided Tuesday to keep Lai in custody, while laying out strict standards for defendants to seek bail under the security legislation enacted last year. The top court had already sent the Next Digital Ltd. founder and frequent Beijing critic back to jail on Dec. 31 to give judges time to consider the case after the government challenged a lower court's decision to release him into house arrest.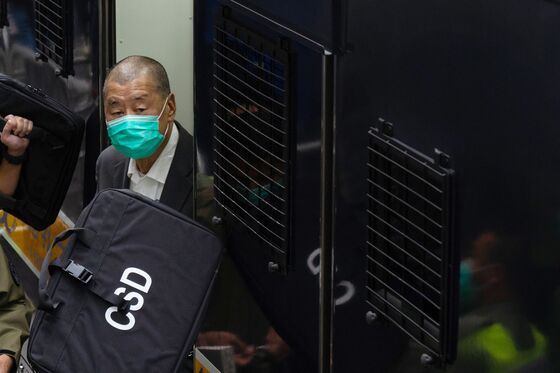 Chinese authorities had sought Lai's immediate detention in the most high profile case brought under the law. The People's Daily newspaper, the mouthpiece for China's ruling Communist Party, had blasted the earlier decision to release Lai, warning the case could be transferred to mainland courts.
The decision led by Chief Justice Andrew Cheung reaffirmed that the top court couldn't determine whether provisions of the security law were unconstitutional under the city's Basic Law. They did, however, rule that the court could adjudicate whether decisions by local courts were consistent with the language in the law protecting human rights.
"That means that we can't rely on the courts and the Basic Law to protect us from laws handed down by the central authorities in Beijing," said Eric Cheung, a principal lecturer at the University of Hong Kong's law faculty. "It's a very sad day for Hong Kong."
While almost 100 people have so far been arrested under the security law, Lai is among the first to have his case move through the courts. He's been charged with colluding with foreign powers to impose sanctions or engage in hostile activities against Hong Kong or China between July 1 and Dec. 1 and is also facing an additional fraud charge. He denies all charges.
Lai intends to appeal to a lower court for bail, the Apple Daily newspaper reported, citing his lawyer.
"The terms of his bail are incredibly restrictive," Mark Simon, a long-time aide to Lai, said in a text message, adding that the push to keep Lai in jail appeared intended to "send a thuggish message to the rest of Hong Kong."
The decision will shape how Hong Kong handles the future prosecution of cases under the security law, which imposed punishments of as long as life in prison for subversion, secession, terrorism and collusion with foreign powers. The legislation was enacted by the National People's Congress on June 30 without public consultation or debate.
Beijing will be happy with the ruling and will see no reason to intervene, said Lawrence Ma, lawyer and chairman of the Hong Kong Legal Exchange Foundation. "The Court of Final Appeal is in alignment with the National People's Congress and the legislative intent of the national security law," said Ma, who's also a provincial representative of the Chinese government's political advisory body.
The collusion allegations against Lai are based on his social media posts and comments to foreign media outlets, as well donations police say he made to the advocacy group "Stand With Hong Kong," according to court filings and local media reports citing police documents. Among 18 Twitter posts highlighted by police was one after the August detention of a dozen Hong Kongers caught fleeing to Taiwan, with Lai writing: "Can the U.S. Government find ways to save these kids?"
Lai's retweet of a July statement by former U.S. Secretary of State Michael Pompeo congratulating Hong Kong's opposition on a successful primary was also cited by police. Several Apple Daily-hosted live-streamed events, in which Lai spoke critically of Chinese President Xi Jinping and called for international sanctions against China in front of foreign guests, were presented as additional evidence.
One provision of the security law holds that suspects charged under it shouldn't receive bail "unless the judge has sufficient grounds for believing that the criminal suspect or defendant will not continue to commit acts endangering national security." The government argued that the judges shouldn't have released Lai, if doing so required special conditions such as house arrest.
On Tuesday, the judges ruled that the lower court judge "erroneously" interpreted the security law and didn't take into account the law's "more stringent threshold" for granting bail.
Simon Young, a law professor at the University of Hong Kong, said the ruling means defendants in national security cases will have an "evidential burden" to demonstrate they deserve bail. "If he sits back and does nothing, he will not get bail," Young said.