Hong Kong Activists Jailed Up to 10 Months Over Vigil
(Bloomberg) -- A Hong Kong court handed down fresh jail sentences to a group of democracy activists, including a former chief executive candidate and the ex-leader of city's biggest protest group, over their roles in vigil to commemorate the 1989 crackdown in Tiananmen Square. 
Albert Ho, a former lawmaker and Democratic Party chief who sought the city's top job in 2012, was sentenced to 10 months in District Court on Wednesday for his participation in the unauthorized vigil last year. Judge Amanda Woodcock ruled that the sentence should be served concurrently with the 18 months Ho is already serving. 
Ho was among a dozen activists who pleaded guilty last Thursday to charges related to the protest, with seven of them already in jail for other banned political activities. Figo Chan, ex-convener of the Civil Human Rights Front, was similarly handed a 10-month sentence.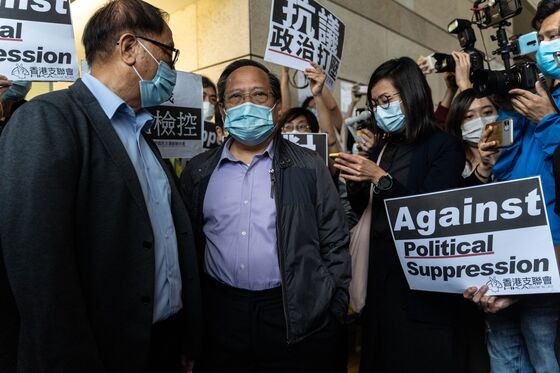 Former lawmakers Leung "Long Hair" Kwok-hung, Cyd Ho and Yeung Sum received six-month terms. Four other activists got sentences ranging from six to 10 months, and three received suspended sentences.
Thousands of activists defied a police ban last year to go ahead with the candlelight vigil in Victoria Park, which drew massive crowds annually. Local democracy advocates have accused the authorities of invoking the pandemic restrictions against gatherings to curb the right to assembly and other freedoms guaranteed to the former British colony before its 1997 return to China. 
Representatives from the consulates of Australia, European Union and Sweden attended the hearing Wednesday.
Hong Kong authorities have in recent days arrested Ho and other involved in organizing the annual vigil on more serious national security charges, in what appears to be a crackdown on an enduring symbol of political dissent. On Thursday, the city's national security police searched a museum dedicated to June 4, 1989, crackdown in Beijing.
Four other defendants in the vigil case, including former student activist Joshua Wong, were sentenced to jail in May for participating in the June 4 vigil. Eight more, including jailed media tycoon Jimmy Lai, vigil organizer Chow Hang Tung and Lee Cheuk-yan, have pleaded not guilty and will face trial in November.