High Earners Will Be Worst Hit by U.K. Tax Rises, Sunak Says
(Bloomberg) -- Chancellor of the Exchequer Rishi Sunak defended his plan to increase U.K. taxes to their highest level in more than 50 years, saying it was fair for the highest earners to take the biggest the hit.
Sunak was speaking a day after his budget set out plans to increase corporation tax and levy higher income tax bills on more than 2 million people in the years ahead, to start paying Britain's vast pandemic bills.
In broadcast interviews, the chancellor cited analysis showing "the richest 20% of households" will contribute about 15 times more than those on the lowest incomes. "Crucially, those on higher incomes are affected more by this policy -- it's a very progressive policy," Sunak told Sky News. "That's why this is a fair way to help solve the problems that we need to."
He said 70% of businesses won't be affected by his proposal to raise the tax on profits.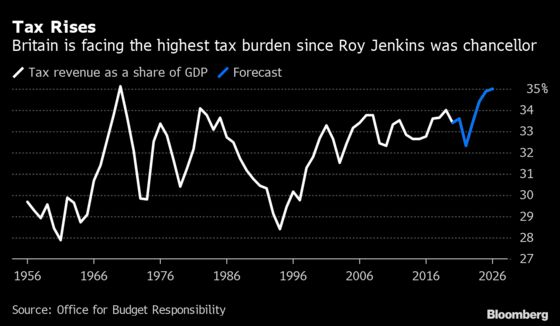 In the biggest revenue-raising budget since 1993, Sunak on Wednesday announced a freeze of income tax thresholds, pulling more people into paying higher bills as earnings rise in the future, and a hike in corporation tax for larger, profitable firms to 25% in 2023, from 19% now.
The measures will raise the total tax burden from 34% to 35% of GDP in 2025-26, the highest level since the late 1960s. Freezing income tax thresholds for four years brings 1.3 million people into the tax system and creates 1 million higher-rate taxpayers by 2025-26, according to government forecasts.
Sunak is seeking to balance pandemic support with the need to reassure markets he's still committed to being responsible with the public finances.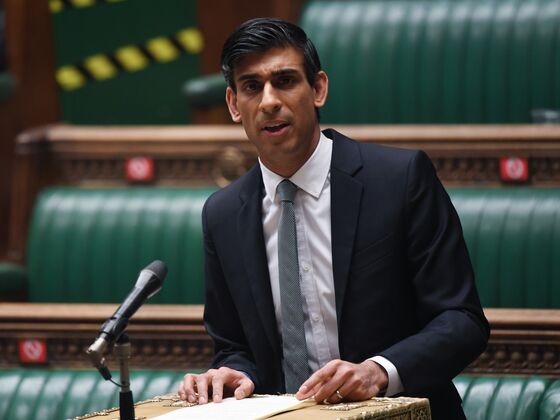 In his budget, he set out another vast short-term spending program on measures to protect jobs and help companies survive the country's third national lockdown, and longer term tax hikes to start to pay for it.
During a round of interviews on Thursday, Sunak said it "will be the work of many years, decades and governments to fully pay all that money back."
The planned increase in corporation tax risks opposition from some Conservatives who have argued Brexit will make the U.K. more nimble and better able to compete for international investment.
Some Tories are privately unhappy with the corporation tax rise and want Sunak to cancel it if the economy improves.
"I believe the chancellor has given himself room to see how the economy performs and what effect that has on tax revenues," former party leader Iain Duncan Smith said. "If it looks progressively better, he may be able to review his corporation tax decision further down the road."
Economists said opposition from politicians and business lobbies could make it hard for Sunak to implement a hike that will propel the U.K. up the OECD rankings for corporation tax rates.
"I will be amazed if in two years the CBI is not saying it's absolutely bonkers that we are raising corporation tax to 25%, whereas I think 23% maybe they would have got away with," Torsten Bell, chief executive of the Resolution Foundation think tank, said in a briefing Thursday.
Institute for Fiscal Studies Director Paul Johnson described the move as a "screeching U-turn" on Conservative policy and questioned whether it can be delivered without the chancellor having to make concessions.
"I reckon 50-50 at best," he said. "Even if it does, as the Office for Budget Responsibility expects, raise 17 billion pounds in 2025-26, it will raise less over the long run."