Here's Why Sweden Is Struggling to Form a New Government
(Bloomberg) -- There are few signs Sweden will get a new government any time soon almost two months after an inconclusive election that saw major gains for the nationalist Sweden Democrats. Almost a byword for stability, Sweden is now in the midst of its longest post-election period without a new government, echoing a growing trend across Europe as populists challenge the establishment.
1. What happened in the election?
Power in Sweden has typically shifted between a center-left bloc and a center-right faction. But neither of those two came away with a majority in the Sept. 9 election since the Sweden Democrats ended up winning 62 seats in the 349-person legislature. Prime Minister Stefan Lofven's center-left coalition emerged with a one seat lead over the center-right Alliance, but it teamed up with the nationalists to oust him in a confidence vote shortly after the election.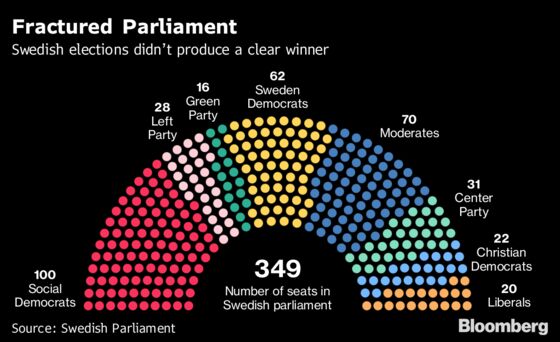 2. So why doesn't the Alliance rule with the nationalists?
The Alliance was formed in 2004 and is made up of four parties, the Moderates, the Center Party, the Liberals and the Christian Democrats. The Center Party and the Liberals have vowed never to form a government that relies on support from the Sweden Democrats, a party that has neo-Nazi roots. The Moderates and the Christian Democrats are more willing to use its support to grab power, but have so far failed to convince their Alliance partners.
3. Could the Social Democrats rule with the nationalists?
That's very, very unlikely. Social Democratic leader Lofven has vowed never to work with the Sweden Democrats, denouncing them as white supremacists. His coalition partners, the Left Party and the Greens, have also ruled out such collaboration.
4. What do the nationalists want?
As the other leaders talk and fail, Sweden Democrats leader Jimmie Akesson has watched from the sidelines. He says he's open to talking to anyone willing to give him influence, but has a preference for working with the Moderates since its immigration policies most closely track his. He says his party's analysis is that it would gain from a new election.
5. How's the process going?
Poorly. Moderate Party leader Ulf Kristersson and Lofven were each given two weeks in succession to form a viable coalition and both failed. The smaller Center and Liberal parties have called for a government across the bloc lines, but have been rebuffed by Kristersson and Lofven. The speaker, Andreas Norlen, has taken over the process and will on Tuesday lead group talks on four possible alternatives. He will start with six parties in the room to see if it's viable to forge a grand coalition and then work through three other alternatives during the day. He will also talk to the Sweden Democrats and the Left Party, who are not seen as being part of any possible coalition.
6. How long can talks take?
Constitutionally, there's no limit. But at some point the speaker will need to put a coalition and a prime minister to a vote in parliament. If that happens four times and fails then a new election will be held within three months. Sweden has never gone beyond one vote. Moderate Party leader Kristersson has urged a vote to make people choose sides. The speaker has said that he won't stress the process, but also conceded that talks can't go on forever.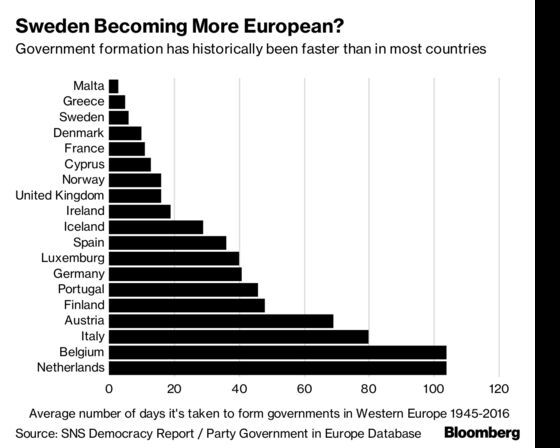 Not yet. The krona has actually strengthened since the election. Sweden is being ruled by a care-taker government. The country has large budget surpluses, low public debt and strong civil institutions. But it does have long-term challenges in the housing and labor market that need to be addressed and could find itself hamstrung should there be a crisis that needs be dealt with.