Her Word Against His
Twenty seven years after Anita Hill fielded questions from the Senate Judiciary Committee about allegations that Supreme Court nominee Clarence Thomas sexually harassed her, the panel will hear today from a woman who's accusing another high court nominee of sexual misconduct.
The session will shape the court's future and could redefine the "Me Too" era. It may help determine President Donald Trump's legacy. California professor Christine Blasey Ford will testify that Brett Kavanaugh held her down and tried to disrobe her at a party when they were teenagers. Kavanaugh will deny even being there.
Trump wavered publicly for the first time yesterday in his support for Kavanaugh, telling reporters he could pull the nomination based on Ford's testimony, even as he called the mounting accusations "a big fat con job."
With polls showing women already abandoning the Republican Party, today's hearing could boost Democrats' efforts to take control of the House and perhaps even the Senate in the Nov. 6 midterms.
Under pressure from their base, Republicans are forging ahead with plans for a full Senate vote as soon as Tuesday. That could change, however, if today's events erode Kavanaugh's support. At least three senators already say they're reserving judgement.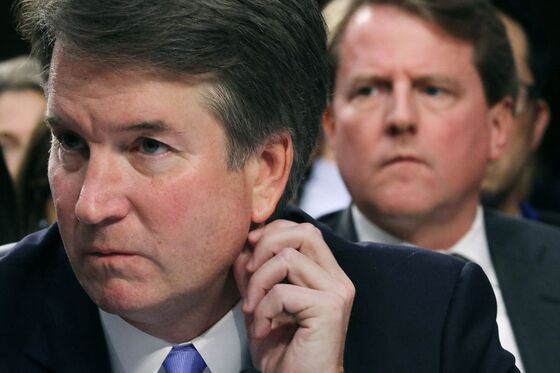 Increasingly isolated | Trump arrived at the United Nations General Assembly this week looking to rally global support against Iran and show his policies on North Korea were lowering the risk of nuclear war. By yesterday, he made clear he didn't care if he persuaded anyone. "It doesn't matter what world leaders think on Iran," the president said, a comment emblematic of his approach to a meeting leaders traditionally use to help narrow divides, not widen them.

Macron's offer | Emmanuel Macron insists the U.K. must pay a price for leaving the European Union. Now comes the carrot. The French President told Bloomberg's Editor-In-Chief John Micklethwait that Britain would be welcome back in the bloc if voters decided to stay in a second referendum. As for his domestic woes, Macron said there will be no let up in the pace of reform: "I am not driven by polls."

Meddling claims | China responded with barely concealed frustration to Trump's accusation that Beijing is trying to meddle in the U.S. midterm elections by placing advertisements in Iowan newspapers attacking his trade policies. "We do not and will not interfere in any country's domestic affairs," Foreign Minister Wang Yi said at a UN Security Council meeting. The trade tensions risk bleeding into other parts of the relationship — China this week refused a U.S. warship entry to Hong Kong planned for next month.

German collision | Germany's economic interests are coming up against the government's goals of becoming an environmental leader in a $590 billion shift to renewable power. As Brian Parkin and William Wilkes report, those competing agendas are coalescing in an ancient forest in and around Hambach — or what's left of it.

Double blow | It's been a difficult week for Canada's Justin Trudeau. Trump seemingly snubbed him at a UNGA function, then said yesterday he rejected a meeting because he's unhappy with trade talks. While Trudeau's office said he hadn't requested a chat, it shows Canada remains out of favor. On top of that, Saudi Arabia demanded an apology to end a diplomatic dispute that's hurt business ties, accusing Canada of treating it like a "banana republic."
And finally ... With trademark candor, 93-year-old Malaysian Prime Minister Mahathir Mohamad used an event in the U.S. to pronounce Trump's chaotic diplomatic style "a big problem" for Asia, and made a tongue-in-cheek prediction that China can outlast America in the trade war. That's even as Mahathir has, since coming to power this year, pushed back against China's growing clout in Asia, including its investment dollars. "China has been there for 4,000 years," he said. "One has to learn to live with China."