Hedge Funds Rent a Lifeline to Stay Afloat in EU Post-Brexit
(Bloomberg) -- With Brexit threatening to lock some U.K. hedge funds out of Europe, a cottage industry is growing to help keep the door open.
Call it the rental business for hedge-fund management.
Small hedge funds are turning to firms in the European Union that can handle a lot of their back-office operations such as risk management and compliance, enabling them to meet regulators' conditions to do business there. They're leaving the job of picking stocks and bonds with traders back in London.
Battered by volatile markets, fleeing investors and spiraling costs, money managers can ill afford to lose access to the $20 trillion managed by pension funds, insurers and other institutional investors in the rest of the EU. That could happen after Britain withdraws from the bloc, and U.K.-based funds lose the so-called passport that gives them the right to do business in the single market.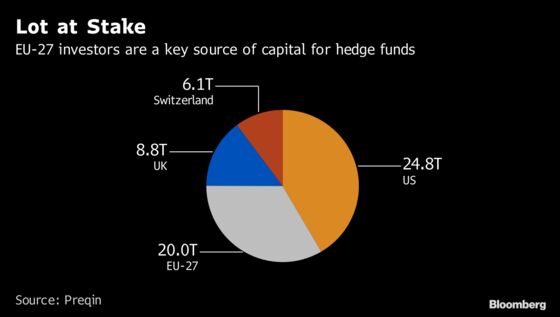 "Brexit has been a huge benefit for hosting firms," said Joe Vittoria, chief executive officer of one such company, Mirabella Group, which has a unit in Malta. "In this period of uncertainty, why buy something when you can rent until things become more clear?"
Under the Brexit deal that U.K. Prime Minister Theresa May reached with her counterparts, most cross-border financial services will be based on an arrangement known as equivalence, which involves recognition by both sides that the other's rules and supervision are as robust as their own. But May's agreement on the future relationship between the U.K. and EU still has to be ratified by Parliament, an outcome that's increasingly uncertain.
The EU already has equivalence-based agreements on services such as clearing with countries including the U.S. and Japan. But market access under equivalence is narrow, and it can be revoked on short notice.
"Firms are now coming to us saying, 'I can't build my business around this,"' Vittoria said of equivalence. "They are asking for a solution where they can carry on living in London, and still utilize the passports" in the single market, he said.
What hosting firms do:

ManCos, as they're known in the industry, allow fund managers to offer EU-authorized funds to investors anywhere in the single market.
Help hedge funds to satisfy EU regulators' demand for firms to have a significant presence in the bloc, not just a "letterbox" office. 
Offer a hedge against the broader issue of future U.K.-EU trading rules, which won't be negotiated in detail until Britain has left the bloc.
In its impact assessment of the U.K.'s withdrawal from the EU, the Financial Conduct Authority said the largest asset managers are nearly finished setting up operations in Europe to avert any disruption in their business. Smaller firms with no presence in the area have fewer options to hold on to their clients, and "may have to rely on third parties for the cross-border management and marketing of their funds," the FCA said.
KB's managing principal, Mike Kirby, said the firm has recently seen an increase in U.K. funds considering using KB in Dublin to support funds in Ireland. And the path from London to Dublin is well trodden. "Something between 40 and 45 percent of hedge funds are administered in Dublin, and that number is far higher if you look at funds managed by U.K. managers," he said.
Vittoria said Mirabella's client base has increased to 44 managers from 32 in mid-2017, and he has added 12 staff to handle the new business.
In an interview in his office in Mayfair, London's traditional hedge fund hub, Brooklands Fund Management's Mike Williams said his three-year-old platform is now considering setting up a second office in Paris to ensure his clients can raise money from European investors going forward.
"In case of a doomsday scenario, we would open an office in the EU for sure," Williams said.
It can typically take a few months to get up and running on one of these third-party platforms, so crunch time starts now. Prices for the service vary, ranging between 8 to 20 basis points over assets under management, with a yearly minimum. Others charge a flat fee that can run to $200,000 a year.
"There are various new investment initiatives on the back burner due to the uncertainty and lack of clarity of the proposed agreement," said Clayton Heijman, CEO of Privium, which has fund-infrastructure providers in the Netherlands and the U.K. "Especially if investments need to be made for a longer period of time, up to 10-15 years, uncertainty about what will happen within the next 24 months is a true stumbling block."