Hedge Funds Post Small Gain in May, Curbed by Turmoil in Europe
(Bloomberg) -- Hedge Funds eked out a small gain in May as a strong showing by activist funds was offset by jitters in emerging markets.
Funds rose 0.32 percent last month. While that was the second consecutive monthly gain, returns were less than half of April's increase of 0.78 percent, according to the Bloomberg Hedge Fund Database.
For the first five months of the year, hedge funds were up 0.39 percent, trailing the 2 percent rise in the S&P 500 Index.
Activist funds continued their winning streak in May, posting the biggest monthly gain among sub-strategies at 5.97 percent. That's on top of an increase of 2.86 percent in April as bets on technology companies continued to pay off.
NYSE FANG+ Index May total returns were 7.97 percent, topping the S&P 500 by more than 550 basis points.
May helped keep activists the top-performing sub-strategy for March through May, and year-to-date.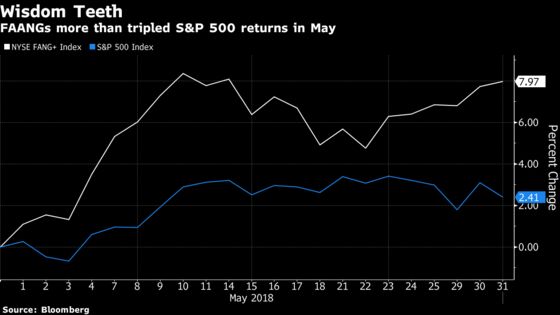 Emerging Markets were hit by higher volatility as political turmoil in Brazil, Italy and Turkey spooked investors.
Emerging Market sub-strategies posted the biggest losses in the month.
The Equity Hedge Emerging Market sub-strategy fell 2.42 percent.
Emerging Market Debt sub-strategy of Fixed Income Directional dropped 1.57 percent
Public funds also moved out of emerging market holdings as a stronger dollar and higher U.S. bond yields replaced flagging investor appetite for assets such as debt and currency plays in Brazil.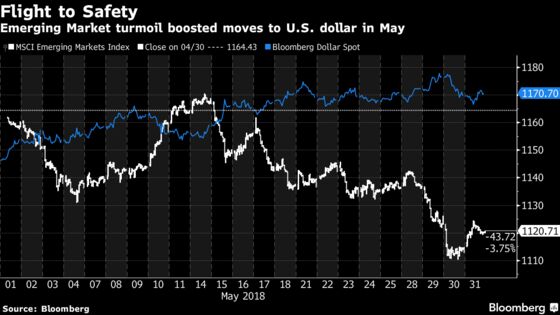 Some Macro funds saw riskier, cross-asset bets pay off, but overall the strategy had the second biggest decline in May, falling 0.31 percent.
Two of the three macro sub-strategies dropped in the month.
Discretionary Thematic fell 0.67 percent
Macro Diversified returns slid 0.37 percent.
Only the quant-focused Systematic Diversified macro sub-strategy posted positive returns. It rose 0.15 percent.
Only three of the seven tracked fund types had positive returns in May.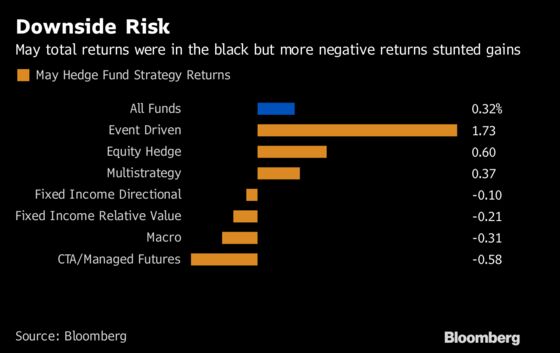 Long-Short sub-strategy funds gained 1.24 percent in May, underperforming the S&P 500 by 117 basis points.
NOTE: Go to HFND and select option 3 to see the Bloomberg Hedge Fund Database Snapshot for more details on hedge fund performance
NOTE: See HFS to screen for specific hedge funds
NOTE: All data are total return including reinvested dividends. May data are the most recent available. June returns become available around July 12.
NOTE: "Equity Hedge" refers to a Bloomberg-created term for strategies where the largest subset of funds is L/S Equity and Long-Biased hedge funds
RELATED: Here are how some hedge funds performed last month