Hedge Fund That Hasn't Lost in a Decade Piles Into Russian Stocks
(Bloomberg) -- David Amaryan just pulled off a feat many investors could only dream of: His portfolios have rallied every year over the past decade.
The flagship fund at Moscow-based Balchug Capital advanced 23% in 2020, boosting its total return since inception in January 2019 to 91%, according to an investor letter seen by Bloomberg News. That compares with the S&P 500 Index's 56% gain and MSCI Emerging Markets Index's 41% return in that span.
Amaryan, 40, benefited last year by piling into a basket of "recovery" stocks, primarily U.S. companies with strong balance sheets that tumbled in the early Covid-19 selloff. As those shares climbed, his fund trimmed its positions. He also turned bearish on Russia in February, shorting leveraged exchange-traded funds to protect against a decline in the ruble.
Balchug Capital, which oversees $250 million, is now dialing up a bet closer to home. Almost half of its flagship fund is invested in stocks from Russia and former Soviet states. Russian shares could get a boost as investors increase their exposure to emerging-market equities, while higher-than-average dividend yields and a potential rally in oil prices also increase their appeal, according to Amaryan.
"The Russian market, after a poor performance in 2020, should do much better this year and outperform most of its peers," he said in an interview. Still, the prospect of new sanctions under Joe Biden's administration could lead to market volatility, "which is why Russia remains an active manager's market. You have to know the trends, the situations, the players and the dangers extremely well and be able to react swiftly to any development," he said.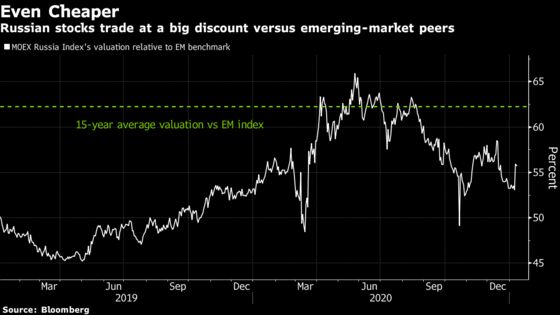 Amaryan, a native Armenian, started covering Russia in 2004. He worked at AllianceBernstein, Citigroup Inc. and the Moscow-based investment bank Troika Dialog before starting his own hedge fund Copperstone Capital. From 2011 to 2018, his portfolios gained every year, averaging a 16.5% annualized return after fees and commissions, according to documents seen by Bloomberg News. Amaryan said he seeks out event-driven situations, which have relatively low correlations with the broader market.
By comparison, the average annualized return for emerging-market hedge funds in the past decade was 1.6%, according to data compiled by Eurekahedge.
Amaryan's bet comes with a health warning. Russian stocks returned -4.5% in dollar terms last year as some investors shunned the energy-dependent economy, which has stagnated under U.S. and European Union sanctions. Meantime, the ruble slumped in the run-up to the U.S. election amid concern that a Biden administration would take a tougher stance toward Moscow. The currency posted the fourth-biggest loss across emerging markets in 2020.
In March 2016, Amaryan and Copperstone Capital were among a group of defendants that paid almost $18 million to resolve a U.S. regulator's claims that they engaged in insider trading using hacked news releases. The firm was renamed Balchug Capital soon after.
Amaryan, who neither admitted nor denied wrongdoing as part of the settlement, declined to comment on the case and his fund's performance.
He said "digging deeper" and investing in a handful of companies is a more effective and safer way to play the Russian market. Here are three of his top stock picks in the country:
Yandex NV, the Moscow-based Internet firm is "one of the best run companies in Russia." The stock has rallied every year since 2014. He said there's a good chance it's included in the Nasdaq 100, which also could drive outperformance.
Rosseti PJSC, the Moscow-based power company, should benefit from a push into renewable energy as it builds charging stations for electric vehicles across the country.
Tatneft PJSC, Russia's fifth-largest oil company, is a great dividend play, according to Amaryan. He said Russia's ratification of the Paris Agreement on climate change signals a push for the nation's big firms to pursue more environmentally friendly standards and to attract funds that target environmental, social and governance (ESG).