Italy's Prime Minister Is Tangled Up in Trump Impeachment Inquiry
(Bloomberg) -- Giuseppe Conte wasn't going to let anyone spoil his party.
The Italian prime minister was drinking prosecco with his staff at his Roman apartment when an aide pulled him aside to say Matteo Salvini, the populist deputy premier, had announced his intention to bring down the government.
Conte smiled and went back to his 55th birthday celebrations. It was the dead of summer, and over the rest of that August, the soft-spoken law professor not only outmaneuvered his rival to keep his job but also got ever closer to Donald Trump in ways that are now casting a shadow over his reputation.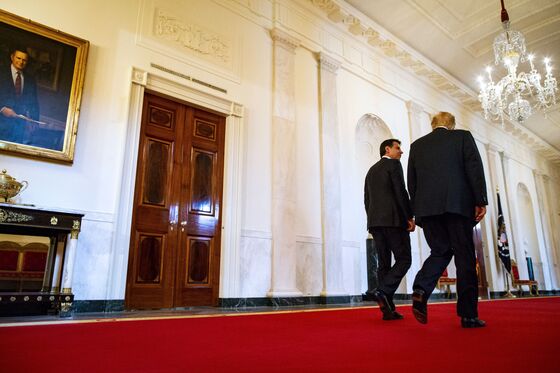 Italy, it would soon emerge, was a key link in the U.S. president's efforts to discredit his enemies in Washington, and Conte is suspected of bending the rules to curry favor in his hour of need with a powerful ally.
As a result, he's facing attacks within his administration and will be summoned to explain himself in front of the parliament's intelligence committee -- heads of the intelligence services will be called up too. There will likely be a Conte hearing next week, according to a senior lawmaker.
Not only that. Salvini is now in opposition and has a grudge. The anti-immigration League chief saw himself as Trump's best friend in Italy and modeled his campaign on "America First." He also spent his time in office trying to build a rapport with the U.S. leader. Only to see Conte beat him to it.
With the waters muddied by the impeachment saga, here is what we know.
A week after Conte's birthday, U.S. Attorney General William Barr made a secret visit to Rome to meet with the head of the Italian intelligence agencies, a senior Italian official said. According to Corriere della Sera, the visit was authorized by the prime minister himself.
Barr is looking into how evidence emerged of Russian meddling in the 2016 U.S. election and was trying to track down a Maltese academic who had allegedly tipped off Trump's campaign team that Russia had emails that could hurt Hillary Clinton. That contact had once worked at a private university in Rome only to mysteriously disappear.
Conte and Trump bumped into each other at a summit of Group of Seven leaders in Biarritz, France and caught up informally. Although it had been Salvini who had courted Trump most openly in Italy, Conte is the one who won a glowing endorsement from the president.
A month later, Barr was back in Rome, this time with prosecutor John Durham, for a second meeting with intelligence officials.
All this flies in the face of standard practice, according to two people familiar with such procedures. A U.S. investigator would typically have to rout his request through different layers of administration in Washington and Rome, they said.
A more prudent premier would have protected himself by insisting on standard procedure, a former senior Italian official said, especially since the intelligence chief is a personal friend whom Conte appointed.
Lawmakers want to know what mandate Conte gave the spy chiefs, why a foreign government minister met with intelligence chiefs, whether the Italian secret services carried out an investigation for Barr, and whether Conte informed anyone else in the government.
Conte sees no anomaly in the behavior of Italian secret service chiefs, his office said Oct. 3. His spokesman didn't respond to a request for further clarification about the sequence of events.
The consequences though are already unfolding as Conte's new power base started cracking hours after his junior ministers were sworn in.
Former Premier Matteo Renzi had persuaded his Democratic Party to join up with the anti-establishment Five Star Movement to form the new coalition -- only to rethink his decision.
Although Renzi has pledged full support to the new government, he's also called for Conte to surrender control over the intelligence agencies and to appear before the parliamentary committee on the secret services to explain himself.
Italians appear impervious to scandal. Conte's own ratings seem unscathed, much as Salvini's were at the height of "Russiagate." At stake is Italy's standing in the world order.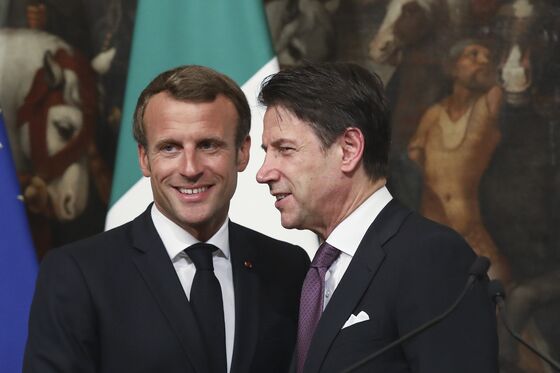 It's all an uncomfortable reminder of how Conte's first term panned out: Salvini was nominally inside the government, but spent much of his time attacking the administration. Ultimately, those tensions toppled the coalition.
All three coalition parties are committed to seeing out the legislature, which ends in 2023. But one junior minister said he expects it will break down within a year as internal divisions and a lack of public support take their toll.
In the midst of the turmoil, Conte hosted French President Emmanuel Macron for dinner at his official residence of Palazzo Chigi and defaulted to flattery to paper over past skirmishes.
Dessert was croissant-flavored ice cream. Speaking in English, Conte proposed a toast to the revived relationship between their two countries.
"To us," he said, raising a glass of 2009 (Italian) white.