Hawaii Democrat Gabbard Says She Will Run for President in 2020
(Bloomberg) -- U.S. Representative Tulsi Gabbard, a Hawaii Democrat and one of the first female combat veterans elected to Congress, says she plans to run for president in 2020.
"I have decided to run and will be making a formal announcement within the next week," Gabbard told CNN's Van Jones in an interview set to be broadcast on Saturday.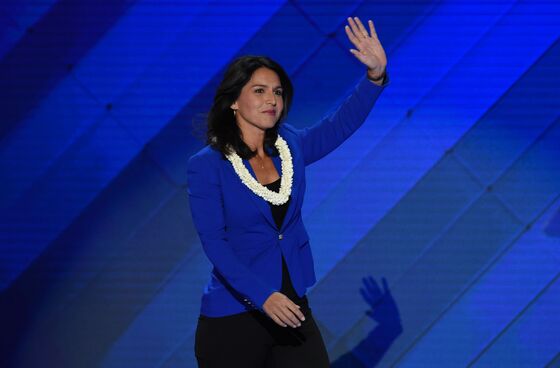 Gabbard, 37, who served in the Iraq War and was first elected in 2012, joins the already crowded ranks of potential Democratic candidates who may be battling for the presidential nomination and the chance to challenge President Donald Trump in November 2020.
Senator Elizabeth Warren of Massachusetts became the highest-profile Democrat to launch a presidential exploratory committee when she filed papers Dec. 31 with the Federal Election Commission. Last week, she visited Iowa, the state that holds the first caucuses, and plans to be in New Hampshire, site of the first primary, this weekend.
Another possible contender, Senator Kamala Harris of California, teased about a possible run Thursday night on CBS's "The Late Show with Stephen Colbert."
Gabbard was born in American Samoa and moved to Hawaii as a small child, according to her website. She was elected to the Hawaii state legislature at 21 and was deployed to the Middle East with the Hawaii National Guard.
In Congress, she has sometimes challenged her party's establishment. She supported Senator Bernie Sanders of Vermont over Hillary Clinton for the Democratic presidential nomination in 2016.
And last week, she was one of the few congressional Democrats to vote against a package of rules approved by the party's leadership. She joined Representatives Ro Khanna of California and Alexandria Ocasio-Cortez of New York, who said the package was flawed because it contains a "pay as you go" austerity provision supported by Democratic centrists.