Harris Reaches Guatemala After Earlier Forced Plane Switch
(Bloomberg) -- Vice President Kamala Harris made it to Guatemala after a delay when her original plane returned to Joint Base Andrews with a technical issue and a replacement was swapped in.
The first plane turned back not long after takeoff due to "a technical issue," spokeswoman Symone Sanders said earlier Sunday.
After Air Force Two landed back at the military base outside Washington, Harris gave a thumbs-up to reporters and said: "I'm good. I'm good." She took off about two hours later on the second aircraft -- after giving reporters another thumbs-up and a wave.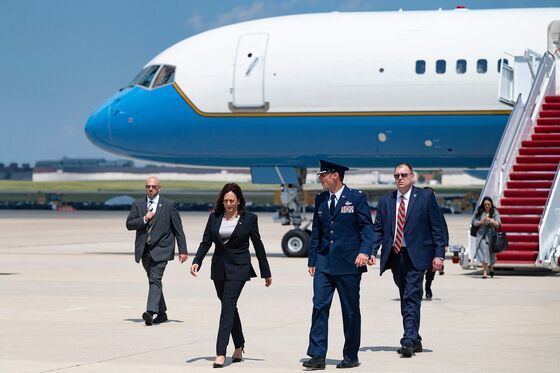 Sanders later said that the flight crew "noticed that the landing gear was not storing as it should, which could lead to further mechanical issues." The plane turned back out of an abundance of caution, she said.
Passengers later boarded the backup C-32, which is an Air Force-modified Boeing 757. Harris and her entourage arrived in Guatemala City about 90 minutes behind her original schedule.
In March, Harris ditched her usual jetliner because of a technical issue during a stop in Los Angeles. At that time she switched to a smaller plane, while reporters and most of her staff took a C—17 cargo plane.
Harris is visiting Guatemala and Mexico as she works on the Biden administration's strategy to deal with record numbers of migrants from Central America.
The Federal Aviation Administration declined to comment on the incident.