Kamala Harris Didn't Raise Sub Flap With Macron in One-on-One Meeting
(Bloomberg) -- The U.S's new defense pact with Australia that's strained ties with France in recent months wasn't discussed during Vice President Kamala Harris's meeting with Emmanuel Macron, an administration official said Thursday. 
Harris met with the French president Wednesday as part of a five-day trip to Paris aimed at raising her international profile and continuing to heal a rift between the U.S. and its oldest ally.
"Last night is evidence of history and also our current relationship and our commitment to a new era of partnerships to address the challenges that we face," Harris said, adding that the session lasted about 90 minutes and included a tour of the Elysee Palace.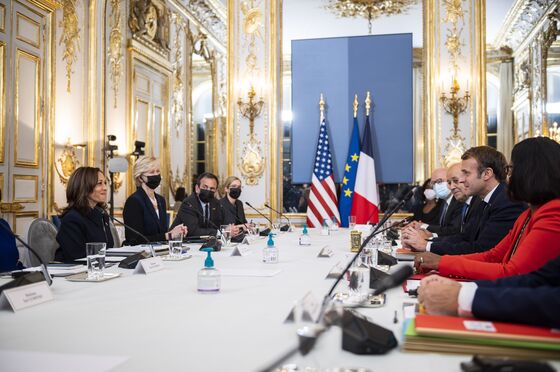 Australia's decision to cancel a $66 billion submarine contract with France in favor of a new security pact and nuclear-powered submarine deal with the U.S. and U.K. has tested America's relationship with France.
U.S. President Joe Biden told Macron last month that his administration had been "clumsy" in handling the matter.
The administration official said Harris and Macron didn't touch on the submarine rift because there were other, more pressing matters to discuss, adding that the relationship between the two countries was strong. 
Among topics they discussed were the situation in Belarus with Russia channeling thousands of migrants to the border with Poland, Ukraine's sovereignty, and counter terrorism efforts in the Sahel region of Africa, the U.S. official said.
While on a tour of the palace, Macron showed Harris Charles de Gaulle's desk, the vice president told reporters Thursday. 
"It was there that we had a comprehensive conversation about not only science but this new era," she said. "I thought of it in the context of what I've read about de Gaulle and he said, 'You know, there are three things you have to keep intact as it relates to Paris: It's the university, it's the Eiffel Tower, and Pasteur Institut.' And that prompted a discussion about our longstanding commitment, going back to Ben Franklin, on the issue of scientific research and medical research, what we are prepared to do to address the pandemic, pandemic preparedness, but also again, the relationship that the United States and France have in working together to address the issues affecting our partners around the world."
Harris visited the a cancer lab at the Institut Pasteur -- where aides said her mother conducted breast cancer research in the 1980s -- on Tuesday.