Hammond Faces U.K. Budget Defeat Over Gaming Machine Stake Limit
(Bloomberg) -- Chancellor of the Exchequer Philip Hammond faces a defeat over his Budget unless he changes course and brings in a crackdown on gambling machines earlier than planned.
More than 100 lawmakers across the House of Commons have signed a series of amendments to the Finance Bill, due to be debated next week, including calling for an urgent review of the effect of fixed-odds betting terminals. They include former Sports Minister Tracey Crouch, who resigned this month after a plan to lower the maximum stakes on the machines was delayed by six months.
The terminals generate significant revenue for gaming firms, but are a source of concern for lawmakers and anti-gambling campaigners, who say the machines exploit addicts.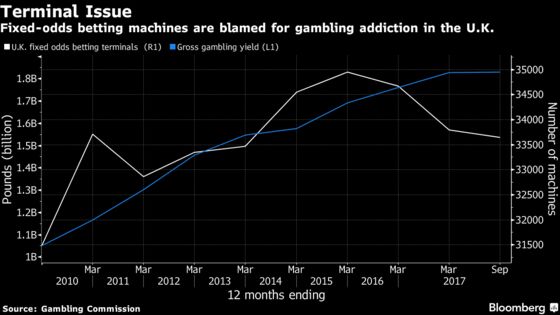 Prime Minister Theresa May has no majority in the House of Commons, and with members of her Conservative Party and allies in the Democratic Unionist Party supporting the wrecking amendments, she has no chance of winning the vote.
That's bad news for former shareholders of Ladbrokes Coral Group Plc, who on Tuesday began a campaign to push for a delay in the legislation implementing the stake cut.
When GVC Holdings Plc completed its takeover of the company in March, it agreed to give Ladbrokes shareholders financial instruments known as "contingent value rights," which would pay out depending on how and when the government changed the maximum stakes on the machines. If the legislation is passed after March 27, the company has to pay them compensation.
According to a group of fund managers pushing for the legislation to be delayed, the payout would amount to 700 million pounds ($900 million). The fund managers have written to every member of parliament, arguing that bringing in the legislation sooner than the March deadline would effectively be giving money to GVC.
If the government backs down in the face of the rebellion in brings in the stake cut sooner, the relevant legislation will almost certainly be passed before the March cut-off.