Early Voting Turnout in U.S. Election Has Already Reached Half of 2016 Total
(Bloomberg) -- Americans have already cast more than half the total votes counted in 2016, as voters show intense enthusiasm and take precautions against the coronavirus pandemic.
With 6 days left to go until Election Day, more than 71 million early votes have been cast as of early Wednesday morning, 51.6% of the total turnout from th 2016 general election, according to the U.S. Elections Project, which tracks early voting. That includes 47.8 million votes cast by mail-in ballots and 23.3 million in-person votes. There were 47.2 million total early votes cast in the 2016 election.
A record number of mail-in ballots are expected to be cast for the Nov. 3 election after states expanded absentee voting in response to the pandemic, and there is heavy balloting at many early-voting locations with voters seeking to avoid any lines or problems at the polls on Election Day.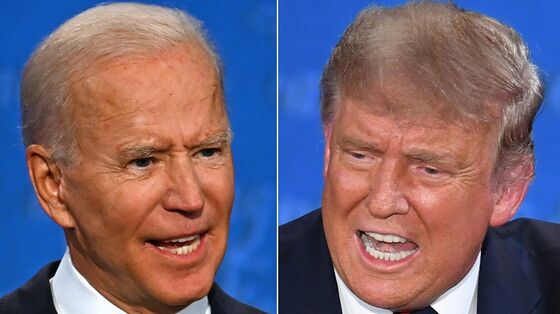 Among the states with the highest percentage of its total 2016 vote already cast so far are Texas at 86.9%, Washington at 76.1%, Montana at 75.4% and North Carolina at 71.5%, according to the Elections Project.
Nationwide, voters will not only be sent an unprecedented number of mail ballots, they are returning them sooner than in past elections, said Michael McDonald, a University of Florida professor who runs the Elections Project.
"This is good news," McDonald said in an Oct. 25 report. "There were many concerns about election officials' ability to conduct an election during a pandemic. Not only are people voting, but they are voting over a longer period of time, thereby spreading out the workload of election officials."
With polls showing that many Republicans plan to vote in person on Election Day after President Donald Trump's unsubstantiated claims about widespread fraud with mail-in voting, registered Democrats have requested 10 million more absentee ballots than Republicans, according to the Elections Project.
Of the more than 34 million ballots already cast in states that report party registration, Democrats account for 48%, Republicans 29%, minor parties less than 1% and those with no party affiliation 22%, data show.
In the critical battleground of Pennsylvania -- which has the highest odds of any state of being the tipping point in the election, according to an analysis by the FiveThirtyEight website -- 1.85 million of the more than 3 million mail-in ballots requested have been returned so far, with Democrats accounting for 69% and Republicans 21%, data show.