Haley's Exit Leaves UN Fretting About Next 'America First' Envoy
(Bloomberg) -- Donald Trump's "America First" rhetoric was never popular at the United Nations, but officials there are now worried they're losing a critical ally as the president's envoy to the global body, Nikki Haley, prepares to depart.
The gulf between a UN diplomatic community that cherishes multilateralism and Trump's open disdain for "globalists" was always wide. Yet Haley managed to deliver the president's domestic applause lines even as she forged a partnership with Secretary-General Antonio Guterres over budget cuts and rallied the Security Council around tough new sanctions on North Korea.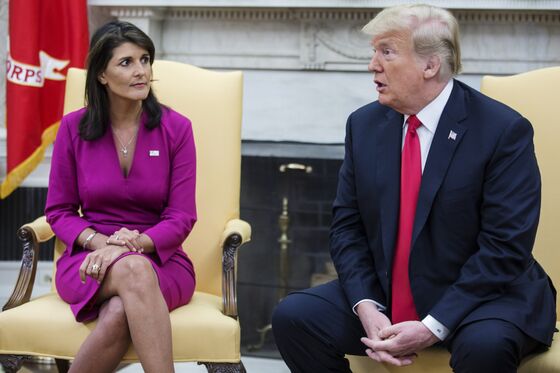 With the UN depending on Washington for about a quarter of its budget, officials there fret that Haley's successor as U.S. ambassador will lack the political savvy and -- more importantly -- the personal rapport with Trump to soften the president's harder-edged foreign policy approach. The former South Carolina governor had direct access to the president and received a rare Oval Office send-off when she announced her departure plans.
"You want the UN ambassador to have the president's ear," said former New Mexico Governor Bill Richardson, who was U.S. envoy to the UN in the late 1990s. "You also want someone with their own political stature."
Haley arrived at the UN with little foreign policy experience but quickly established herself as a leading voice in Trump's cabinet on diplomatic issues. In her first comments to reporters at the UN, Haley warned that she would be "taking names" of countries that don't "have our back." She had allies and adversaries on edge with her vow to look at the UN with "fresh eyes."
"Some of her statements were very political and aimed at domestic audiences," said Jeffrey Feltman, a former UN undersecretary-general for political affairs. "But she was not there to destroy the organization, she was trying to make it more representative of U.S. interests. Haley was not a bomb-thrower."
While Trump had once derided the UN as a "club for people to get together, talk and have a good time," the crisis over North Korea's nuclear program gave Haley an opportunity to show the Security Council's value, ratcheting up sanctions throughout 2017 with backing from China and Russia.
Behind the scenes, Haley found a way to carry out the president's desire to cut UN contributions in a targeted fashion, working with Guterres to help phase out ineffective peacekeeping programs in places like the Democratic Republic of Congo and South Sudan that the secretary-general acknowledged weren't accomplishing their goals.
It didn't hurt Haley in Trump's eyes that she also took on the role of leading critic of what she called the UN's "anti-Israel" bias. Trump has sought to tighten ties with Israel, moving the U.S. embassy to Jerusalem and cutting aid to Palestinians, despite widespread international opposition to both policies.
Israel's ambassador to the UN, Danny Danon, acknowledged the close ties Haley helped forge, saying in an interview that the two of them "achieved a lot together, we changed a lot of things at the UN."
"I'm sure we will continue to work with whoever will step in, but Ambassador Haley is unique and very eloquent, and there's no doubt her presence will be missed," Danon said.
Haley said in her departure announcement at the White House that she needed a break after two terms as governor and two years at the UN. Critics suggested that Haley, who's widely believed to harbor ambitions to run for president someday, was bailing on the administration ahead of potential rocky midterm congressional elections and said her departure looked self-serving.
"The timing was exquisite from a bad point of view," former Trump adviser Steve Bannon said in an interview last month. "Everything she said yesterday and everything she said about stepping down could have been done on the evening of November 6. The timing could not have been worse."
So far, the most-mentioned potential replacements -- including State Department spokeswoman Heather Nauert or Ambassador to France Jamie McCourt -- have far less political experience than Haley did when she took the job. Whoever Trump picks may lose the cabinet status that Trump gave Haley and end up reporting to Secretary of State Michael Pompeo and National Security Adviser John Bolton, whose antipathy for the UN dates back to before his days as ambassador in President George W. Bush's administration.
Not everyone is concerned about Haley's departure. Some diplomats said that whoever comes next will represent Trump's positions and there's very little room for a UN ambassador to truly put her own imprimatur on the job. A senior diplomat for a country at odds with the U.S. on foreign policy said that while Haley started off strong, she became less effective at her job over time so her departure won't make much difference.
With Haley gone, Trump's foreign policy team may tilt toward a more radical version of "America First," said Richardson, the former UN ambassador.
"Bolton and Pompeo are hawks, and that's fine," he said. "But you don't want everyone in your foreign policy team to be a hard-liner."