Gulf Widens Between States Over When to End Virus Lockdown
(Bloomberg) -- As Americans chafe under coronavirus lockdowns, states are accelerating in two very different directions.
The governors of California and New York on Wednesday detailed plans for creating armies of workers -- 10,000 in California alone -- to track and trace new infections, calling the work essential to restarting their stalled economies. Rebuffing protesters who want restrictions immediately lifted, both governors warned that reopening businesses too soon could trigger another wave of coronavirus cases and deaths.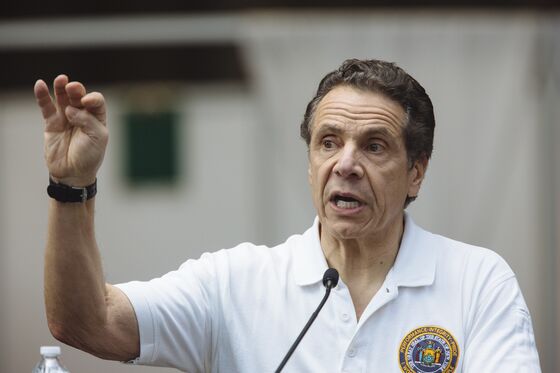 "How can the cure be worse than the illness if the illness is potential death?" New York Governor Andrew Cuomo said.
But in Georgia, Governor Brian Kemp on Wednesday stood by his decision to let some businesses -- including gyms, bowling alleys and nail salons -- reopen by the end of the week, despite opposition from some mayors.
Even President Donald Trump, who has repeatedly called for states to reopen their economies, criticized Kemp's decision to begin relaxing social-distancing measures. "I disagree with what he's doing," Trump said Wednesday at a White House news conference. "I think it's too soon."
After Trump's comments, Kemp tweeted that he had discussed his plan with the president and appreciated "his bold leadership and insight during these difficult times."
Earlier, in a telephone town-hall meeting, Kemp defended his decision: "We're not just throwing the keys and saying, 'Hey, open up, business as usual.' There's a lot of parameters."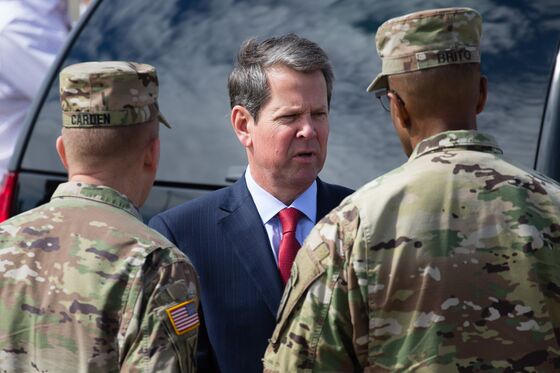 The governors' statements made clear that, just as states made their own decisions to shut down public life at the start of the outbreak, they are likely to ease restrictions in much the same way. While some have formed alliances to coordinate policies with neighbors, different regions are following very different paths.
And their choices are falling largely, although not entirely, along partisan lines. Hard-hit coastal blue states are insisting on increased testing and tracking as a condition for reopening schools and businesses. Many red state officials, emphasizing the economic damage the lockdowns have caused, push to lift them as soon as possible. The lack of a unified approach could hinder efforts to deal with the current outbreak and prevent another.
Cuomo, a Democrat, announced plans to work with Connecticut and New Jersey to increase contact tracing -- a system in which health-care workers track down and contact people who may have been exposed to someone known to be infected. Former New York City Mayor Michael Bloomberg volunteered to help the state implement its tracing program, and he and Bloomberg Philanthropies will donate $10.5 million to the effort. (Michael Bloomberg is the founder and majority owner of Bloomberg LP, the parent company of Bloomberg News.)
"You don't have months to plan and do this," Cuomo said. "You have weeks to get this up and running."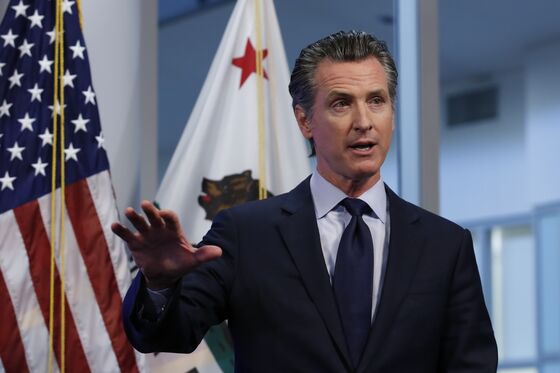 In California, Democratic Governor Gavin Newsom said the state would retrain some of its own workers to join an "army of tracers" 10,000 strong. At the same time, Newsom wants to be able to test 60,000 to 80,000 people per day, up from 16,000 now. He said he spoke with Trump on Wednesday morning, and the president committed to sending at least 100,000 swabs to take testing samples, followed by 250,000 next week and even more two weeks from now. "That was a very good phone call," Newsom said.
He called testing and tracing "foundational" to any plan to reopen California's economy, the world's fifth largest. And while acknowledging recent protests, he refused to give a timeline for easing restrictions, saying most Californians contacting his office support his approach.
"The vast majority of calls are cautioning us not to take the parachute off before we land," Newsom said, during a press conference streamed online.
Republican Kemp, meanwhile, defended his reopening plan as a measured approach that lets small-business owners and workers who are struggling financially earn a paycheck. He said a downward trend in Georgia's daily numbers of new cases, improved outlook for hospital capacity and growing availability of testing make him comfortable with his course.
The governor's order includes health guidelines for businesses, such as screening workers for fever and respiratory sickness, separating work spaces by six feet, and requiring use of face masks and gloves where appropriate.
"There are a lot of people that are hurting really bad right now on the financial end of things, our hardworking Georgians," Kemp said. "And we're trying to do all we can to allow them to start moving back into the workforce in a limited and safe way. And we'll continue to do that as the data and the situation drives that."
He said he expected the reopening would be gradual, depending on the comfort level of business owners and customers. Based on his conversations with the state restaurant association, for example, he said some restaurants are ready to reopen for in-house dining next week while others aren't.
In Illinois, where Governor J.B. Pritzker is widely expected to extend his stay-at-home order beyond its April 30 end date, Republican lawmakers urged him to reopen some businesses such as barber shops and mom-and-pop stores.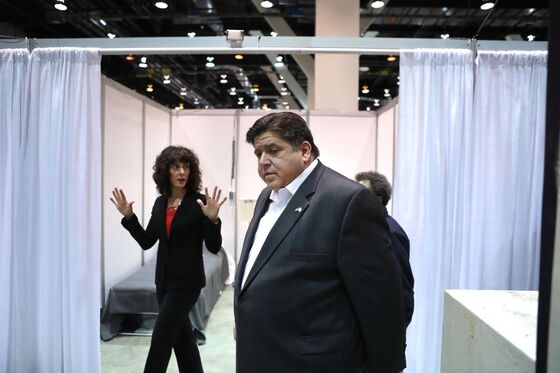 Safety, social distancing, mask and density control should be taken into account, they said. Representative Ryan Spain, whose father is a small retailer in Peoria, said eliminating confusion about which businesses are "essential" and not giving bigger businesses an advantage is key.
"How can we constructively, safely and responsibly resume an economic recovery that's really critical to where we go next?" Spain said.
The legislators also called on Pritzker to let hospitals perform elective surgeries again, rather than reserving all their capacity for coronavirus cases. California's Newsom said Wednesday that his state would take that step, and Cuomo had made a similar announcement in New York.
"People are afraid to go to the hospital," Illinois Representative Tony McCombie said. "We must stop what is turning into a possible additional health-care crisis and protect every citizen.'
In Minnesota, a partnership among health-care providers, medical research groups and the state should result in conducting as many as 20,000 tests a day, Governor Tim Walz said Wednesday.
Rochester, Minn.-based Mayo Clinic Laboratories, the University of Minnesota Medical School and health-care companies across the state have agreed to create a central lab structure to expand testing for the coronavirus, construct a virtual command center to manage the flow of testing, and use collected testing data to help slow the virus's spread across Minnesota.
"The increased testing and tracing will improve our control of the pandemic and help us think about those strategies to start reopening our society," said Walz, a Democrat.