Guaido's Costa Rica Envoy Rebuked for Trying to Move in Early
(Bloomberg) -- Venezuelan opposition leader Juan Guaido's envoy to Costa Rica got off to a rocky start with the government of President Carlos Alvarado after she entered Venezuela's Embassy in San Jose before the deadline to vacate given to the staff loyal to President Nicolas Maduro had expired.
Guaido named Maria Faria as his ambassador to Costa Rica, one of the more than 30 governments that recognizes him to be Venezuela's president. Costa Rica had given the ambassador loyal to Maduro 60 days to stand down, but Faria entered the embassy before time was up, earning an official rebuke.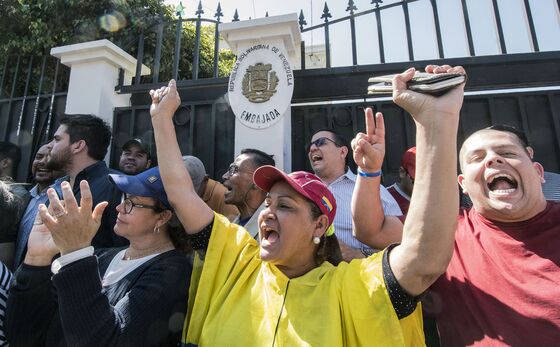 Costa Rica's Foreign Affairs Ministry said in a statement that it "deplores the unacceptable entry to the Venezuelan Embassy in Costa Rica," and said the move "damages fundamental diplomatic norms."
On Wednesday evening, Costa Rican police had the block where the embassy is located under guard. A police commander told reporters that Guaido-aligned staffers were inside the embassy and wouldn't allow Maduro staffers entry and also said that four protesters outside the embassy were Maduro supporters. The embassy sits across the street from the residence of Maduro's envoy.
Guaido on Jan. 23 declared himself Venezuela's leader until a free election can be called, and was swiftly recognized by the U.S. as president. Despite this, Maduro continues to control the military and the government.
Costa Rican authorities cannot enter the embassy, so the two sides will need to reach an agreement, said Shirley Campos, a press officer at the Foreign Affairs Ministry.