Grubhub Spikes After Sale Chatter Spurs Call for M&A
(Bloomberg) -- Wall Street is weighing reports that Grubhub Inc. is exploring strategic options in the midst of intense competition and steep discounts, giving fresh impetus to the idea that food-delivery companies have no choice but to merge or acquire.
"We have always held that the industry is ripe for consolidation," Kunal Madhukar, a Deutsche Bank analyst, wrote in a note. Morgan Stanley also believes a three-player market as opposed to four "is positive and needed from a macro" point of view, though any potential acquisition is expected to be heavily reviewed by regulators given the antitrust outlook.
While a Grubhub spokeswoman declined to comment, the Wall Street Journal reported that the company had tapped financial advisers to help review potential moves, including a sale, but said plans were still in early stages.
According to the New York Post, citing a source with direct knowledge of the sale, Grubhub had "been on the auction block for months" without takers. On Thursday, a fresh report said "Walmart and at least three other grocers mulled acquiring" the company.
Shares in the food-delivery service spiked 3.3% intraday before turning negative. The stock soared almost 13% on Wednesday.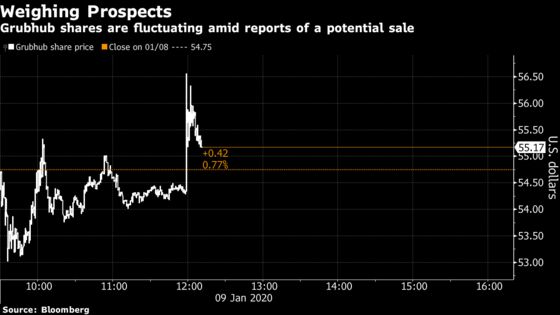 Here's what Wall Street is saying:
Bloomberg Intelligence (Mandeep Singh)
"GrubHub will likely be acquired by a larger competitor such as Uber or DoorDash or could be taken private given its bleak sales growth and margin view for 2020 and intent to consider strategic options."
"Using the deal multiple for TakeAway's pending purchase of Just Eat, any deal for GrubHub will likely be in the 5-6x EV-to-sales range, about a 30-40% premium from its market cap."
Deutsche Bank (Kunal Madhukar)
"Given the steep market share losses in the past two years, and GRUB's failure to appreciate how quickly the landscape has changed, we are not surprised the company may be evaluating strategic options."
"In any case, we have always held that the industry is ripe for consolidation, hence if the report were true, it would be in line with our expectations."
Should Grubhub be up for sale, Deutsche Bank sees potential interest from Uber Eats and Doordash. Madhukar believes Grubhub's valuation "could be substantially higher, even from current levels."
Morgan Stanley (Brian Nowak)
"Consolidation is positive and needed from a macro" perspective, according to Morgan Stanley. "If we are headed toward consolidation from four players down to three, as a listed company, Uber occupies a unique position of the three potential suitors."
"While we believe consolidation makes strategic sense, we would expect any potential acquisition to be heavily reviewed by regulators given the potential long-term market influence and impact on small and large restaurants."
Equal weight, price target $33
BofA Securities (Nat Schindler)
"The U.S. market is now arguably irrational in our view, with DoorDash and GrubHub committing hundreds of millions to marketing, discounts, incentives, and brand campaigns, and Uber mgmt. has commented on the potential for the market to rationalize in 2020."
"We think an acquisition of GrubHub, if it were to happen, would reduce the need for incentives in the market, and be considered positive for Uber."
BofA believes the "timing of this report — during the quiet period ahead of earnings — may suggest that 4Q estimates have more risk."
Underperform, price target $30
Credit Suisse (Stephen Ju)
Given the runup in shares since the selloff following third-quarter results, Ju believes "investors have already anticipated this prospect, but we nevertheless think through potential scenarios based on publicly traded European comps and a potential takeout premium."
Based on peer companies like Just Eat and Takeaway.com, Credit Suisse sees potential for Grubhub shares to be valued at $97 and $128 on GFS and revenue, respectively.
Outperform, price target $52
"In all likelihood any Grubhub consolidation would come through the three other large U.S. players Doordash, Uber Eats, and Postmates."
"Of all the possible scenarios we think a Doordash-Grubhub combination makes the most sense, and a Grubhub takeover of Postmates addresses the fundamental issues at hand the least, as Postmates has by far the smallest market share of the top four national players."
"We don't see Softbank-backed Doordash sitting on its hands either, and think Softbank would support a market share grab acquisition."
Neutral, price target $45 from $30