Greg Craig Acquitted of False Statements About Ukraine Work
(Bloomberg) -- A federal jury found Gregory Craig not guilty of misleading federal officials about his work for a Russia-aligned regime of Ukraine's government while a partner at Skadden, Arps, Slate, Meagher & Flom LLP.
The acquittal on Wednesday, after a three-week trial, is a blow to the U.S. Justice Department, which has intensified its scrutiny of foreign lobbying.
"I want to thank the jury for their service and for doing justice in this case," Craig told reporters outside the E. Barrett Prettyman courthouse in Washington. "I'm grateful to them in so many ways."
The panel of 12 jurors determined that the 74-year-old Craig didn't intentionally cover up details of his involvement in the media outreach surrounding a report his former law firm was hired by Ukraine to create.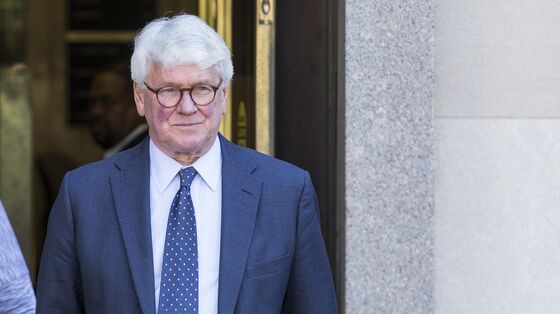 Craig, President Barack Obama's former White House counsel who retired from Skadden last year, faced a single felony count borne out of Special Counsel Robert Mueller's probe of Russian interference in the 2016 U.S presidential election.
Prosecutors said Craig omitted and concealed facts from the Justice Department's Foreign Agents Registration Act (FARA) unit to avoid registering as a foreign agent of the Ukrainian government. Craig spearheaded Skadden's 2012 investigation into the prosecution of former Ukrainian Prime Minister Yulia Tymoshenko by the firm's ultimate client, Ukraine's former President Viktor Yanukovych.
"The jury reached the only verdict it could possibly reach," said William Taylor, one of five attorneys from Zuckerman Spaeder LLP who represented Craig.
The U.S. Attorney's Office in Washington and the Department of Justice didn't immediately respond to requests for comment.
The jury returned with its verdict less than five hours after it began deliberations.
One juror, Michael Meyer, told reporters after the verdict that not everyone entered the jury room with an eye toward acquittal, but at the end of discussions there was "no question in the room."
One factor affecting the outcome was a limitation on the period of time that jurors could consider when examining Craig's conduct, a constraint imposed by the statute of limitations and an agreement between prosecutors and the defense team.
Jurors could only consider Craig's actions after Oct. 3, 2013, just a few days before he and two other Skadden attorneys met with FARA unit officials.
We "couldn't find anything that he had done during that period that warranted finding him guilty," said Meyer, 60, who does business development work for a government contractor. But, he added, several jurors were "disturbed" by some of Craig's pre-Oct. 3 behavior that was revealed during trial.
William Murphy, one of Craig's attorneys, told jurors that his client didn't lie to the FARA unit or conceal facts needed for the Justice Department to make a proper determination. "He had no motive to lie," Murphy said during closing arguments on Tuesday, suggesting there would have been little fallout if Skadden had been forced to register.
Prosecutors, during their closing argument, said Craig made eight key omissions in his written responses to questions from the FARA unit, including about his interactions with a New York Times reporter who he thought should receive an advance copy of the report.
Assistant U.S. Attorney Fernando Campoamor-Sanchez emphasized Craig's status as a highly regarded Washington lawyer, suggesting he should have known better than to lie to a federal agency.
"It doesn't get more experienced than Mr. Craig," Campoamor-Sanchez said. "He's a man of position. He's very careful about what he does and how he does it.
Still, Campoamor-Sanchez added, Craig chose to conceal information in order to prevent potentially damaging details about his firm's work with Ukraine from surfacing. He said those details included payment arrangements for the report, which allowed the bulk of Skadden's fee of more than $4 million to be provided by a wealthy Ukrainian businessman sympathetic to Yanukovych's government.
Ukraine's Ministry of Justice stated publicly in 2012 that it had agreed to pay Skadden about $12,000 for its work. Although Craig and his law firm told the FARA unit about the third-party payer situation, they declined to reveal the particular individual because he didn't want his identity disclosed. Much of the money Skadden received for the report was wired through a bank account in Cyprus controlled by President Donald Trump's former campaign chairman Paul Manafort.
The FARA unit sent inquiries to Skadden in 2012 and 2013 as it decided whether the firm's Ukraine engagement required registration. FARA permits unregistered attorneys to perform certain legal activities for foreign governments and officials, but lobbying and public relations work requires registration.
The FARA unit, after several letters from Craig and the in-person meeting with him and his colleagues, eventually reversed its initial finding that Skadden needed to register.
Prosecutors claimed that alleged omissions in Craig's FARA unit communications were the reason for the ultimate determination, and that a different conclusion would have been reached if they had known every fact.
At the core of the government's case were emails showing Craig spoke with a New York Times journalist and hand-delivered a copy of the report to the journalist's Washington home before it was made public. One of these messages, sent by Craig, said "the Ukrainians have determined" that this reporter should get an exclusive first look at the report. Craig, the emails show, also offered to discuss the report's findings with the journalist.
The specifics of this engagement were among several details that the government alleged Craig left out in his written responses to the FARA unit that led to the unit's no-registration conclusion. Skadden agreed to pay $4.6 million this year in a settlement with the Justice Department over its failure to register for the Ukraine work. Ten of the government's 15 witnesses who testified during Craig's trial were either current or former Skadden employees.
Jurors also heard testimony from former Trump campaign aide Rick Gates, who cooperated under a plea deal. Gates, during his work for Manafort's consulting firm, helped facilitate third-party payments to Skadden for its report.
At that time, both Manafort and Gates were advising Yanukovych, whom they helped get elected.
The government attempted to use Gates's testimony to paint Craig as a willing participant in the public relations plan for the Skadden report. But Craig's defense team cited Gates's past crimes, conspiracy and lies to federal investigators, in an effort to discredit his testimony.
"He is, in plain and simple terms, a con artist," Murphy said during closing arguments. "This is a man who will do anything to get probation."
In the trial's final days, the jury heard from Craig himself. He vigorously refuted claims he was a part of Ukraine's media plan, and also attempted to explain his firm stance against FARA registration.
Registration would have meant that Craig and other Skadden attorneys wouldn't be eligible to serve in the Obama administration for two years. Prosecutors say this motivated Craig to conceal facts that would have led the FARA unit to seek registration.
But Craig said he was concerned that registration would harm the future employment opportunities of his younger Skadden colleagues, not just his own.
The case is U.S. v. Craig, 19-cr-125, U.S. District Court, District of Columbia (Washington).