Graham Calls Saudi Prince 'Unstable' and Sees Sanctions Ahead
(Bloomberg) -- Senator Lindsey Graham called Saudi Arabia's Crown Prince Mohammed bin Salman "unstable and unreliable" and said he and other senators were discussing sanctions against the longtime U.S. ally in the wake of a Saudi columnist's murder.
An influential policy hawk in Congress who frequently advises President Donald Trump, Graham said he and other like-minded colleagues don't yet have a plan of action, but lambasted the leadership of Saudi Arabia's 33-year-old de facto ruler, widely known as MBS.
Prince Mohammed "has been unstable and unreliable and I don't see the situation getting fixed as long as he's around," Graham said.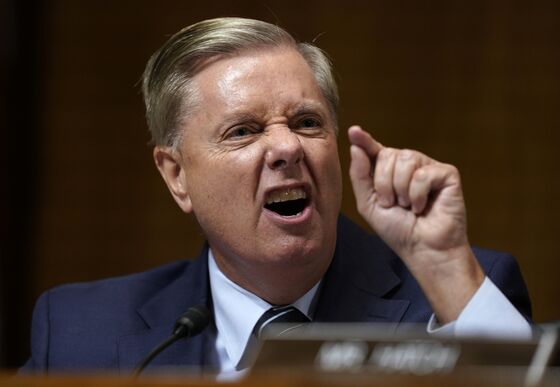 Asked if he was calling for a new crown prince to be named, Graham said it was up to Saudi Arabia to determine its leadership. "I am of the opinion that the current leadership, the MBS leadership, has been a disaster for the relationship and the region, and I will find it very difficult to do business as usual with somebody who's been this unstable," he said.
Graham, a top critic-turned-ally of Trump, has taken a much more strident tone against the prince than the U.S. president since Washington Post columnist Jamal Khashoggi was killed inside the Saudi consulate in Istanbul last month. An authoritative Republican voice on relations with the Saudis, he's previously said the royal is a "toxic" figure who "can never be a world leader on the world stage" but his latest comments go further.
The South Carolina Republican is among a number of U.S. lawmakers, from both Democratic and Republican parties, who have pushed for action against Saudi Arabia over Khashoggi and other concerns.
Reviving Criticism
Khashoggi, a longtime insider who was critical of Prince Mohammed's policies, was murdered during a visit to the Saudi consulate in Istanbul on Oct. 2. The crown prince and Saudi officials initially said they had no knowledge of Khashoggi's whereabouts. But as international pressure mounted, the kingdom said he had died in an interrogation gone awry.
Read More: Trump Presses Saudi Arabia Over Oil as Relations Fray Further
The killing revived criticism of Saudi Arabia's role in Yemen's years-long civil war, whose consequences the United Nations declared the world's biggest humanitarian disaster. Prince Mohammed has defended the Yemen campaign.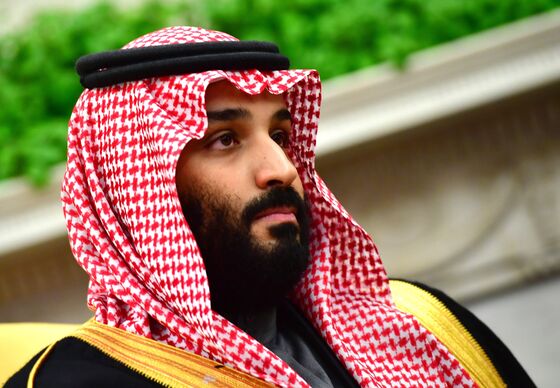 Trump has been critical of the Saudis in the wake of Khashoggi's death, but has said the events shouldn't hinder arms sales to the kingdom. On Tuesday, Trump said he intended to nominate a retired Army general as U.S. ambassador to Riyadh.
Graham was skeptical of National Security Adviser John Bolton's comments Monday that people who've heard a recording of Khashoggi's murder don't believe it implicates Prince Mohammed.
"Pretty hard for me to believe that 15 people just on their own fly to Turkey and chop somebody up in a consulate and never tell anybody in Saudi Arabia about it. I'll be shocked if that turns out to be true," he said.
Senate Foreign Relations Chairman Bob Corker, a Tennessee Republican, said separately that the Trump administration must give a high-level briefing to senators on Saudi Arabia -- including the issues of Khashoggi and Yemen -- or risk losing Saudi-related votes on the Senate floor before Congress finishes for the year.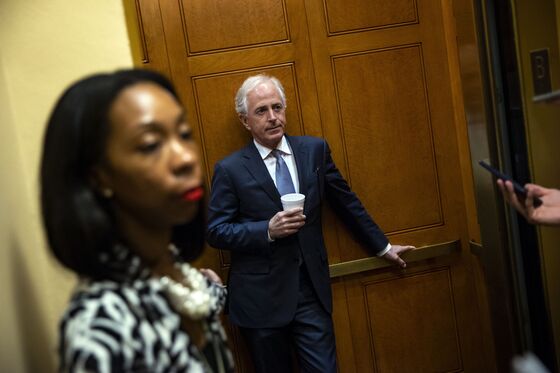 Of Khashoggi's murder, "There's no smoking gun, but I don't think there's any question he directed it, knew it, and we've got to figure out a way to cause them to pay a price," Corker said, referring to Prince Mohammed.
Democratic Senator Chris Van Hollen of Maryland said he expects to see significant sanctions against the Saudis "targeted to the highest levels of the Saudi government."
Fellow Democratic Senator Chris Murphy of Connecticut said he would discuss the possibility of forcing a vote this year on ending U.S. involvement in Yemen's conflict under the War Powers Act. Murphy also said Trump's administration would have a hard time getting the votes needed for more arms sales to the kingdom.
Meanwhile, in the House, Democratic Leader Nancy Pelosi ripped Republicans in a statement for moving to block a vote on ending the U.S. involvement in the war. "Real, immediate action must be taken by the Congress to end this horrific humanitarian crisis," she said.