Modi Defends Citizenship Law as Toll Grows in India Protests
(Bloomberg) -- Prime Minister Narendra Modi has staunchly defended India's contentious new religion-based citizenship law in an address to a mass rally in the capital New Delhi, while elsewhere in the country the death toll from violent protests against the legislation crept higher.
He asked voters to thank the parliament for pushing through the law last week and accused opposition parties of making up lies about the amendments, urging protesters to avoid damaging homes and property. "If you hate Modi take out your anger on Modi," he said at the launch of his party's campaign to elect a local government in the national capital region of Delhi.
In his previous rally, Modi stoked tensions further by saying protesters could be identified by their clothes, a reference to headscarves and other Islamic attire.
At least 17 people have been killed in the state of Uttar Pradesh, four in Assam and two in Karnataka as police cracked down on demonstrators. More than 1,200, including political leaders, have been detained after authorities tried to quash the protests that have spread to almost all major Indian cities. In New Delhi, 26 people have been sent to judicial custody, including Chandrashekhar Azad, leader of a lower caste political grouping Bhim Army.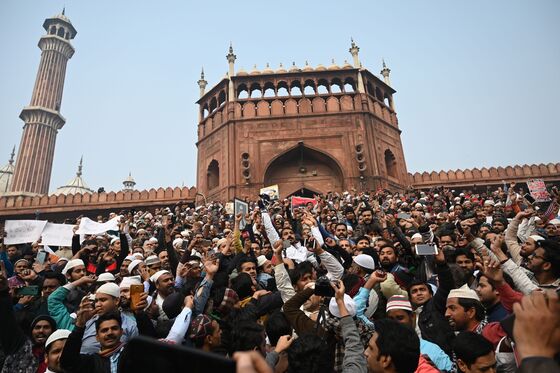 The new law bars undocumented Muslims from neighboring nations including Pakistan, Afghanistan and Bangladesh from seeking citizenship in India, while allowing those from other religions to do so. It's seen as a precursor to a nationwide citizens' register that aims to weed out illegal migrants and which critics say is expected to be used against Muslim citizens by the government led by the Hindu nationalist BJP -- a claim Modi denied on Sunday.
Modi blamed main opposition Indian National Congress, other political opponents and intellectuals for fomenting violence and spreading rumors, while emphasizing his government's work for poor and Muslim citizens. He sought to distance his government from the planned national citizenship register, saying there had been "no discussion" on the issue.
Yet his Minister of Home Affairs Amit Shah has said several times, including in Parliament, that the register, which began in Assam, would be implemented across the country. "You understand the chronology," Shah said at a press conference in April. "First there will be Citizenship Amendment Bill. Refugees will be given citizenship. After that the NRC will be implemented for the entire country."
"The Citizenship Act and NRC have nothing to do with each other," Modi said. "India's Muslims are not being sent to any detention camps." The BJP had deleted tweets on NRC and Shah's comments from its timeline after protests intensified.
The attempts to change the narrative come amid the nationwide unrest that's presented the first real challenge to Modi in his six-year reign. The Citizenship Amendment Act is the third move that adversely affects Muslims -- who form about 14% of India's 1.3 billion population -- since Modi won a resounding second term in May. In August, his government revoked regional autonomy in Muslim-majority Indian Kashmir. Last month, the Supreme Court handed Hindus control of the disputed site of a demolished mosque. Modi's party has promised to build a temple there.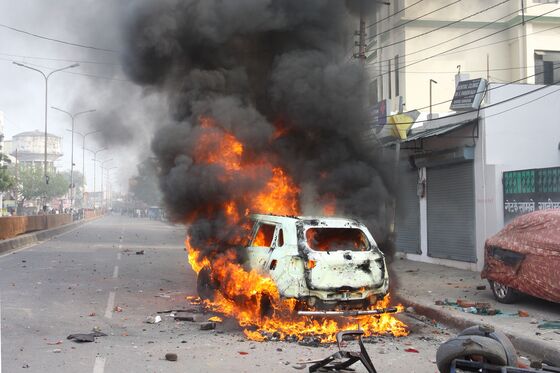 India's actions have raised concerns internationally. India lodged a protest against Malaysian Prime Minister Mahathir Mohamad's criticism of the law. Pakistan's Prime Minister Imran Khan on Saturday issued a series of tweets warning of the possibility that India may pose a threat to his nation to divert attention from the protests. He didn't expand on the nature of the threat.
"This sequence of events has dramatically accelerated negative international press attention that began with the abrogation of Article 370 in August," said Paul Staniland, assistant professor of political science at the University of Chicago who specializes in political violence and international security in South Asia, referring to the status of Kashmir. "These protests seem to have received more sustained international attention because of their all-India character."
Modi's ruling party is stepping up public outreach programs across India to garner support for the law demonstrators say is an attack on the country's secular constitution. The Rashtriya Swayamsevak Sangh, the BJP's parent organization, will also carry out a door-to-door campaign.
At the same time, the government has tried to quash protests by warning broadcasters to "abstain" from showing content that's "against the maintenance of law and order or which promotes anti-national attitudes," according to a Ministry of Information and Broadcasting letter tweeted by the Times of India.