GOP Unease Grows Over Trump Policy Separating Families at Border
(Bloomberg) -- Top Republican congressional leaders said Thursday they want to limit the separation of children from parents seeking asylum at the southern U.S. border, amid a public backlash against a Trump administration policy that threatens to become an issue in the November election.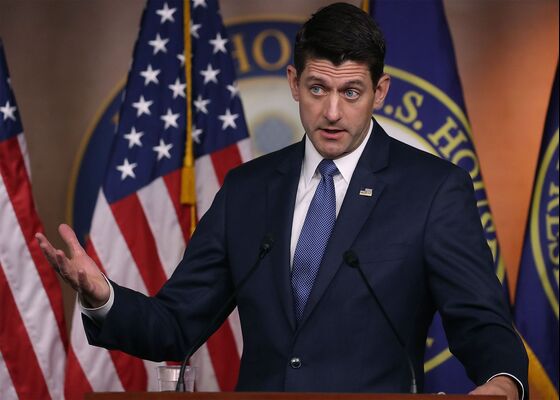 House Speaker Paul Ryan told reporters he's not comfortable with the government's "zero tolerance" policy, adding that "we don't want kids to be separated from their parents." Second-ranking Senate Republican John Cornyn of Texas said he'll push legislation to keep parents and children together while the children await expedited status hearings.
"I think we all can agree that it's a terrible outcome, to see the children separated from their parents," Cornyn said at a meeting of the Senate Judiciary Committee.
Senate Judiciary Chairman Chuck Grassley of Iowa also wrote on Twitter, "I want 2 stop the separation of families at the border" and give the government "the tools it needs 2 quickly resolve cases."
The leaders stopped short of criticizing President Donald Trump's administration, instead saying a 1997 court settlement is forcing the administration to separate many families. The settlement set standards for treatment of minors in custody of the Immigration and Naturalization Service, favoring their release while those who remain in custody must be placed into the "least restrictive environment" with appropriate treatment and services.
But the Trump administration has repeatedly cited other rationale. Attorney General Jeff Sessions and White House Chief of Staff John Kelly have described the family separations as a deterrent to people seeking asylum in the U.S.
"If people don't want to be separated from their children, they should not bring them with them," Sessions said in a June 5 interview on the Hugh Hewitt Show. "We've got to get this message out. You're not given immunity. You have to, you will be prosecuted if you bring, if you come illegally. And if you bring children, you'll still be prosecuted."
White House press secretary Sarah Sanders on Thursday blamed "loopholes" in the law that Democrats have refused to fix, even though Republicans control the House and Senate, and made no mention of deterrence as a reason for the policy.
"That's what the law states," Sanders said when asked about the family separations. "It doesn't have to be the law and the president has called on the Democrats in Congress to fix those loopholes."
Holly Cooper, a California lawyer who represents detained immigrants, said the 1997 settlement doesn't require children to be separated from their parents.
"To say that it's somehow inhibiting reunification with family is preposterous," said Cooper, co-director of the Immigration Law Clinic at the University of California Davis law school. "There's nothing in the plain language of the settlement agreement that says it requires family separation."
Democrats have sounded the alarm about the separations of families, many of whom are fleeing crime and persecution in Central America. The matter is gaining ground as an issue in the midterm election, when Republicans will be struggling to keep control of the House and Senate. The GOP is defending dozens of incumbent party members in places with high concentrations of Latino voters including Florida, Arizona and California.
Democratic Senator Dianne Feinstein of California has introduced legislation that would prevent the intentional separation of immigrant families entering the U.S. to seek asylum. Another 37 of the Senate's 49 Democrats have signed on, but so far no Republicans have done so.
"Congress has a moral obligation to take a stand here," Feinstein, the top Democrat on the Senate Judiciary Committee, said in a statement, adding that more than 650 children were taken from their parents in a two-week stretch in early May. "It's hard to conceive of a policy more horrific than intentionally separating children from their parents as a form of punishment."
Oregon Senator Jeff Merkley, a Democrat, plans to lead a group of lawmakers on a visit to the southeast Texas border with Mexico on Sunday, which is Fathers' Day. In a call Thursday, he invited Attorney General Jeff Sessions to join the group, but Sessions declined, citing scheduling conflicts, Merkley's office said.
"There is no moral or religious code anywhere in the world that condones hurting children to influence adults. This needs to end," Merkley said in a statement.
Some Senate Republicans who have worked for bipartisan solutions on immigration policy, including Jeff Flake of Arizona and Susan Collins of Maine, say they are grappling with the issue.
"Separating families when they're simply applying for a legal remedy, asylum, doesn't seem right to me," Flake said. "That's what we're looking into."
Cornyn said he wants to reintroduce legislation he offered in 2014 that would require judges to rule on migrant children's cases within 72 hours. Children who win their case could stay in the U.S. in a sponsor's custody.
While that legislation dealt with unaccompanied minors, he said Thursday he wants to address the issue of children who come with their parents, requiring the families to be kept intact until the child receives an expedited hearing.
His earlier bill, also introduced in the House by Democratic Representative Henry Cuellar of Texas, required background checks of sponsors to rule out anyone convicted of a sex offense or crime involving a "severe form" of human trafficking. It also directed the Justice Department to hire or reassign up to 40 immigration judges to expedite the cases.
In the House, Republicans released an immigration measure Thursday that includes a provision to halt the separation of immigrant families seeking asylum at the border. But while it is expected to get a vote next week, even supporters say it doesn't yet have enough support to pass the House. The bill includes a number of provisions almost certain to be rejected by Democrats, including money for a border wall and new limits on family-based immigration.
Trump's supporters have for the most part backed his efforts to crack down on the thousands of immigrants who enter the country illegally each month and the millions who are already in the U.S. But courts haven't been as friendly to his policies and have so far blocked his move to ease restrictions that prevent the deportation of about 800,000 undocumented immigrants known as Dreamers who were brought to the U.S. as children and have since established their lives here.