GOP's Hawley Joins Trump-Fueled Push to Object to Electors
(Bloomberg) -- Republican Senator Josh Hawley said he will object to the certification of the Electoral College votes for Joe Biden as president when Congress convenes on Jan. 6, defying warnings from GOP leaders against staging a doomed-to-fail spectacle.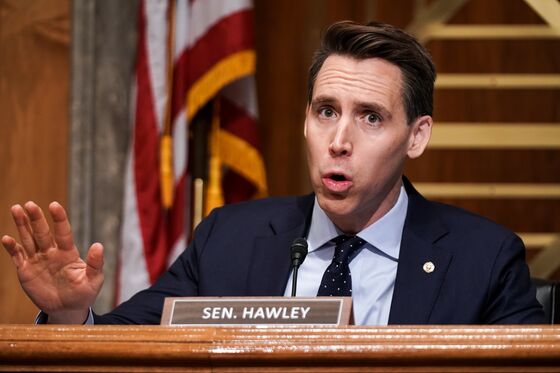 "I cannot vote to certify the electoral college results on January 6 without raising the fact that some states, particularly Pennsylvania, failed to follow their own state election laws," Hawley, of Missouri, said in a statement. "And I cannot vote to certify without pointing out the unprecedented effort of mega corporations, including Facebook and Twitter, to interfere in this election, in support of Joe Biden."
President Donald Trump so far has refused to concede his loss in the election -- citing baseless claims of fraud -- and urged his supporters to carry on the fight.
The effort in the House is being led by Representative Mo Brooks of Alabama. Several other House Republicans said they would join him, including Representative-elect Marjorie Taylor Greene of Georgia. Brooks Wednesday thanked Hawley for his support.
"With America's Republic at stake, we are fortunate to have leaders like Senator Hawley stand up and do what is right to ensure America remains the greatest nation in world history," Brooks said in a statement.
Hawley's move puts many Republicans in the difficult position of having to take a vote that may potentially follow them for the rest of their political careers: Buck Trump and risk the ire of his coalition, or back him and lend credence to the notion that the election is illegitimate.
Hawley told reporters at the Capitol that he hasn't decided whether he would object to the votes from states other than Pennsylvania and that he wasn't sure whether any other senators would join him.
"I would think that there would be more, but there may not be, I don't know," he said. "Too early to say."
Republican Senator Ron Johnson of Wisconsin said he is "supportive" of Hawley's effort, but didn't commit to making his own objection.
"There is no reason for more than one to object," he said.
An objection to any state by both a senator and a representative triggers up to two hours of debate in the respective chambers and a vote on whether to accept the state's electoral votes. If Trump's supporters object to more than one state, the procedure could drag on for several hours.
"At the very least, Congress should investigate allegations of voter fraud and adopt measures to secure the integrity of our elections," Hawley said. "But Congress has so far failed to act."
John Thune, the Senate's No. 2 Republican, said last week that attempts to object to the electoral count would "go down like a shot dog in the Senate." He advised GOP lawmakers who plan to take part in the effort to reconsider.
Democrats, including Biden's transition staff, dismissed the attempt by GOP lawmakers to block the electoral vote count.
"Congress will certify the results of the election as they do every four years," Jen Psaki, who will be White House press secretary in Biden's administration, told reporters. "This is merely a formality and it certainly should be treated as such by people who are covering it and regardless of whatever antics anyone is up to on January 6, President-elect Biden will be sworn in on the 20th."
House Speaker Nancy Pelosi, who leads a Democratic majority in the chamber, said that the objections from a handful of Republicans won't change the outcome.
"I have no doubt that next Wednesday, a week from today that Joe Biden will be confirmed by the acceptance of the vote of the Electoral College as the 46th president of the United States," she said.
Hawley's statement made reference to previous attempts by Democrats in Congress to object to election results, saying they were "praised by Democratic leadership and the media" when they made them. Hawley said Democrats were entitled to make those objections and so are those now raising issues.
Democratic objections after the 2000 and 2016 elections failed for lack of a participating senator, and an objection over the Ohio votes in 2005 by former Democratic Senator Barbara Boxer of California and former Democratic U.S. Representative Stephanie Tubbs Jones was voted down.
Election law experts say any objection to electoral votes for Biden on Jan. 6 would almost certainly fail because the Democratic-controlled House would reject it, and there are enough Republican senators who have acknowledged Biden's victory to oppose it.
The electoral vote process will be presided over by Vice President Mike Pence, who could find himself in the awkward position of having to gavel down objections raised by supporters who want to keep him and Trump in office.
Psaki noted that then-Vice President Biden "presided over the certification of Donald Trump's win in 2017."
Representative Louie Gohmert, a Republican from Texas, has sued Pence seeking to force him to disregard states' chosen Democratic electors and instead select competing slates of GOP electors.
"The Constitution expressly designates defendant Pence as the individual who decides which set of electoral votes, or neither, to count," Gohmert said in the suit, filed Sunday in federal court in Texas.