GOP Senator Lindsey Graham Tests Positive for Covid-19
(Bloomberg) -- Senator Lindsey Graham said he tested positive for Covid-19 despite being vaccinated, becoming at least the third member of Congress to recently report an infection.
Graham's positive test comes amid a surge of Covid cases spurred by the highly transmissible Delta variant, which in turn has brought calls for ramped-up public health measures, including a return to masking and some employers mandating vaccinations or regular testing for their employees.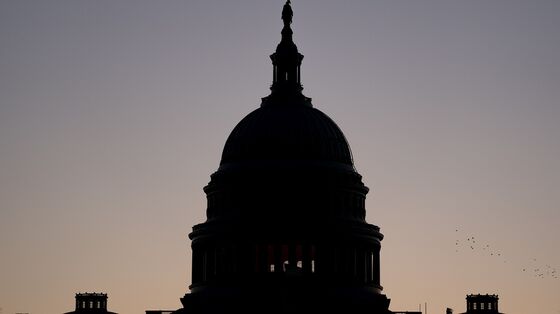 The House has already imposed a mask mandate for members, while in the Senate masks are recommended but not required.
Graham said in a statement that he began having "flu-like" symptoms on Saturday and saw a doctor Monday.
"I feel like I have a sinus infection and at present time I have mild symptoms," the South Carolina Republican said.
Graham, 66, said he will quarantine for 10 days, likely taking him out of the Senate for the votes this week on the bipartisan infrastructure plan that he helped negotiate. And, as the ranking Republican on the Senate Budget Committee, he would be expected to lead GOP opposition to the budget resolution that Democrats also expects to debate before the August recess.
Graham attended a gathering of senators this weekend on board Senator Joe Manchin's boat, his spokesman, Kevin Bishop said. Manchin confirmed there was such a gathering, without giving details, and said he has since tested negative for Covid-19.
South Dakota Senator John Thune, the second-ranking Republican in the chamber, and Democratic Senator Chris Coons of Delaware said they attended the party and have tested negative.
Representatives of Democratic Senators Mark Kelly of Arizona and Jacky Rosen of Nevada said the two lawmakers were a "bipartisan gathering" with Graham over the weekend and were following Centers for Disease Control guidance. The CDC recommends that vaccinated persons exposed to the virus should get tested but don't need to quarantine if they don't have symptoms.
In an evenly divided Senate the absence of just one senator can dramatically alter the prospects for legislation.
Graham's diagnosis came as efforts to control the spread of the virus have become a renewed source of controversy in the Capitol.
House Republicans have pushed back against a decision by Congress's chief physician to mandate masks in the chamber. In the Senate, Graham and many other senators have been working without masks.
Two House members recently said they tested positive for Covid, and several staff members also have been infected.
Graham said he was "very glad" he was vaccinated. "Without vaccination I am certain I would not feel as well as I do now. My symptoms would be far worse."