GOP's Tim Scott Says Agreement Near on Policing Overhaul
(Bloomberg) -- GOP Senator Tim Scott said negotiations on legislation to overhaul policing practices in the U.S. are closing in on an agreement that could come as soon as Thursday.
"I don't think there's outstanding issues that need to be worked out, we just need to agree on the actual language that we're using," Scott, who represents South Carolina, said Wednesday.
Scott has been working with two Democrats, Senator Cory Booker of New Jersey and Representative Karen Bass, of California on a bill to make law enforcement officers more accountable for injuries and deaths they cause.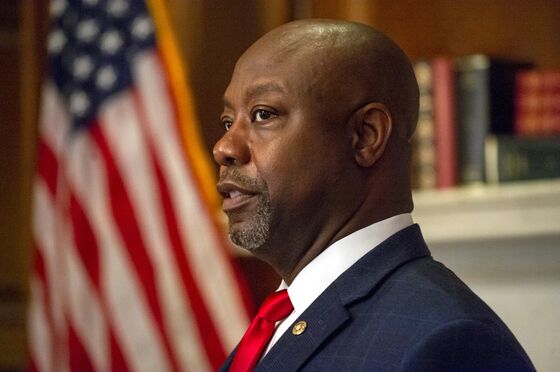 Booker said the talks are "making progress" but declined to say whether a deal was imminent.
The attempts to reach a compromise have been going on in earnest since April, when former Minneapolis police officer Derek Chauvin was convicted on second- and third-degree murder and second-degree manslaughter in the death of George Floyd.
The biggest sticking point in the talks has been over how to create greater accountability for police officers who engage in excessive force by creating more exposure to civil lawsuits or criminal charges.
Negotiators have wrestled over whether to end the legal doctrine of "qualified immunity," which shields police officers from being sued for violating someone's constitutional or legal rights.
Senate Republican leader Mitch McConnell has said he won't support any bill that removes the legal protection for individual officers facing civil lawsuits, and it would take 60 votes to advance the legislation in a Senate split 50-50 between the two parties.
Scott, Booker and Bass have been designated by party leaders to come up with a compromise.
Booker recently provided draft legislation to other negotiators that said said police departments or local governments employing an officer would be liable in any civil lawsuits. It also proposed criminal penalties for officers who intentionally use excessive force if the officer "knows" it was excessive or "consciously disregards" a substantial risk that force was excessive.
It doesn't address a portion of the federal criminal code called "Section 242," after Republicans balked at making broad changes, but alternatively creates new criminal offenses for specific crimes officers commit. Those include sexual misconduct, theft, and obstruction.
Booker's proposal, which was negotiated with the Fraternal Order of Police and the International Association of Chiefs of Police also would ban chokeholds unless an officer is in danger, limit the use of so-called no-knock warrants and limit the transfer of military equipment to police departments.
Senator Lindsey Graham, a South Carolina Republican, who also has been involved in the discussions, expressed optimism that an agreement would be in place by Thursday. Graham said he is open to accepting Booker's proposed new federal penalties for police officers who commit crimes, and the matter would be discussed at a meeting on negotiators Wednesday evening.
"There's a real good faith effort on everybody's part to get to yes," he said. "I think Democrats realize that declaring war on the police probably is not going to work, and we're going to improve policing, take some financial burdens off police departments, incentivize better training and expand liability to departments so they'll have some skin in the game."