GOP's Scott Accuses Biden of Dividing, Not Uniting, in Speech
(Bloomberg) -- Republican Senator Tim Scott said President Joe Biden's promise to work with Republicans hasn't been matched by actions as he pushes through a liberal agenda and ignores the GOP.
Delivering his party's response to the president's address to Congress Wednesday night, Scott, South Carolina's junior senator, sought to undercut Biden's conciliatory image as Congress is set to debate more than $4 trillion in plans for infrastructure, jobs and social spending.
"He promised to unite a nation. To lower the temperature. To govern for all Americans, no matter how we voted," Scott said of Biden. "But three months in, the actions of the president and his party are pulling us further apart."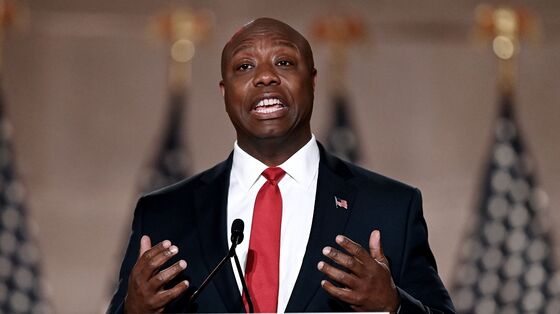 Scott cited five pandemic-relief bills that were passed last year with broad bipartisan support and contrasted that with the $1.9 trillion package from Biden that passed in March along party lines.
In his address, Scott, one of only three Black senators and the only one who is a Republican, also touched on race relations and Democratic attempts to change voting laws as "a power grab" that stokes divisions.
"America is not a racist country," he said. "It's backwards to fight discrimination with different discrimination. And it's wrong to try to use our painful past to dishonestly shut down debates in the present."
Scott was selected by Senate Minority Leader Mitch McConnell and House Minority Leader Kevin McCarthy to deliver the Republican response, a duty often given to those seen as rising stars in the party. In doing so, they chose a solid conservative who nonetheless is known for working with Democrats. He's speaking at a time the GOP leaders are trying to forestall further attempts by Democrats, who control the House and Senate by narrow margins, from advancing much of Biden's economic agenda on their own.
Scott, who grew in a poor, single-parent household in North Charleston, has sometimes called out members of his own party, including former President Donald Trump, on issues of race without provoking Trump's ire. He's done so while promoting traditional Republican positions of low taxes and minimal regulations.
That makes him a potential bridge between the party's pro-Trump and establishment wings, which have been split since the Jan. 6th insurrection by Trump supporters at the Capitol.
Scott has had a complex relationship with Trump. He spoke out against Trump's remarks in response to the 2017 White supremacist rally in Charlottesville, Virginia, in which the president seemed to equate the actions of White nationalists with those of counter-protesters.
Still, Scott supported Trump in the 2020 election, and spoke at last summer's Republican National Convention. Early this year, after the House impeached Trump on a charge that he had incited the Capitol assault, he voted to acquit. In March, Trump endorsed Scott's planned 2022 Senate re-election bid, calling him "an outstanding senator and a person who works tirelessly for the people of his great state and the U.S.A."
Scott has been gaining wider notice since last year when he led Senate GOP efforts on policing legislation in the wake of the murder of George Floyd at the hands of a Minneapolis police officer.
Scott introduced a comprehensive measure that included de-escalation training for police officers, increased use of body cameras and making lynching a federal crime. It also would have cut 25% of federal funds to police departments that failed to provide detailed information to the Justice Department about incidents of excessive force and so-called no-knock search warrants.
But Senate Democrats blocked it last summer because they said it didn't go far enough by not curtailing police officers' "qualified immunity" from legal liability and banning chokeholds and no-knock warrants in federal cases. In the wake of this month's conviction of ex-Minneapolis police officer Derek Chauvin, Scott is now in negotiations for a bipartisan compromise with Senator Cory Booker of New Jersey and Representative Karen Bass of California, both Democrats.
Scott has spoken multiple times on the Senate floor about racial inequities in policing, pointing out that he personally has been pulled over regularly, even as a senator, for driving a nice car in a nice neighborhood.
He also has promoted what he calls an "opportunity agenda" that is designed to remove obstacles for working class Americans trying to move up the income ladder, and many of his legislative proposals have been co-authored with Democrats.
Separately, and in an unusual turn of events, Representative Jamaal Bowman, a New York Democrat, also delivered a response to Biden's address. Speaking on behalf of the progressive Working Families Party, Bowman praised Biden for his leadership on the pandemic, but said the president needs to go further on issues such as jobs and climate, which are top priorities for progressives.
"The proposals that President Biden has put forward over the last few weeks would represent important steps, but don't go as big as we truly need in order to solve the crises of jobs, climate and care," Bowman said. "We need to think bigger, because now is the time to address the burning crisis of structural racism in our country."