GOP's Mitt Romney Will Vote to Convict Trump, Breaking With Party
(Bloomberg) -- Republican Senator Mitt Romney announced Wednesday he'll vote to convict President Donald Trump of abusing his power, making him the lone Republican to join with Democrats in saying Trump should be removed from office.
Trump's pressure on Ukraine to investigate a political rival "was a flagrant assault on our electoral rights, our national security interests, and our fundamental values," Romney said in explaining his vote on the Senate floor. "Corrupting an election to keep oneself in office is perhaps the most abusive and destructive violation of one's oath of office that I can imagine."
He dismissed the argument of Trump's defenders that the Senate should acquit the president and leave the judgment to voters in November. "The verdict is ours to render," Romney said.
Romney would be the first senator to vote to convict a president of his own party in an impeachment trial. With no other Republican publicly taking the same stance and a two-thirds vote required for conviction, Trump is poised to be acquitted when the Senate trial resumes Wednesday afternoon.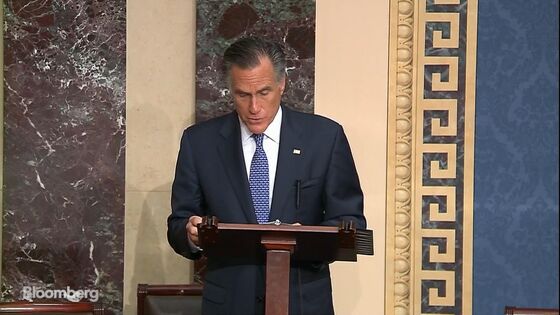 The 2012 GOP presidential nominee is Trump's most persistent Republican critic in Congress and was one of only two senators from the party to vote in favor of subpoenaing witnesses in Trump's Senate trial. The other, Susan Collins, said she would vote to acquit the president, despite saying Trump's conduct was wrong.
Other Republicans, including Lamar Alexander of Tennessee, Lisa Murkowski of Alaska and Ben Sasse of Nebraska have similarly chided the president for soliciting Ukraine's president to investigate former Vice President Joe Biden, but said they would vote not guilty.
Romney said he knows there will be "enormous consequences" for his vote, since any Republican going against Trump risks a major backlash from GOP voters. Romney won't be on the ballot again in his home state of Utah until 2024.
"Does anyone seriously believe that I would consent to these consequences other than from an inescapable conviction that my oath before God demanded of me?" Romney said.
Within minutes of Romney's Senate speech, Donald Trump Jr., the president's eldest son, called for the Utah senator to be expelled from the GOP.
Romney said he wanted to hear testimony from former National Security Advisor John Bolton in hopes that he might "raise reasonable doubt and thus remove from me the awful obligation to vote for impeachment."
"With my vote I will tell my children, their children, that I did my duty to the best of my ability believing that my country expected it of me," Romney said.
Democrats from swing states have generally lined up with their party, even Doug Jones of Alabama, who faces a tough re-election fight this fall in one of Trump's best states, as well as Gary Peters of Michigan, who is running for re-election in a state Trump narrowly won in 2016. Two Democrats from Trump states -- Joe Manchin of West Virginia and Kyrsten Sinema of Arizona -- have not yet declared how they will vote.
Democratic Senator Chris Murphy of Connecticut said on Twitter after Romney's speech, "I sat silently across the chamber, listening to my friend give one of the most important speeches I have ever had the good fortune to hear in person. At a time when many wonder what honor is left in public life, there stands Mitt Romney."