'Reasonable Prosecutor' Wouldn't Bring Charges From Kavanaugh Hearing, Mitchell Says
(Bloomberg) -- A sex-crimes prosecutor hired by Republicans to question Christine Blasey Ford, who accuses Supreme Court nominee Brett Kavanaugh of sexual assault while in high school, said the case is "even weaker" than a "he said, she said" dispute.
"I do not think that a reasonable prosecutor would bring this case based on the evidence before the committee," Rachel Mitchell, a prosecutor in Arizona who questioned Ford at a Senate Judiciary Committee hearing last week, wrote in a memo released by the White House Monday. "Nor do I believe that this evidence is sufficient to satisfy the preponderance-of-the-evidence standard."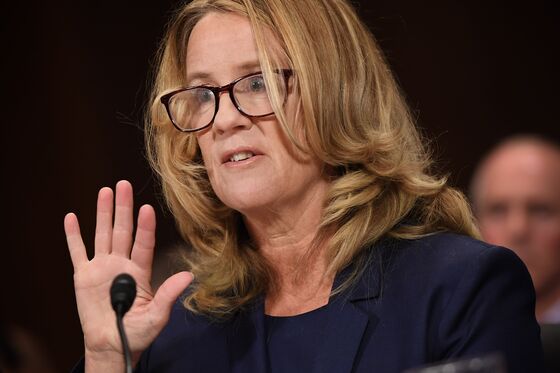 Mitchell's memo provided no analysis of Kavanaugh's comments at the hearing, during which he strongly denied any misconduct. Mitchell asked some questions of Kavanaugh, but didn't complete her questioning. She also didn't interview potential witnesses.
Ford, a California psychology professor, told lawmakers that she's "one hundred percent" certain Kavanaugh attacked her in 1982 when they were teenagers, describing in detail being held down on a bed at a drunken high school gathering. She described "uproarious laughter" by Kavanaugh and Mark Judge, a friend of Kavanaugh's who has said he doesn't recall such an incident. Kavanaugh denied the allegations.
Kavanaugh's nomination is on hold in the Senate while the FBI re-opens a background investigation to examine certain allegations of sexual misconduct.
Mitchell's memo, addressed to GOP senators, said that Ford didn't offer a consistent account of what happened and that it hasn't been corroborated by anyone she identified as having been there. She also said Ford has "no memory of key details of the night in question -- details that could help corroborate her account," such as how she got to the gathering.
She also wrote that Ford "struggled to identify Judge Kavanaugh as the assailant by name," adding that no name was listed in therapy notes and that it took Ford more than 30 years to name him.
"A 'he said, she said' case is incredibly difficult to prove," Mitchell wrote. "But this case is even weaker than that."
The hearing marked the first time Ford had spoken publicly about her accusation, which could redefine the "Me Too" era and affect the fight for control of Congress in the Nov. 6 election.
Ford said at the hearing the incident has "haunted me episodically as an adult." She said she was "terrified" to testify before the committee and that she she "agonized daily" about whether to come forward with her claim.