Republicans Pull Back in Some Close House Races as Chances of Victory Slip
(Bloomberg) -- Republican groups have been pulling back in roughly half a dozen tough House races to focus their resources in districts where they see a better chance to defend against a potential midterm surge by Democrats.
With less than a month until the Nov. 6 election and scores of House races in play, national GOP groups and allied super political action committees are conducting financial triage that will alter the prospects for candidates of both parties.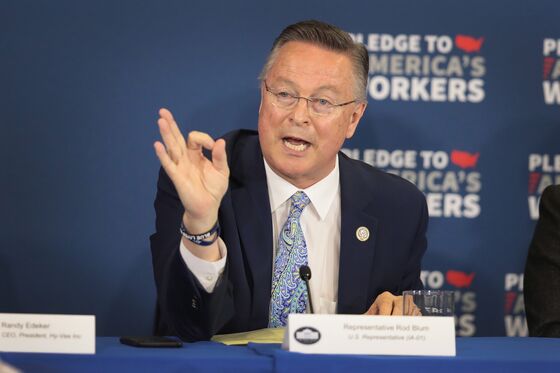 A Bloomberg analysis of post-Labor Day TV advertising, announced media buys by the largest super political action committees, Federal Election Commission filings and interviews with strategists shows that a half dozen House contests rated as competitive have largely fallen off the map when it comes to the allocation of major national GOP resources.
That could hurt election prospects for Republican incumbents Rod Blum of Iowa, Keith Rothfus of Pennsylvania and Mike Coffman of Colorado, while boosting the chances of Democrats like Mikie Sherrill in New Jersey.
The movement of money in the campaign's closing weeks will provide a strong indicator of where the two parties and their allies feel confident -- and where they think their chances of victory may be slim. The nonpartisan Cook Political Report rates 70 districts as being tossups or just leaning Democratic or Republican.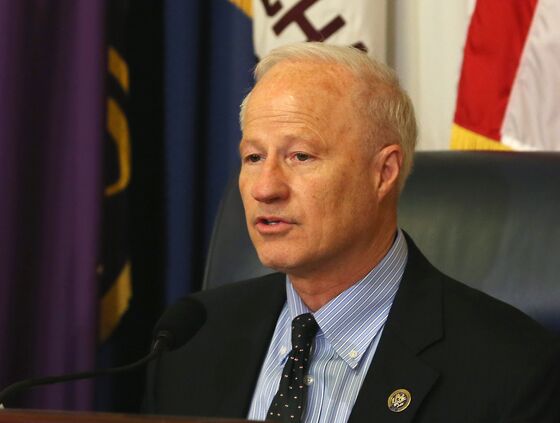 All of the districts where national Republicans appear to be either holding their powder or in retreat are currently held by the GOP. If those districts are lost, they would offer a significant down payment on the 23 seats Democrats need to take control of the House and essentially halt President Donald Trump's agenda in Congress.
Republicans are dealing with a record number of seats left open by retirements and resignations, while Democrats are forcing the GOP to play defense across the map by fielding candidates in more than 430 of the 435 congressional districts, one of the highest totals in history.
"It was our clear goal, coming out of 2016, that we would not have a hole in the battlefield," said Representative Ben Ray Lujan, chairman of the Democratic Congressional Campaign Committee.
Spending on this year's midterm campaign is expected to break records, in part, because there have been an unusually large number of competitive races. For local, state and congressional races, that will amount to $2.65 billion for local broadcast television, $975 million for local cable TV and $800 million for Internet ads, according to estimates from Kantar Media's CMAG, which tracks political advertising.
The funding priorities and advertising plans for both parties still can change if polling shows a late shift or a political stumble by a candidate alters the trajectory of a race. Funding priorities for U.S. Senate races, which typically cost significantly more, will also be made in the coming weeks.
While both parties have seen record fundraising, at this stage of the campaign resources are being burned quickly as advertising costs rise.
The DCCC started September with $69.8 million in the bank, while the National Republican Congressional Committee had $64.6 million. Those totals, for the two primary national committees focused on House races, came as the DCCC out-raised the NRCC by nearly $10 million in August.
Super PACs, especially the Congressional Leadership Fund that backs Republicans and the House Majority PAC that backs Democrats, are adding substantially to the spending.
But the CLF, aligned with House Speaker Paul Ryan and GOP leadership, is showing signs it thinks some of the races it targeted earlier this year may no longer be within reach. Those signals have primarily been sent by pulling previously announced advertising.
"We're not taking anything for granted, but a number of recent moves by GOP groups seem to signal they're in an increasingly perilous situation as November approaches," said Jeb Fain, a House Majority PAC spokesman. "It's pretty clear, and not only from Republicans' triage, that Democrats are overwhelmingly, and more and more, on offense from coast to coast."
The NRCC declined to comment. CLF has stressed that it will continue to run get-out-the-vote operations in districts where it has pulled back advertising plans and evaluate polling for possible changes in the closing weeks of the campaign.
Below are some races rated as competitive where national GOP resources have been minimal in recent weeks:
Oceanside/San Clemente/Carlsbad, California (CA-49)
In a district where Hillary Clinton defeated Trump by eight percentage points and Republican Darrell Issa is retiring, the only Republican-aligned entities running broadcast TV advertising in September were GOP nominee Diane Harkey and the NRCC. In October, only Harkey has TV buys in place on the Republican side, while Democrat Mike Levin has them ordered along with the DCCC and other liberal groups. A Los Angeles Times poll released Thursday showed Levin leading by 14 percentage points.
Allentown/Bethlehem, Pennsylvania (PA-07)
Democrat Susan Wild, who is competing against Republican Marty Nothstein, was the only broadcast TV advertiser in the race during September. The NRCC had a buy in place that was supposed to start Oct. 2, according to CMAG data, but it hasn't so far. The DCCC started its latest buy on Oct. 2 and Wild is also on the air now.
North Central New Jersey (NJ-11)
Sherrill, who is competing against Republican state assemblyman Jay Webber in a race to succeed retiring Republican Representative Rodney Frelinghuysen, has been the only one to run broadcast TV ads since Labor Day in a district Trump won by one percentage point. The House Majority PAC is the only outside group with October buys in place. Sherrill, a former prosecutor and Navy veteran, said she raised $2.7 million in the third quarter.
Iowa's 1st congressional district is another place where national GOP resources aren't being sent in any major way. A New York Times/Siena College poll taken Sept. 18-20 showed Blum trailing Democratic challenger Abby Finkenauer by 15 percentage points. CLF hasn't run any broadcast TV ads in the district all year and Blum has been the only one running them from the Republican side since Labor Day, CMAG data shows.
A similar situation is playing out in Pennsylvania's 17th district near Pittsburgh, where redistricting has resulted in a rare incumbent-v.-incumbent contest between Rothfus and Democratic Representative Conor Lamb. A Monmouth University Poll released Wednesday showed Lamb ahead of Rothfus among likely voters, 54 percent to 42 percent. No outside groups have advertised there after Labor Day, according to CMAG data. The NRCC had buys in place starting Oct. 9 and running for much of the month, but it has canceled those reservations. The DCCC has reserved $305,000 for the final week of the campaign and the Patriot Majority, a nonprofit aligned with Democrats, has reserved $500,000 in time for the final two weeks of October.
Suburban Charlotte (NC-09)
In a district that backed Trump over Clinton by 12 percentage points, no outside groups ran broadcast TV advertising during September, although Patriot Majority started on Oct. 2. Democrat Dan McCready ran more than six times as many spots as Republican Mark Harris during the month. A New York Times/Siena College poll released this week showed Harris leading McCready by five percentage points, so that could help draw more outside money to the race. The CLF said Wednesday it was launching its first TV ad to try to boost Harris.
CLF has also pulled planned TV advertising from two districts where incumbent Republicans are facing strong challengers, in Colorado's 6th congressional district and Michigan's 8th congressional district.
The Colorado district, which Coffman first won in 2008, had been one of the most expensive House contests in the nation. CLF's decision came after a New York Times/Siena College poll taken Sept. 12-14 found Democrat Jason Crow, an attorney and former Army Ranger, leading by 11 percentage points in a rapidly growing district that includes suburbs south of Denver.
After CLF indicated its plans to cancel about $1 million in advertising to help Coffman, the NRCC said it would add about $600,000 in spending to the district. For now, the committee has buys in place in the district for much of October, CMAG data shows.