GOP Looks to Turn Ocasio-Cortez's Green New Deal on Democrats
(Bloomberg) -- President Donald Trump calls it "brilliant." Senate Majority Leader Mitch McConnell promises to bring it up for a vote. And House Republicans want Speaker Nancy Pelosi to send it to the floor.
Republicans are embracing Representative Alexandria Ocasio-Cortez's sweeping plan known as the Green New Deal to avert climate change, but not because they like it. They think they can use it to cast Democrats as extreme, take back seats in Congress and possibly keep the White House in 2020.
Fueling the effort is a fact sheet that Ocasio-Cortez's office circulated -- then retracted -- that included references that aren't in the text of the actual resolution. Provisions of the fact sheet call for providing "economic security to all who are unable or unwilling to work" as well eliminating emissions from cows and air travel.
"If nothing else, Democrats gave Republicans a great talking point on climate change," said Alex Conant, a Republican strategist and former communications director for Senator Marco Rubio's 2016 presidential bid. "Whereas before Republicans avoided the topic all together now every Republican will start the conversation by denouncing the green new deal."
Backers of the plan, which include several of the declared Democratic presidential candidates, counter that Republicans who have have ignored the issue of climate change are the ones out of touch.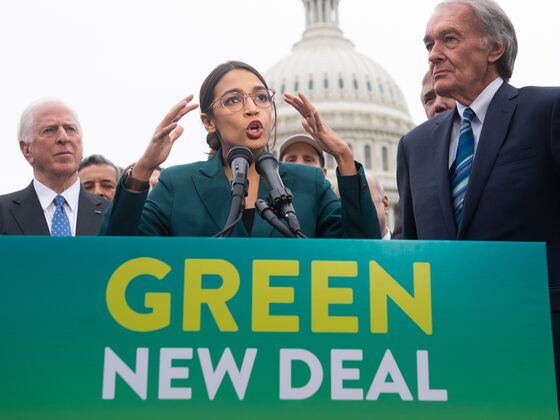 "Republicans don't want to debate climate change, they only want to deny it," said Massachusetts Democratic Senator Ed Markey, the plan's lead champion in the Senate. "They have offered no plan to address this economic and national security threat and want to sabotage any effort that makes Big Oil and corporate polluters pay."
And Ocasio-Cortez' office has pointed to polling conducted late last year that showed 92 percent of Democratic and 64 percent of Republican voters support a Green New Deal.
Yet those surveys were completed before details of the Green New Deal in Washington were announced, and before the public learned of a fact sheet that was distributed to coincide with the announcement.
Supporters of the resolution who hadn't seen the fact sheet were caught off guard and Saikat Chakrabarti, Ocasio-Cortez's chief of staff, said on Twitter that it was released by mistake. By that time, the fact sheet had been retracted, but conservatives were already seizing on it to denounce the entire Green Deal agenda.
"The flubbed rollout has made Democrats vulnerable," Paul Bledsoe, who worked on climate change issues in the Clinton White House, said in an interview. "The far-left has gotten attention and done it poorly and Republicans are pouncing."
The fumble left supporters open to criticism and bumper-sticker-ready slogans that the plan represented a lurch toward socialism that would end travel by plane and the consumption meat, and even ice cream, while the government gave away taxpayers' money.
"It's a GOP dream," columnist Kimberley Strassel wrote in the Wall Street Journal. She said the plan "encapsulates everything Americans fear from government, all in one bonkers resolution."
Former Trump EPA policy adviser Mandy Gunasekara applauded McConnell for bringing the measure to a vote. "American voters should know where their representatives stand on policies that threaten millions of jobs and would advance socialist-styled take-overs of our entire economy," she said.
Trump invoked the plan while speaking at a rally in El Paso, Texas, on Monday. "I really don't like their policy of taking away your car, of taking away your airplane rights, of let's hop a train to California, of you're not allowed to own cows any more," he said.
And Democratic candidates are already getting questions about their support for the measure, such as New Jersey Senator Cory Booker, who was asked during a campaign stop in Iowa about reports the measure would stop farmers from raising cows or using gasoline.
"I've endorsed the framework and the resolution, but I don't endorse doing things that are going to hurt the independent family farmer," Booker said, according to the Washington Post. "If anything, I want to let people know that we can have a green future that no way is contrary to a strong economy but actually creates a stronger economy."
The Congressional Leadership Fund, a super-PAC endorsed by House Republican leadership, has already used the Green New Deal in advertising campaigns against two freshmen Democrats, Representatives Antonio Delgado of New York and Colin Allred of Texas.
Now, McConnell has promised to bring the plan to the floor for a vote, a move that could split Democrats, including ones running for president, between the left-leaning members vying for the passions of their party's base and more moderate senators who view the proposal as radical and disruptive. The plan has 12 Senate backers, and several others said they are still studying the proposal.
"We'll give everybody a chance to go on record and see how they feel about the Green New Deal," McConnell said.
Senate Minority Leader Chuck Schumer, a New York Democrat, countered: "What they are doing is irresponsible -- plain and simple."
"Tell them to read the actual resolution and then we are ready to debate. This is just a side show they are seeking," Schumer said.
Senator Chris Murphy, a Connecticut Democrat, called it a political stunt, and said Democrats could just simply say "present" when the legislation came before the chamber. Senate Democrats used a similar tactic when Republicans introduced a single-payer health care amendment to their 2017 health care bill.
"McConnell's playing political games with our future," said Varshini Prakash, executive director of the Sunrise Movement, the grassroots group that has partnered with Ocasio-Cortez to push for the Green New Deal. "It's not a game to the children who's parents burned alive in the California wildfires, to the families who's homes were destroyed by devastating hurricanes, or the workers who've had to labor in life-threatening heat to put food on the table for their families."
Republicans have mounted efforts to pressure House Speaker Nancy Pelosi -- who has not endorsed the proposal -- to call for a vote on the other side of the Capitol.
"This specific piece of legislation has gotten a lot of attention recently and our constituents deserve to know where their representatives stand on it," Representative Ted Budd, a North Carolina Republican, wrote in a draft letter to Pelosi.
While Republicans' stance on climate change, or lack thereof, has hurt then with voters in swing states, the Green New Deal has given the GOP an opening to take a new position on the issue, said Conant, the Republican strategist.
The Green New Deal resolution isn't representative of where Democrats are on climate change, said Bledsoe, the former Clinton aide, pointing out that only about 70 of the House's 235 Democrats have signed onto the plan. More moderate committee chairmen are expected to put together their own plan.
"At this moment it may look vulnerable for Democrats," said Bledsoe. "But in the long run it's Republicans who are most vulnerable on climate change and I think that is particularly true of Trump."