Montana Democrat Pans $618 Billion GOP Plan: Stimulus Update
(Bloomberg) -- Democrats on Monday started the process to clear the way for them to pass much of Joe Biden's $1.9 trillion stimulus plan without Republican support, as the president meets with Republican senators about their counter-proposal.
Democrats introduced a fiscal 2021 budget resolution that they could use in a fast-track process to carry part of Biden's plan through the Senate with just a simple majority, rather than the 60 votes needed for most legislation. However, that would still require all 50 Senate Democrats-- with Vice President Kamala Harris's tie-breaking vote -- to support Biden's stimulus proposal.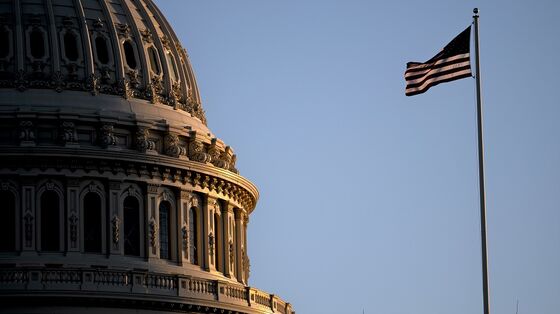 The group of 10 Republican senators -- composed of centrist lawmakers such as Susan Collins of Maine, along with more conservative-leaning ones including Mike Rounds of South Dakota -- released details of their proposal Monday morning. It features a scaling down of stimulus checks, offering $1,000 with tighter income limits, against Biden's $1,400 proposal.
Tester Says $600 Billion GOP Plan Falls Short (5:17 p.m.)
Senator Jon Tester, a moderate Democrat from Montana, said the Covid-19 relief plan detailed Monday by 10 Republican senators doesn't do nearly enough, and that "if push comes to shove" he could support President Joe Biden's $1.9 trillion proposal.
"Ultimately in the end this needs to be big enough to get the job done," Tester told reporters in the Capitol. "If we have to come back time and time and time again, I don't think that's good for the economy."
Tester said he will support a planned budget blueprint that reflects Biden's proposal, setting the stage in case Democrats decide to do a partisan relief package. He said he would like to see some changes to what Biden wants, "but if push comes to shove and we don't change it, I'll vote for the $1.9 trillion."
He also said that while he is supportive of raising the nation's $7.25-an-hour mininum wage, he has some concerns about Biden's proposal to raise it to $15 an hour without adequate phase-in time to blunt the impact on employers.
"There has to be some conversation about how it's done," he said. "And it can't be done like that." -- Laura Litvan
Democrats Begin Process for Partisan Bill (3:50 p.m.)
House and Senate Democrats filed a joint budget resolution in their respective chambers that would help clear the way to passing Biden's stimulus plan with just Democratic votes.
Passage of identical budget resolutions in the House and Senate -- which give committees instructions for writing a bill -- would clear the way for the stimulus plan to pass the Senate with a simple majority vote, rather than the 60 needed for most legislation.
Without the resolution setting up the fast-track process, at least 10 Republican votes would be needed to advance Biden's plan. Biden is meeting Monday with a group of 10 GOP senators, who are presenting an alternative that is about a third of the size of the administration's proposal.
Adhering to the Biden plan, the bill contains instructions to allowing Congress to $1,400 per-person and per-child direct payments and an extension of expiring unemployment Insurance programs through September with an increase of supplemental benefits from $300 to $400 per week. It also allow passage $350 billion in state and local aid, Senate Majority Leader Chuck Schumer and House Speaker Nancy Pelosi said in a statement.
They also list most of the rest of Biden' proposal but make no mention of increasing the minimum wage. That item may not qualify for reconciliation according to some experts.
The White House says it supports Democrats setting up the budget reconciliation process even as bipartisan talks continue. Congress is under pressure to act before expanded unemployment benefits from the last virus-related relief package run out in March.
Top Democrat Rejects GOP Counteroffer on Stimulus (1:16 p.m.)
A key Democratic senator rejected the $618 billion stimulus counterproposal put forward by 10 Republican lawmakers, reducing the likelihood of any quick accord in Congress.
Incoming Senate Finance Committee Chairman Ron Wyden said the plan is a "non-starter" given its size relative to Biden's $1.9 trillion proposal.
"The package outlined by 10 Senate Republicans is far too small to provide the relief the American people need," Wyden said in a statement Monday.
Wyden said the proposal to extend expiring supplemental unemployment benefits to June 30 is particularly unacceptable and that no less than a six-month extension from March must be included to avoid "jumping from cliff to cliff every few months."
The Democrats' call for a large stimulus was joined by Jim Justice, Republican governor of West Virginia -- the home state of Senator Joe Manchin, a centrist Democrat whose support for any eventual Democrat-only package will be crucial given the Senate's 50-50 partisan split.
"What we need to understand is that trying to be per se fiscally responsible at this point in time with what we have got going on this country if we actually throw away some money right now, so what? We have really got to move and get people taken care of," Justice said on MSNBC Monday. -- Erik Wasson
CBO Upgrades Its Forecast for U.S. Economic Recovery (11:00 a.m.)
The Congressional Budget Office said it sees the U.S. economy recovering from the coronavirus pandemic much faster than previously expected -- an upgrade that potentially complicates prospects for President Joe Biden's $1.9 trillion relief plan.
The CBO, a nonpartisan arm of the legislature, forecasts gross domestic product will increase 1.7% annually from 2020-2024, according to its economic outlook released Monday. That's a 0.7 percentage point increase from the previous expectation released in July, months before Covid-19 vaccines were shown to be effective and approved for use, which put the pandemic's potential end more clearly in sight.
The stronger forecast could bolster Republican objections to Biden's massive stimulus proposal, which seeks to improve vaccine distribution and deliver funds to households suffering during the coronavirus-spurred recession.
The CBO said its upgrade came "in large part because the downturn was not as severe as expected and because the first stage of the recovery took place sooner and was stronger than expected," according to the CBO report. In addition, stimulus approved in December "played a part in improving the economic outlook." -- Katia Dmitrieva
Republican Group Pitches Scaled-Down Checks in
Counter-Offer

(9:55 a.m.)
The group of 10 Republicans set to meet with Biden at the White House released details of their $618 billion Covid-19 relief plan Monday morning.
The proposal includes $1,000 in direct payments, compared to Biden's $1,400 proposal. The checks will be phased out starting at $40,000 in earnings a year, with a cap of $50,000. That's much tighter than the $75,000 to $87,000 phase-out of the payments enacted in a December relief package. Dependent children and adults would receive $500 payments instead of $1,400 payments.
Direct Covid-19-related spending amounts to $160 billion, mirroring Biden's proposal. There's $132 billion for expanded unemployment benefits. The plan would extend the current $300 federal weekly supplemental payments, which expire in mid-March, to June. That compares with a $400 benefit through September in the Biden plan.
The GOP proposal includes $50 billion for small businesses, along with $20 billion each for childcare and school reopening. The stimulus checks are estimated to cost $220 billion. The overall price tag is $618 billion.
Omitted from the proposal are Biden-plan items including aid for state and local governments and a minimum-wage increase to $15 per hour. -- Erik Wasson