GOP Rekindles Deficit Concerns, Adding Snag to Talks on Aid
(Bloomberg) -- The flood of pandemic-relief spending from Washington has rekindled deficit concerns among Republican lawmakers, one of several hurdles facing the next round of stimulus many economists say is needed to pull the U.S. out of its downward spiral.
After backing almost $3 trillion to offset the economic impact of the coronavirus pandemic, Senate Majority Leader Mitch McConnell and other Republicans now have begun raising alarms about the deficit and characterizing a new relief package as an if, not when, proposition.
President Donald Trump is also tapping the brakes on the idea of swift action on any new aid package, saying he's in "no rush" for a new stimulus even after Friday's Labor Department report showing an unprecedented 20 million jobs were lost in April.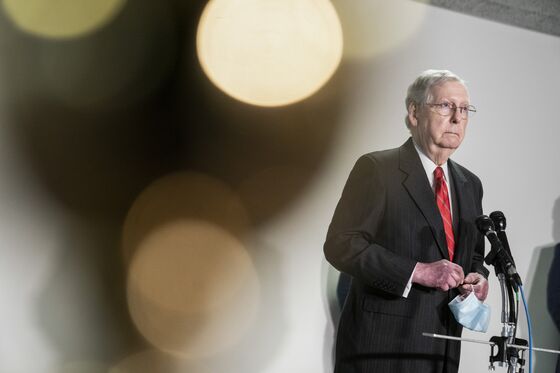 With Democrats pressing for another package of relief that will likely carry a trillion-dollar price tag, Republicans like Florida Senator Rick Scott are already contemplating how to stem the red ink that's pushed 2020 deficit projection to almost $4 trillion from $1 trillion at the start of the year.
"We've got to figure out now how we're going to pay for it," Scott said in an interview. Otherwise, "we're going to ruin this economy."
The rhetoric is an echo of the debt fights between Democrats and Republicans that followed the financial crisis more than a decade ago. And its re-emergence complicates getting anything else out of Congress to deal with the pandemic, which has put 33.5 million people out of work over the past seven weeks and is driving a wave of bankruptcies.
But it lags behind a shift in economic thinking on the risks posed by deficits. After all, ramped-up spending and lending by the Obama administration and the Federal Reserve following the Great Recession didn't trigger the inflation critics had warned about. Europe, meanwhile, endured a much slower recovery as governments there turned off the fiscal spigot and pivoted to austerity budgets.
Trump, who once proclaimed himself the king of debt, has generally broken with Republican orthodoxy on deficits and spending. But he's fully aligned with the GOP on lowering taxes. He's demanding cutting taxes on payrolls and capital gains, among others, in the next stimulus package. That would only add to deficit pressures, however, and has drawn objections from Democrats and little interest so far from senior Senate Republicans.
Trump's chief economic adviser, Larry Kudlow, said Sunday that the White House isn't necessarily seeking a delay in new relief legislation.
"Many people would like to just pause for a moment and take a look at the economic impact of this massive assistance program" that's already passed, Kudlow said on ABC's "This Week" program. He added that while there are no formal negotiations going on with Democrats, the administration has been talking with members of Congress from both parties about priorities.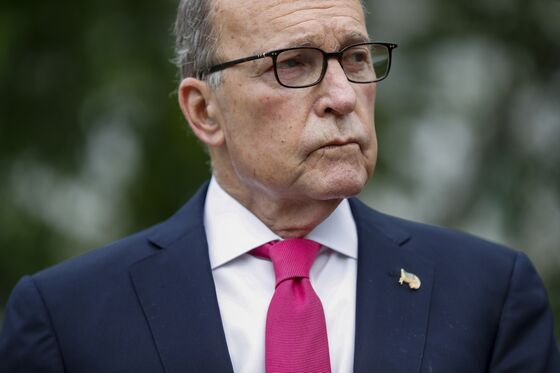 Federal Reserve Chairman Jerome Powell is among those who've urged lawmakers to deliver more fiscal stimulus to shield the U.S. economy and power a more robust recovery. The Fed quickly slashed rates and launched a massive bond-buying campaign to stabilize markets that had become dangerously unsettled amid the pandemic. And the U.S. Treasury has said it plans to borrow a record $3 trillion this quarter alone.
Powell has said he's concerned that the debt is on an unsustainable course, but said April 29 that, "This is not the time to act on those concerns."
For Democrats, there's no question there will be another relief package and few limits on how much it would cost. House Speaker Nancy Pelosi has said that state and local governments alone are clamoring for $1 trillion in federal aid.
Pelosi said on Bloomberg Television May 7 that the House may vote on a proposal for the next rescue legislation as soon as this week. She didn't put a price tag on the package Democrats are working on, but said it largely followed the contours of previous proposals, with money for state and local governments, testing, expanded unemployment insurance, and putting money into the pockets of Americans.
"This is not plowing any new territory," she said. "It is digging deeper."
In a separate news conference Pelosi called the debt being racked up "an important challenge" that will have to be dealt with at some point. But she said the focus right now needs to be on helping people and stimulating the economy.
"The chairman of the Fed, Chairman Powell, has said it again and again, publicly, has said it to me, think big -- the interest rates are very very low. Think big, and that's what we're doing," Pelosi told reporters.
Senator Dick Durbin, the No. 2 Senate Democrat, said lawmakers know they'll need to address the debt down the road, but now is not the time. "At this point we're trying to stabilize the patient, for goodness sakes," Durbin said on Bloomberg Television. "If we decide to give a half a dose of medicine to the American economy, we're going to plunge into a depression which is much more costly than anything that's being envisioned."
Still, the ballooning deficit -- projected to hit at least $3.7 trillion this year -- and a rising mound of debt not seen since World War II is bound to color tax and spending policy now and for years to come.
And despite Trump's talk of more tax cuts, Wall Street is bracing for tax hikes.
Blackrock Inc. Chief Executive Officer Larry Fink warned clients on a call last week that the U.S. will have to raise taxes on corporations and individuals to pay for the emergency economic rescue, according to a person with knowledge of the remarks. He predicted the corporate rate would rise next year to 28% or 29% from the 21% rate set in the 2017 Republican tax overhaul.
Ray Dalio, founder of the investment management firm Bridgewater Associates LP, told JPMorgan Chase & Co.'s private-banking clients to expect higher tax rates no matter who wins November's race for the White House.
Earlier tax cuts and the business bailouts amid the current crisis also have dimmed any hopes of a fundamental restructuring of the federal budget, according to conservative economist Brian Riedl, a fellow at the Manhattan Institute and former adviser to several senior Republicans, including Senators Rob Portman, Mitt Romney and Marco Rubio.
"There's no way they are going to fix Social Security and Medicare any time soon," said Riedl, who projects an $8 trillion budget hit over a decade from the virus. "You can't cut taxes for Exxon and then turn around and cut Medicare. It just doesn't work."
The Republican Study Committee, a group of House conservatives, is lobbying for the next package to offset any new borrowing with longer-term savings. Although McConnell has cited the soaring deficit in multiple interviews in the past two weeks as a reason he decided to hit the "pause button," the GOP hasn't coalesced around any specific plan for future spending or cuts.
Democrats, meanwhile, have moved to the left since the Obama years and have assorted plans to tackle climate change, expand health care coverage and the like if they win back the White House and the Senate.
And they have little interest in cutting spending Medicare, Medicaid and Social Security -- programs McConnell has previously said need to be reined in. That's especially the case after the Republican tax bill in 2017 helped swell the deficit, even before the virus hit.
"They moved the goalposts in the wrong direction when they passed that tax cut that went disproportionately to big corporations," said Senator Chris Van Hollen of Maryland, a veteran of bipartisan talks on deficit reduction. "That's set back any serious effort for the foreseeable future."
Zach Moller, an economist at Democratic-aligned group Third Way think tank, which has proposed a sweeping proposal to save states' budgets, said he fears a premature emergence of deficit concerns could hamper the recovery from the Covid-19 pandemic.
"We saw what could happen the last time," Moller said. "From 2009 to 2013, state governments cut hundreds of billions of dollars in spending. Recovering from the Great Recession was made a lot longer because of the relatively limited state and local aid we were able to provide."