GOP Bid to Keep Senate Spurs Early Scott Splurge in Florida Race
(Bloomberg) -- Florida Republican Governor Rick Scott is off to an early and expensive start in advertising his U.S. Senate bid, spending more than $1 million a week on TV spots for a race that could determine whether the GOP keeps control of the chamber.
His Democratic opponent, incumbent Senator Bill Nelson, has yet to run a commercial in what's likely to be the most expensive congressional race in the country.
Scott, who can dip into his personal fortune, has also gotten help from outside groups, including the U.S. Chamber of Commerce, that have brought total TV spending on his behalf to $8.7 million in the past five weeks.
The big-dollar effort behind Scott illustrates the importance of the race in the fight for control of the Senate, where the GOP now has a slim 51-49 majority. Nelson is among 10 Democratic incumbents on the November ballot who are fighting to hold onto their seats in states won by President Donald Trump in 2016.
Scott's spending on TV ads is unprecedented so early in an election year, even in a state known for expensive campaigns because of its size and cost of its television markets.
Nelson, 75, Florida's only current statewide elected Democrat, has yet to run any of his own spots in a contest that could force Democrats to divert resources into the nation's most populated swing state.
Scott, 65, a multimillionaire former health-care executive, has the capacity to bankroll much of his own campaign, potentially freeing GOP-aligned super-political action committees to spend elsewhere. He invested $73 million of his own cash into his first bid for governor in 2010.
"A lot of outside money will come in for Nelson because the stakes are so high," said Susan MacManus, a University of South Florida political science professor. "But there is a feeling that he's late to get on the airwaves."
Scott's entry into the race in April immediately made Florida a central part of the midterm elections. Given his spending in past statewide elections, Democrats are bracing for Scott and his allies to spend $100 million or more, mostly on television ads.
Nelson hasn't faced an opponent who will spend as much as Scott, but the governor has never run in a year when Democrats are in such a strong position nationally because of dissatisfaction with Trump and the GOP, said Kevin Cate, a Democratic consultant in Florida.
"If anything can blunt the huge amount of money that Rick Scott has, it is enthusiasm," Cate said.
Democrats also say that even with Scott's heavy spending in the 2010 and 2014 campaigns for governor, his biggest margin of victory was 1.2 percentage points.
Scott and the New Republican PAC, a group with ties to him, have $2.1 million in television ads running this week alone, according to data from Kantar Media's CMAG, which tracks political advertising.
Seeking to address that disparity, the top super-PAC affiliated with Senate Democrats rolled out a campaign ad this week that tries to boost Nelson. SMP, also known as the Senate Majority PAC, is highlighting his career as an astronaut and his defense of Social Security and Medicare. Those federal programs are especially important to the state's large retired population.
SMP's Florida media buy is running this week and next at a cost of $2.4 million, according to CMAG. Most of the money will be spent on broadcast television in nine Florida markets, with the rest on cable and satellite TV ads.
The SMP spot prompted Scott's campaign to release a digital ad called "Partisan Voter" that portrays Nelson as a party-line lawmaker while displaying images of 2016 presidential candidate Hillary Clinton and other Democrats.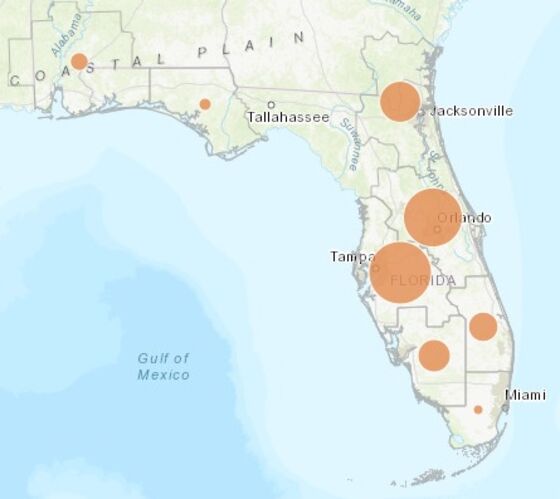 Scott has positioned himself in his ads as a Washington outsider who would bring business discipline to the Senate, while the New Republican PAC has attacked Nelson, a three-term senator, as a "career politician."
With no serious primary challenger, Scott has softened some of his conservative stances. He signed into law several gun-control measures, including raising the minimum purchase age for a rifle and adding a waiting period, following 17 deaths in a Florida shooting rampage at Marjory Stoneman Douglas High School. He's also embraced populist ideas like term limits.
Last week, Nelson voted for Gina Haspel, the president's controversial choice to run the CIA, upsetting some liberals, but denying Scott a probable line of attack.
"Floridians see Bill Nelson working every day to put Florida families first, from protecting Florida's beaches to ensuring students have access to affordable higher education to creating jobs," Nelson campaign spokeswoman Carlie Waibel said in a statement. "Rick Scott has never run in a year like this."
If Nelson wants to remain even somewhat competitive on spending with Scott, he'll need to spend a lot more time fundraising.
The incumbent had $10.5 million in his campaign account at the end of March, his most recent Federal Election Commission filing showed. By comparison, Democratic Senator Claire McCaskill of Missouri, who is also running for re-election in a Trump-won state, had $11.5 million in her account at the end of March for a campaign that will have dramatically lower advertising costs.
Cash on hand among Democrats in Trump-won states
| | | |
| --- | --- | --- |
| Senate Democrat | State | Cash on hand (as of March 31) |
| Sherrod Brown  | OH | $11.8 million  |
| Claire McCaskill  | MO | $11.5 million  |
| Bill Nelson  | FL | $10.5 million  |
| Bob Casey  | PA | $10.0 million  |
| Debbie Stabenow  | MI | $8.8 million  |
| Tammy Baldwin  | WI | $7.8 million  |
| Jon Tester  | MT | $6.8 million  |
| Joe Donnelly  | IN | $6.4 million  |
| Heidi Heitkamp  | ND | $5.4 million  |
| Joe Manchin  | WVa | $5.4 million  |
Source: Federal Election Commission
Florida has 10 television markets, including three among the nation's top 20. The state includes distinct regions that range from trendy Miami Beach to the sprawling Tampa and Orlando areas to more conservative sections in the north. Both parties seek support from key constituencies such as seniors, active and retired military service members and Cuban-Americans.
Scott hasn't said how much of his own money he's willing to put into the race. His campaign has said he raised $3.2 million in the first three weeks of his bid, roughly what Nelson took in during the entire first quarter.
"Governor Scott is committed to winning, and will raise the money and do what it takes to be successful in November," Ryan Patmintra, a Scott spokesman, said in a statement.