Google Caught in Russia's Pre-Election Opposition Crackdown
(Bloomberg) -- Google has become ensnared in Russia's attempts to crack down on opposition leader Alexey Navalny's call for protests during nationwide regional elections on Sunday.
Russia's communication watchdog, Roskomnadzor, said it sent a warning to Larry Page, chief executive officer of Alphabet Inc., Google's parent company, not to allow the company's services including YouTube to breach electoral law, which bans campaigning on election day. Navalny has urged Russians to protest against plans to raise the pension age on Sept. 9, when regional elections are held including for mayor of Moscow.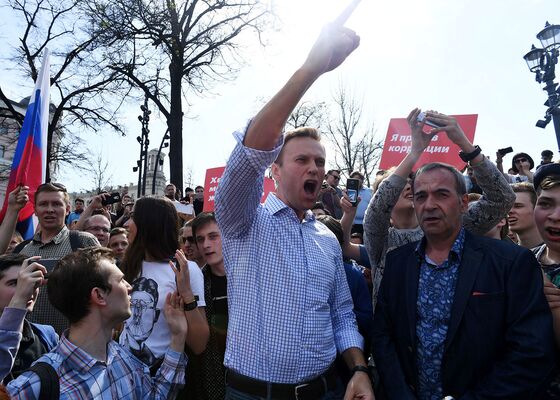 "YouTube offers the possibility to advertise an unauthorized 'all-Russia' event on Sept. 9 that can be used for campaigning," Roskomnadzor said in an emailed statement. Google should "take steps to prevent the dissemination of information on illegal activities, including advertising, on YouTube," it said.
Navalny, who's currently serving a 30-day jail term after being convicted last month of holding an unsanctioned protest, has used social media including YouTube and Twitter to urge Russians to join the Sept. 9 protests against government plans to raise the pension age for men and women. The unpopular reform has helped push President Vladimir Putin's approval rating to its lowest in more than seven years. He sought to defuse public anger by softening some elements of the plan in a televised address to the nation last week.
The Kremlin sought to play down the regulator's threat. The warning to Google is part of normal media-monitoring work and, while it shouldn't be ignored, "you shouldn't view it as some sort of emergency situation," presidential spokesman Dmitry Peskov told reporters on a conference call on Wednesday.
"Google considers all reasonable requests from government entities but does not comment on individual situations," the company said via email.
Navalny paid Google to advertise his "political" rally, the Interfax news service said, citing Central Elections Committee member Alexander Klyukin. Russia sees such actions as illegal, he said.
There are no plans to block YouTube now, Vadim Subbotin, Roskomnadzor's deputy head, said on its VKontakte social media page.