Goldman Sees U.S. Profit Sway Shrinking, Capping Rally in Stocks
(Bloomberg) -- The dominance of U.S. stocks over other markets hinges on their faster earnings growth, an advantage that could fizzle out in future years, according to Goldman Sachs Group AG.
The expansion of earnings per share for companies in the S&P 500 Index has reached almost 90% since the pre-crisis 2006 high, Goldman said in a note to clients. That compares with about 4% for the Stoxx Europe 600 and 17% for the MSCI Asia Pacific excluding Japan Index.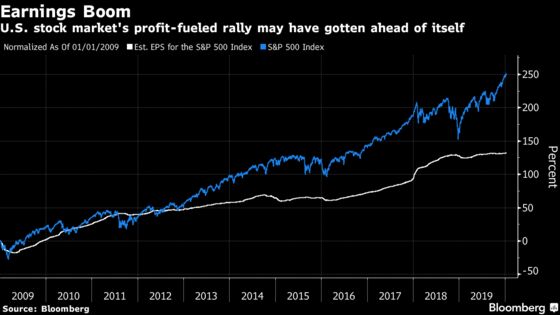 "Over the next couple of years this gap is likely to narrow, suggesting less obvious triggers for U.S. outperformance," Peter Oppenheimer, chief global equity strategist at Goldman, said in a note.
The boom in corporate profits has fueled the U.S. stock market's outperformance against other top international benchmarks over the past decade. But based on Goldman's forecasts, annualized EPS growth in the S&P 500 will shrink to 4% between 2018 and 2021 from the 5% rate seen over the past 13 years. That would beat the estimated 2.7% expansion for the Stoxx Europe 600 but lag the 5.9% advance for the Asian benchmark.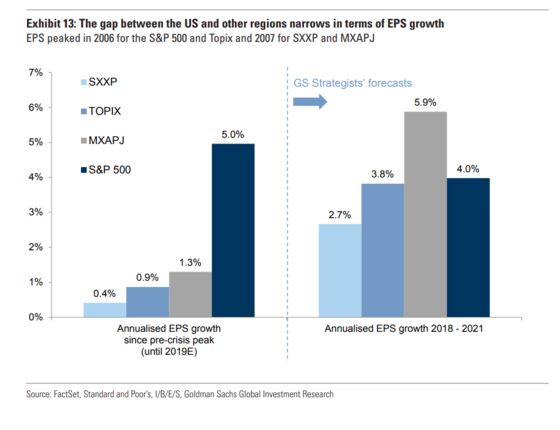 And while Goldman doesn't see strong reasons for other global stock markets to beat the U.S. significantly in upcoming years, having an allocation to Europe and Asia may be useful -- especially as Brexit risk gives way to the U.S. presidential race.
"With investors likely to become increasingly focused on U.S. election risk, and less on risks in Europe and Asia, we think there is a good argument for more geographic diversification," said Oppenheimer.
According to data compiled by Bloomberg, the S&P 500 will post 9.2% earnings growth this year compared with 8.2% for the Stoxx Europe 600.
Earnings from some of the biggest U.S. companies are due this week, with financial giants including JPMorgan Chase & Co. and Citigroup Inc. kicking off the reporting season.