Global Risks to Extend Czech Rate Lockdown: Decision Day Guide
The Czech central bank will probably refrain from resuming interest-rate hikes as worries about the state of the world economy will likely overshadow accelerating inflation at home.
Policy makers in Prague will discuss Thursday whether to extend a pause that started after they lifted borrowing costs last May. As the U.S. Federal Reserve and the European Central Bank renew monetary stimulus, the Czechs have balked at resuming tightening that they fear could undermine their key manufacturing industries.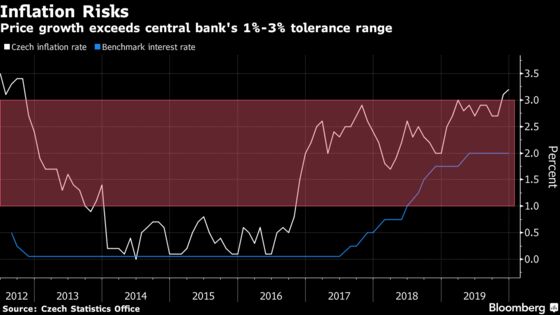 Several central bankers have signaled Thursday's decision may be a close call as they need to carefully weigh the fastest inflation in seven years against risks coming from abroad. All analysts in a Bloomberg survey, as well as money-market investors, expect rate setters to keep the benchmark at 2% for a sixth meeting.
"One reason is that they can point to external downward pressure on inflation," said Thu Lan Nguyen, a strategist at Commerzbank AG. "Euro-zone inflation most recently surprised on the downside, also growth globally remains sluggish, which warrants caution. The Czech Republic is after all a small, open economy."
The policy-setting board will also review the quarterly update of internal forecasts, after disregarding the previous projections that implied that there'd be two rate increases by the end of the first quarter.
The dilemma has deepened further in recent weeks, with the koruna appreciating to the strongest level in about seven years. The currency has gained 1.6% against the euro this year, outperforming all peers in central and eastern Europe.
The central bank estimates that a 1% koruna move roughly equals about a quarter-point change in the benchmark in terms of its effect on inflation, although some policy makers questioned whether that rule of thumb was still valid when the currency was depreciating last year.
While the currency gains may be in part driven by the central bank's hawkish tone, forward-rate agreements -- contracts used to bet on future changes in borrowing costs -- are pricing in a prolonged period of stable rates, followed by a potential cut in 2021.
The new central bank forecast will probably show further acceleration in inflation in the first half of this year and indicate the need for an additional rate increase, according to Michal Brozka, an economist at Komercni Banka AS.
"Although we expect the CNB not to hike rates, we think the market is underestimating the probability that rates in fact can be raised," Brozka said. "The decision might be very tight."