Polish Central Banker Dragged Back Into $10 Million Bribe Row
(Bloomberg) -- Poland's central bank Governor Adam Glapinski is being pulled back into a bribery scandal rocking the country's establishment in this election year.
Gazeta Wyborcza newspaper reported Thursday that disgraced former financial watchdog Marek Chrzanowski told prosecutors that Glapinski instructed him to meet banking tycoon Leszek Czarnecki last March, when an alleged $10 million corruption offer was made. The central bank press office declined to comment, while the zloty currency, Polish bonds and stocks were little changed in afternoon trading.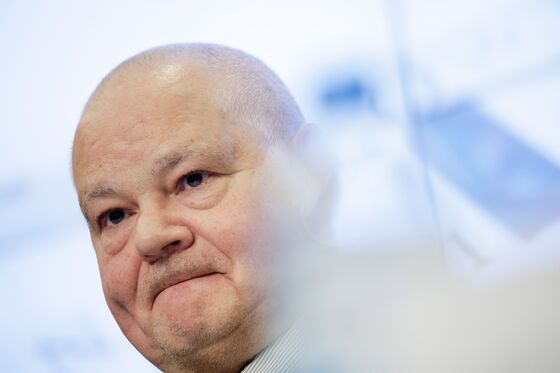 The allegations pile pressure on Glapinski, who has vehemently denied any involvement in the scandal that's undermining the nationalist ruling Law & Justice party's clean-hands pledge and risks their re-election bid. While the governor has until now successfully dodged suggestions of any foul play on his part, he's increasingly in trouble with his political allies, especially after reports of exuberant pay for his closest aides at the central bank.
If the report is confirmed, Glapinski -- a close colleague of ruling party leader Jaroslaw Kaczynski -- could become a "liability" for his political backers ahead of May's elections to the European Parliament and a general poll slated for October, according to Rabobank.
"Glapinski claims that the central bank remains a highly respected institution and that serious investors do not pay attention to media speculation -- perhaps that is the case," Rabobank's London-based currency strategist Piotr Matys said. "However, if seriously discrediting evidence surfaces, the credibility of the National Bank of Poland could be undermined and could trigger capital outflows from Polish assets."
Chrzanowski, a protege of Glapinski, is alleged to have offered favorable treatment to banks controlled by Czarnecki, the owner of Getin Noble Bank SA and Idea Bank SA, in return for employing a recommended lawyer, according to a transcript of a conversation secretly recorded by the businessman. Chrzanowski resigned the day the newspaper report came out, while rejecting the accusations.
Glapinski testified in the ensuing probe while Chrzanowski has been accused of abusing his position and spent most of the last two months under arrest. Wyborcza's front-page article reignites a discussion on the extent of the central bank chief's role in the affair, which is dangerous for Law & Justice, which likens itself to the voice of regular Poles.
"When a situation like this emerges around banking supervision -- which has historically been perceived as a very conservative and cautious institution, which has built itself a rather positive position -- then it doesn't support Poland's image in the eyes of foreign investors," said Robert Bohynik, chief investment officer of mutual fund NN Investment Partners TFI SA. For now, however, the row doesn't undermine the central bank, he said.
Leading ruling party officials have publicly chided Glapinski this month over media allegations that his closest aides earn 65,000 zloty ($17,200) per month, about four times as much as the prime minister. The central bank said the report was false but declined to publish salaries of specific employees. Opposition parties have called for the governor to resign over the bribe scandal.
Last month, the governor blamed political enemies for ensnaring him in the scandal and suggested there were plans for a "financial coup d'etat" aimed at pushing the European Union member nation to join the euro area against his wishes.
Appointed to a six-year term as governor in 2016 with the backing of Law & Justice, Glapinski has kept Poland's base interest rate at a record low of 1.5 percent even as growth topped 5 percent for more than a year. While he has bickered with the government over who should play a leading role in banking supervision, the governor is a supporter of the ruling party's economic policies and wants to keep rates unchanged until his term ends in 2022.