Polish Central Bank Governor Goes on Offensive in Bank Scandal
(Bloomberg) -- Poland's central bank Governor Adam Glapinski accused the mogul at the center of a bribery scandal that forced the head of the country's financial regulator to resign of seeking to sabotage the banking industry.
Getin Noble Bank SA and Idea Bank SA owner Leszek Czarnecki, as well as his lawyer, are trying to "destabilize the Polish banking system and I want to tell them that they won't succeed," Glapinski told public broadcaster TVP Info in an interview on Sunday evening. "Don't mix your political games with the banking system because that can harm Poles."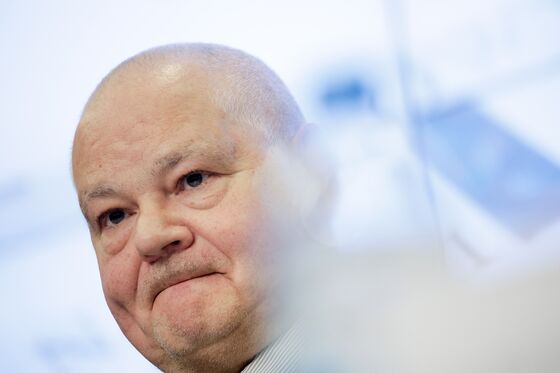 The widening corruption scandal around Getin Noble, a bank with more than $10 billion of deposits, has spooked investors. An index of the country's lenders tumbled 4 percent on Friday, the biggest daily decline in more than two years.
Glapinski's attack comes after the governor said that he may have also been secretly recorded by Czarnecki, who hasn't made any public comments since a newspaper published the transcripts of his conversation with the financial regulator last week.
Both Glapinski and the government, which won elections three years ago on a pledge to empower ordinary Poles, are seeking to contain the scandal and any damage to their reputation.
Glapinski again sought to bolster confidence in the country's financial industry, telling Poles their money was safe.
"What's happening may be a concern for regular folks, but not for bankers because they know that Poland's financial industry is very stable," he said on Sunday. He called on politicians to stay away from "games" that could undermine banks after the biggest opposition party called for a parliamentary probe into the alleged bribe.
Click here to read more about how the fallout of the bribery scandal
Glapinski said the country's Banking Stability Committee was meeting on Sunday in its "emergency" mode, meaning it's chaired by the finance minister's representative. Regular "macro" themed meetings are run by a central bank official.
Newspaper Gazeta Wyborcza last week released the transcript of a conversation suggesting Marek Chrzanowski, head of the banking watchdog, offered favorable treatment to banks controlled by Czarnecki in return for employing a recommended lawyer. Chrzanowski, a protege of Glapinski, resigned the same day.