Giuliani Raid Pushed by Prosecutors Who Chose the 'Hard Way'
(Bloomberg) -- Two months ago, Rudy Giuliani's lawyer offered to bring his client in for questioning by Manhattan federal prosecutors, provided they made clear what subjects they would bring up.
No deal, responded Assistant U.S. Attorney Nicolas Roos. He repeated what the team had been saying since they began investigating the activities of the former New York mayor and personal lawyer to Donald Trump in 2019 -- they'd be delighted to hear what Giuliani had to say, but there'd be no preview of their questions.
"Why are you doing everything the hard way?" emailed back Giuliani's lawyer, Bob Costello.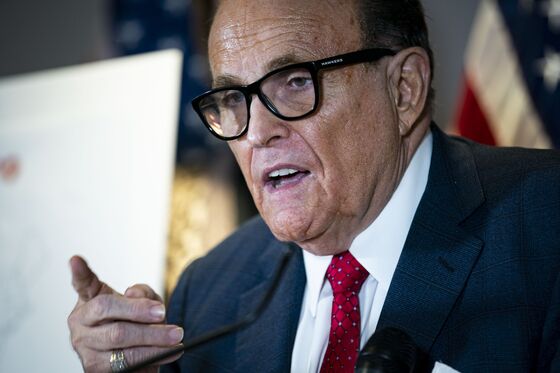 Just how hard things could get became evident at 6 a.m. last Wednesday when Federal Bureau of Investigation agents raided Giuliani's Manhattan home and office and seized electronic devices.
Giuliani has not been charged with any crime. He has said prosecutors are investigating whether he broke the law by lobbying on behalf of Ukrainian interests. Giuliani claims he never worked for anyone in Ukraine and that the case is being driven by the political leanings of line prosecutors in the Manhattan U.S. attorney's office, which he led in the 1980s.
"Obviously, the assistant U.S. attorneys hate me, and they hate Trump, which is probably the whole thing," Giuliani said on his radio show last week.
How Giuliani came to find FBI agents standing at his front door is largely a story of how both sides, while regularly engaging since the earliest days of the case, were mostly talking past each other. Their clashes offer a preview of what are likely to be turbulent months ahead that could culminate in a courtroom face-off between three talented young prosecutors and Giuliani's own team of old-school New York lawyers who mostly made their names decades earlier.
The assistant U.S. attorneys leading the Giuliani investigation are Rebekah Donaleski, Aline Flodr and Roos of the office's public corruption unit. They declined to comment through a spokesperson for the Manhattan U.S. attorney's office.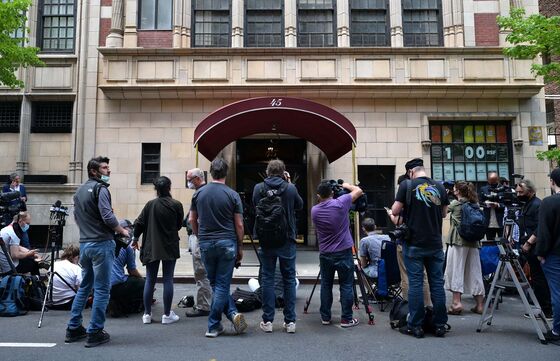 Donaleski, Roos and Flodr were all still in high school when Giuliani rose to his greatest fame as "America's Mayor" after the World Trade Center attacks, and none of them had been born when he first took office as Manhattan U.S. attorney in 1983. But their backgrounds are fairly similar to those of line prosecutors who served in Giuliani's day: graduates of elite law schools who worked at top law firms before joining the nation's most prestigious and selective U.S. attorney's office.
Set to be promoted next week to head of public corruption, Donaleski, 35, was previously a member of the terrorism and international narcotics unit, where she successfully prosecuted a would-be New York subway suicide bomber and a former U.S. Special Forces sniper who became contract killer. A graduate of Rice University, Donaleski went to Columbia Law School and worked at Cleary Gottlieb Steen & Hamilton before becoming a federal prosecutor.
An assistant U.S. attorney since 2016, Roos, 36, was a competitive debater in high school and at the University of Vermont, where he became junior varsity national champion in 2004. Brian Waller, who was opposite the Stanford Law grad and Quinn Emanuel Urquhart & Sullivan alum in a 2017 fraud trial, recalled Roos's "fantastic" closing argument.
"He told a compelling story, supplemented by video graphics that were incredibly effective," said Waller, whose client was sentenced to 12 years in prison.
Roos has been involved in several other cases in Trump's orbit. He was the lead prosecutor in the border-wall fraud case against former Trump campaign chief and White House strategist Steve Bannon, who was granted a pardon in his ex-boss's final days in office. He was also part of the team that charged Michael Cohen, the last Trump lawyer subject to an FBI search.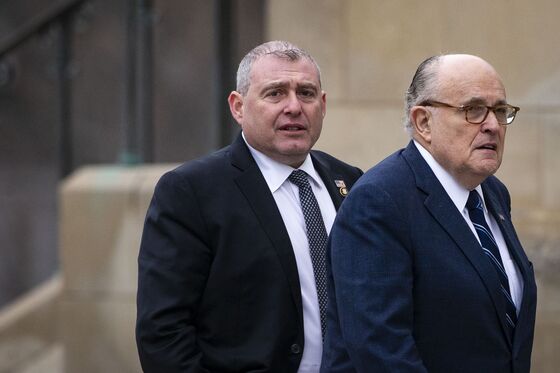 Flodr, 36, was previously part of investigations into college sports bribery and dark web drug dealing. She went to Harvard College and Yale Law School, completed two federal judicial clerkships and worked at Wachtell Lipton Rosen & Katz before becoming an assistant U.S. attorney in 2017.
The three are also prosecuting Giuliani associates Lev Parnas and Igor Fruman for campaign finance and other violations. The two men were involved in Giuliani's efforts to dig up dirt on Biden in Ukraine in 2018 and 2019 and the push to oust the U.S. ambassador at the time, Marie Yovanovitch. Whether that was done at the behest of Ukrainian interests is at issue in the Giuliani probe.
Costello himself was an assistant U.S. attorney for six years in the 1970s, rising to be deputy head of the criminal division. He's being joined on Giuliani's team by former New York state judges Barry Kamins and John Leventhal and former Brooklyn prosecutors Arthur Aidala and Michael Jaccarino. Harvard Law School Professor Alan Dershowitz, who helped defend Trump in his first impeachment, is also on board as an adviser.
The additions of Kamins, who has written extensively on search and seizure law, and Dershowitz suggest they will challenge the warrant the FBI executed last week. In an interview, Costello said the team also has concerns about an aggressive move the prosecutors made without Giuliani's knowledge: a subpoena issued directly to Apple Inc. to search his iCloud account in 2018 and 2019. According to Costello, they only found out about the subpoena at a closed hearing last week shortly after the FBI raids.
Dershowitz said in an interview that prosecutors were overly aggressive. "It was improper," he said of the raid. "All you do is say, 'Mr. Giuliani, we want you to turn over your this, that and the other thing,' and his lawyer says 'I'll turn over this, that and not the other thing because it's privileged material.'"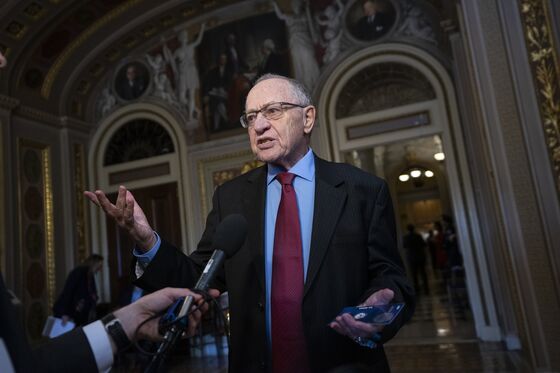 Donaleski, Roos and Flodr on Tuesday requested the appointment of an independent special master to screen the material seized in the raids for any communications that might be subject to attorney-client privilege. Giuliani's team is set to respond to the request on Monday.
Jennifer Rodgers, a former Manhattan assistant U.S. attorney who now lectures at Columbia Law School, said federal prosecutors are very cautious about letting individuals choose what evidence to surrender. When they believe someone has engaged in misleading or potentially illegal conduct, it's "a complete non-starter," she said.
Costello said Giuliani's main argument will be that the foreign lobbying rules don't apply to him because all of his efforts in Ukraine were on behalf of a U.S. client, Trump.
The exact nature of Giuliani's representation of Trump at that time could be a key issue in the case. Costello said Giuliani became involved with Ukraine while challenging allegations of Russian collusion in Trump's 2016 campaign that were then under investigation by Special Counsel Robert Mueller. According to Costello, Giuliani's defense of Trump led him to evidence that Joe Biden, as vice president, helped stop an Ukrainian investigation into energy company Burisma, where his son Hunter held a lucrative board seat.
Trump's efforts to goad the Ukrainian government into launching a Burisma investigation to damage his eventual 2020 opponent led to his first impeachment in December 2019. A subsequent Senate inquiry led by Republicans loyal to Trump found no evidence of wrongdoing by Biden.
Giuliani and Costello bypassed the Manhattan prosecutors and took their allegations against the Bidens from Ukraine to the Justice Department in Washington, which directed the U.S. Attorney in Pittsburgh to look into the matter. Costello said he and Giuliani flew to Pittsburgh in January 2020, where they outlined evidence that supposedly backed up their claims of Biden family corruption in a meeting with FBI agents and senior prosecutors.
A spokeswoman for the U.S. attorney's office in Pittsburgh declined to comment.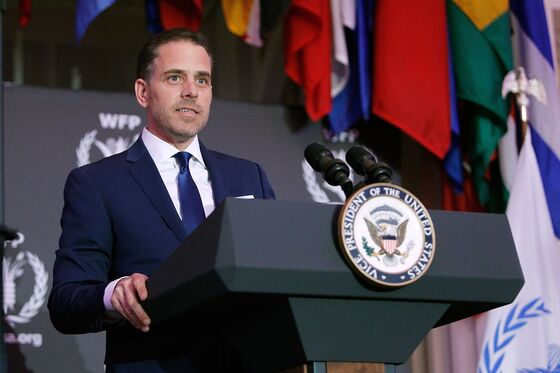 By the time Giuliani was making his Pittsburgh presentation, the Manhattan team had already successfully accessed his own files on iCloud.
Rodgers dismissed Giuliani's claim that case is being driven by bias, noting that each step of an investigation is subject to multiple levels of review that would ferret out any improper motivation.
"The idea that this is some kind of personal animus is just silly," she said.
For his part, Costello is more even-tempered than his client in appraising their opponents, among whom Roos has been his main point of contact.
"I like the kid," said Costello.