Giuliani Allies Spar Over Giving Evidence to House Democrats
(Bloomberg) -- Two indicted associates of Donald Trump's lawyer Rudy Giuliani are battling over whether more evidence from their New York criminal case should be turned over to congressional Democrats pursuing the president's impeachment, with federal prosecutors joining the fray.
Lev Parnas has cultivated an unusually public role in recent weeks, granting national television interviews, giving evidence to Congress and offering to testify at the Senate trial of the president, who was impeached last month on charges including abuse of power. Parnas is doing all this while under indictment for breaking campaign finance law.
It's the third time Parnas has sought judicial approval to provide evidence to House impeachment managers. The request was opposed by Parnas's co-defendants, who've kept a lower profile and who said the material could jeopardize their attorney-client privilege, as well as by federal prosecutors.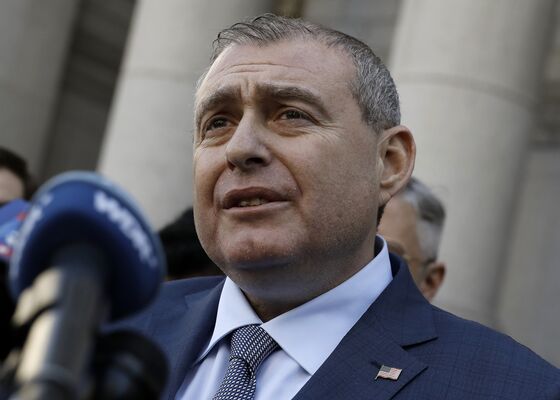 The judge in the case has scheduled a hearing for Jan. 30.
Parnas and co-defendant Igor Fruman were involved in the effort by Giuliani, Trump's private lawyer, to dig up political dirt in Ukraine on Joe Biden, one of the president's main political rivals in the coming election. Parnas and Fruman are charged with laundering foreign funds for U.S. political campaigns and masking the source of political contributions. Lawyers for Parnas had signaled his willingness to cooperate with the congressional impeachment inquiry since his arrest.
In a series of blistering filings on Tuesday, lawyers for the defendants traded accusations and objections. Todd Blanche, a lawyer for Fruman, called Parnas's approach "unacceptable." Parnas's lawyer, Joseph Bondy, shot back that Fruman was trying to avoid his congressional subpoena, "now with Mr. Giuliani aiding in his efforts," without further explanation. Bondy didn't return a call seeking comment on the accusation.
It isn't clear exactly what sort of evidence Parnas wants to turn over now, but it is "essential to the committee's ability to corroborate the strength of Mr. Parnas's potential testimony," according to a filing by Bondy. It is described in court papers as material produced for prosecutors by Apple Inc. from Parnas's iCloud account, in response to the government's Oct. 21 subpoena.
In their own filing, federal prosecutors in Manhattan said the material included reports created by the Federal Bureau of Investigation using data associated with the account.
In a separate filing, Blanche said he believed the material jointly belonged to both defendants and therefore couldn't be turned over without Fruman's permission.
The filings were submitted to the judge over the course of the last two weeks but made public by the court only on Tuesday.
The case is U.S. v. Parnas, 19-cr-725, U.S. District Court, Southern District of New York (Manhattan).