Giuliani Associate Lev Parnas Found Guilty in Campaign Finance Case
(Bloomberg) -- Lev Parnas, an associate of Rudy Giuliani who aided his mission to dig up political dirt on Joe Biden in Ukraine, and a co-defendant were found guilty on all charges in a case alleging they violated U.S. campaign finance laws. 
Parnas and Andrey Kukushkin were convicted Friday in Manhattan federal court of charges that they funneled funds from a Russian investor to political candidates in Nevada, Florida and elsewhere to build support for a planned cannabis business. 
Jurors began deliberating Friday morning and reached a unanimous verdict about five hours later. Prosecutors sought to have the pair taken into custody following the verdict, saying they now posed a flight risk, but U.S. District Judge J. Paul Oetken allowed them to remain free pending sentencing, which he scheduled for Kukushkin on Feb. 16. Parnas faces trial on an additional unrelated charge that he defrauded investors in a business venture.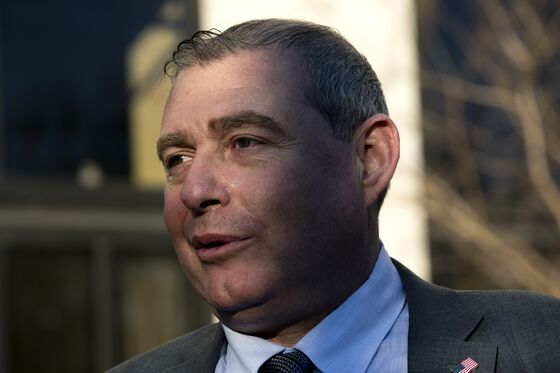 The verdict brought to a close a case that began with a far different focus. Federal prosecutors initially alleged two years ago that Parnas and his partner Igor Fruman were working to covertly advance Ukrainian government interests in the U.S. as part of former President Donald Trump's effort to get political dirt on Biden. Parnas touted himself as a potential witness in Trump's first impeachment. 
Prosecutors ultimately avoided raising anything related to the Ukraine matters that led to Trump's impeachment, and there were no new revelations about Trump or Giuliani. 
"Although the outcome wasn't what we hoped, we respect the process," Parnas's lawyer, Joseph Bondy, said. "We had a trial before a fair judge with a jury of our peers." He added, "Right now, obviously, it's a tough day for the Parnas family."  
Kukushkin and his lawyer, Gerald Lefcourt, left court without comment, as did the federal prosecutors who tried the case. In a prepared statement, Manhattan U.S. Attorney Damian Williams said: "Campaign finance laws are designed to protect the integrity of our free and fair elections -- unencumbered by foreign interests or influence -- and safeguarding those laws is essential to preserving the freedoms that Americans hold sacred."
The government said Parnas and Kukushkin hoped the campaign contributions would persuade the politicians to retroactively approve cannabis licenses for them after they missed the deadline to apply. Their business never got off the ground. Fruman and another co-defendant pleaded guilty earlier, leaving only Parnas and Kukushkin to stand trial. 
Parnas did not testify in his own defense during the trial, a high-risk move that would have opened him up to intense questioning from prosecutors. Asked after the verdict if he wished he had taken the opportunity to do so, Parnas said, "I wish I had a lot of opportunities to address a lot of issues in the case." 
During the week-long trial, jurors heard testimony from political figures and campaign officials who received the funds as well as Federal Bureau of Investigation agents and Federal Election Commission officials who investigated the case. Key testimony came from Parnas's onetime assistant, Deanna Van Rensburg, which was used to show that he was directing how some of the contributions were made. 
The case is U.S. v. Parnas, 19-cr-725, U.S. District Court, Southern District of New York (Manhattan).